Home
Molecular and Cellular Pathology (MCP) Graduate Program
The mission of the Molecular and Cellular Pathology (MCP) Graduate Program is to train the next generation of "Bench to Bedside" scientists with a focus on the study of the molecular and cellular mechanisms underlying the pathogenesis of human diseases.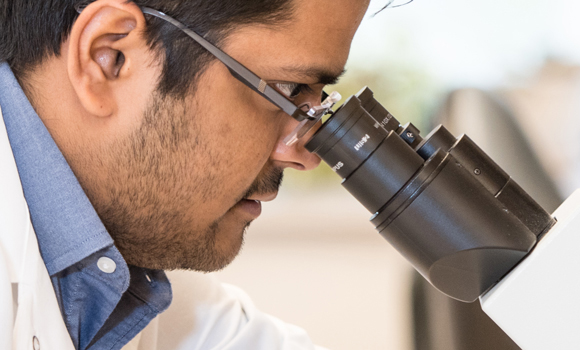 Inaugurated in 1992, the MCP program is hosted by the Department of Pathology and takes advantage of its unique position in a department that bridges basic and clinical sciences to encourage interdisciplinary projects and interdepartmental cooperation. Indeed, the Department of Pathology is also home to a large and diverse group of >180 faculty members, including basic science researchers, physician-scientists, and clinicians. This well-funded (ranked #9 nationwide for NIH support) and collaborative environment provides a unique opportunity for the ~30 students enrolled in the MCP program to perform transformative research, ranging from basic to translational research.

MCP students train in one of the >35 MCP research labs under the supervision of an exceptional team of MCP faculty mentors, co-mentors, and senior staff/trainees, and are immersed in a research environment that features internationally renowned professors. Many of our faculty members hold joint appointments with other biomedical science departments and graduate programs at the University of Michigan, offering students an interdisciplinary approach to their training.
Using a wide range of experimental approaches to understand the pathogenesis of human diseases, the research areas of interest in the MCP program include:
Molecular and cellular mechanisms of cancer
Immunopathology and inflammatory diseases
Neuropathology and Applied Neurobiology
Stem cell and developmental biology
Translational research
Epigenetics and gene regulation
Aging
Drug discovery and experimental therapeutics
Biomarkers (diagnostic and prognostic)
MCP students produce high-quality research that has resulted in publications in top-tier journals (Examples: #1, #2, #3, #4, #5, #6, #7, #8, #9, #10, #11, #12, #13), present their work at multiple venues not only at the University of Michigan but also at national and international conferences (Examples: #1, #2, #3, #4), and are the recipients of prestigious awards and fellowships from the NIH, professional societies or disease foundations (Examples: #1, #2, #3, #4, #5, #6, #7). MCP students typically receive their Ph.D. within 5 to 6 years (5.2 years on average).
In a nutshell, the MCP Graduate Program bridges basic and clinical sciences and promotes interdisciplinary translational research to advance the application of scientific discoveries, providing an enhanced educational experience and training in "Bench to Bedside" approaches. Our goal is to recruit a diverse group of talented MCP students and to provide them with the best educational environment to train and prepare for the next stage of their careers in academia, the biotech/pharma industry, teaching, scientific publishing, clinical research, or governmental/regulatory agencies.