Through the Looking Glass
By Laura Cooling, MD | Photography by Dustin Johnston | 9 June


During medical school and residency, our teachers share many clinical 'pearls' and stories as a routine part of our training. One such tale is the medical school dean who wished a serious medical illness to each medical student class. His strange benediction was a reminder that personal experience is also a great teacher and brings a unique perspective and understanding of the challenges that patients and their families face in dealing with a serious diagnosis. After 20+ years of practice, I considered myself a good and empathetic doctor. I have always been grateful for what patients have taught me about medicine, especially the subtle aspects of disease on daily living and the family. But as the old medical school dean implied, some things can only be truly understood through personal experience. I write this as a doctor and now, a cancer survivor.
In the fall of 2014, I was diagnosed with bilateral multifocal breast cancer. I had discovered a mass and was fully aware that I would require a biopsy, but was not overly concerned since I had a negative biopsy in the past and there was no family history of cancer. My patient experience began when I was called back for a second set of mammograms. One downside of working in healthcare is fluency in our nonverbal communications— the poker face and guarded conversation that indicates an abnormal finding. It was difficult to sit in the waiting room as other women had their mammograms and were released, while I was repeatedly called back for more films, followed by a long diagnostic ultrasound. I thought I was emotionally braced for the bad news but burst into tears when the radiologists told me not to wait for the biopsies: I needed to find a surgeon in the next 1-2 days. I was luckier than most patients. Because I was a doctor, the radiologist offered to perform the fine needle and CT-guided biopsies that day. I am very grateful that I only had to wait for 4 days for an answer—I did not have to endure the weeks of doctor appointments, procedures, and uncertainty before I had an answer. I have had many patients tell me that the limbo of uncertainty is as stressful as the diagnosis.
They instruct us in medical school that when giving a patient the diagnosis of cancer, the patient will only absorb about 10% of the subsequent conversation. With each visit, the patient will process a little more information as they acclimate to the diagnosis. I experienced that sense of numbness as I read my biopsy report, which I was able to access directly before my physician could contact me. It took me a week to be able to read the full report. Even now, I find it difficult to read my pathology reports and have never asked to see my slides. I am still overwhelmed by the findings and how lucky I was to get diagnosed at stage IIb.
"One of the biggest surprises from surgery was the physical toll in terms of fatigue and recovery time —"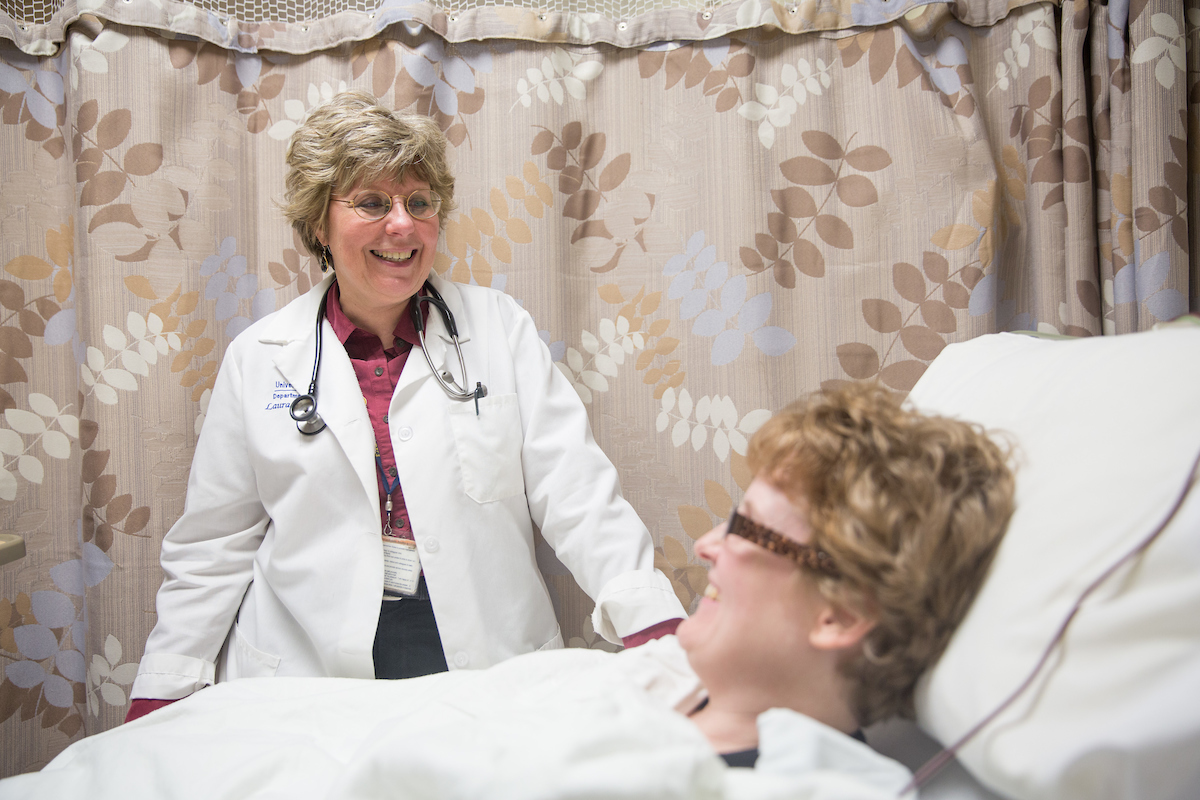 Dr. Cooling speaking with a patient.Once given the diagnosis, I was very impatient to make a plan, start treatment and gain some control of the situation. I found myself spending hours online, trying to learn about mastectomies and breast reconstruction surgery. I now appreciate the frustration of trying to see and coordinate care between several specialists and every delay seems like a setback. One of the biggest surprises from surgery was the physical toll in terms of fatigue and recovery time—something I clearly underappreciated over all these years of practice. It took nearly 5 weeks before I could get through the day without at least one nap.
Another highly unpleasant surprise was news that I had positive lymph nodes, which upended my nice, neat timetable for returning to work and a normal life. As an academic physician, I felt strongly that I should participate in clinical trials and enrolled in a randomized trial for women with breast cancer and 1-3 lymph nodes. I was hoping to be assigned to the experimental arm (tamoxifen only) which would allow me to return to work and skip chemotherapy, which is the standard of care. I was, however, assigned to chemotherapy and spent New Year's Eve in the cancer center infusion clinic. Chemotherapy was unpleasant and difficult, both physically and emotionally. It is hard to keep a positive self-image when you see Gollum in the mirror every morning, but I tried to have fun with an array of very stylish hats. Radiation was not as difficult but did exacerbate and add to the fatigue and exhaustion from chemotherapy. I now really understand medical fatigue and the "wall", where you develop sudden overwhelming exhaustion that can require days of rest to recover. Even 15 months later, I still occasionally hit that "wall" but the episodes are fewer and I can recover over a weekend.
I don't ever want to repeat the experience but it did make me a better doctor, just as the old medical dean predicted. I also learned a few useful tricks, which I have passed onto my stem cell patients and my trainees. It made me appreciate all the good things in my life—my husband, friends and my 'Michigan family'. The support I received from our staff, colleagues, and department was wonderful. If I have any advice, it is to send notes, cards, and emails to combat the sense of isolation during a serious illness. I treasured and kept every card and note that I received.