What will I receive?
I'm showing Pathology Images at a Michigan Medicine Tumor Board conference.
Slides scanned for tumor boards are assigned to a dated web page within the "Tumor Boards" section of the Pathology Clinical Lab Portal. The main TB page looks like this: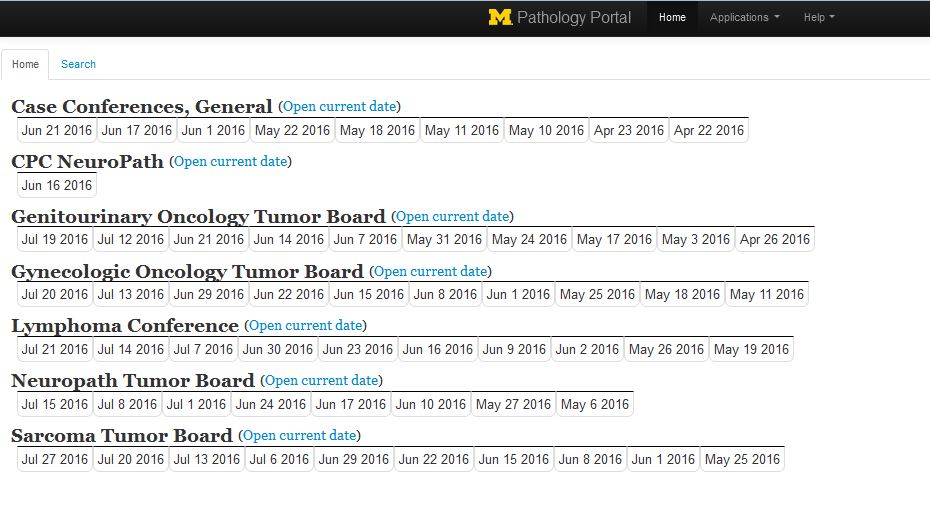 Simply click the appropriate date and a list of cases will appear. Each case will have a link to the Pathology report next to the last name. To open all case images at once, click the last name. To open a single slide, click the stain name.
You may select the modality for displaying the scanned images. "ImageScope" is the vendor's software and must be installed locally on the workstation. "WebScope" will open the images within your web browser.

I would like to show some scanned images for an informal case conference or other, ad hoc conference.
When entering the scan request, choose "Other Clinical Education" for "Group:"

Next, under "Conferences," choose "Special (Ad Hoc) Conf".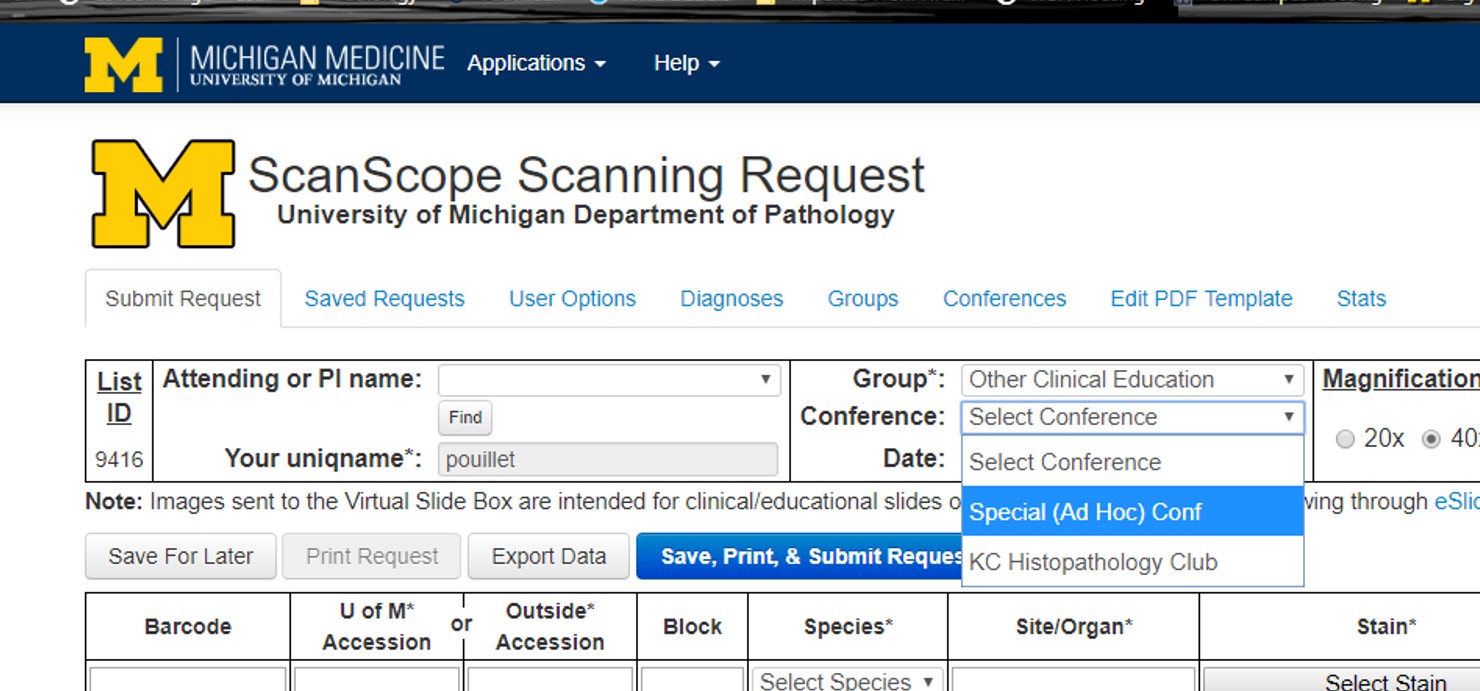 Click in the "Date" field and click the day you wish to designate for the conference. Proceed with filling out the remainder of the form as usual. When the slides are scanned, you will be notified. Look for them under "Special (Ad Hoc) Conf" within the Tumor Boards section of the Portal (see above). Click the date you requested in the form.
I need to share my images with a collaborator / colleague outside U-M.
For clinical slides, you may request that the slides be posted to the Virtual Slide Box. For research slides, please contact the Service (pouillet [at] med.umich.edu or 4-4003).
I'm a research PI and I need copies of the images back.
The scanning process results in ".svs" image files. These image files are archived on a secure server, and copies may be given upon request. Currently 40X scans result in image files that average 0.5 to 1.0 GB each. The file size varies directly with the size of the tissue slice. Image file sizes can range from 0.1 to 3.0 GB. Please make sure you have a storage device of appropriate capacity prior to requesting copies of a group of image files.
NOTE: any SVS files containing protected health information (PHI) can only be transferred through an M+BOX shared account set up to handle sensitive information, or by the use of a HIPAA-compliant encrypted external drive, such as an Apricorn Aegis Padlock.
Clients that elect to receive copies of their svs files can open them using the freeware ImageScope. (Clicking on an image within eSlide Manager will automatically launch ImageScope software if it is installed on your PC.) With ImageScope, clients can extract jpg images suitable for PowerPoint presentations, posters and publications. Multiple images can be compared simultaneously. Areas of interest can be annotated with arrows, shape tools, and labels for downstream presentation or teaching purposes. Finally, as of December, 2019, there is no Mac-compatible version of ImageScope software. An alternative, Mac-compatible product is "QuPath." Link here: https://qupath.github.io/