Pathology Lab Ambassadors – Envoys to the Clinics
By Robin Kunkel | February 1 2018


While our almost 1,400 Pathology Department personnel are all passionate about their profession, one group of very dedicated and enthusiastic laboratory staff help in the unique role of liaison between pathology and the entire hospital. They work hard to alleviate, or better yet, prevent problems related to clinical samples. This group, the Laboratory Ambassadors, is always looking for new ways to improve quality and interconnectivity and is currently representing the department at the 2018 Nurses' Blitz.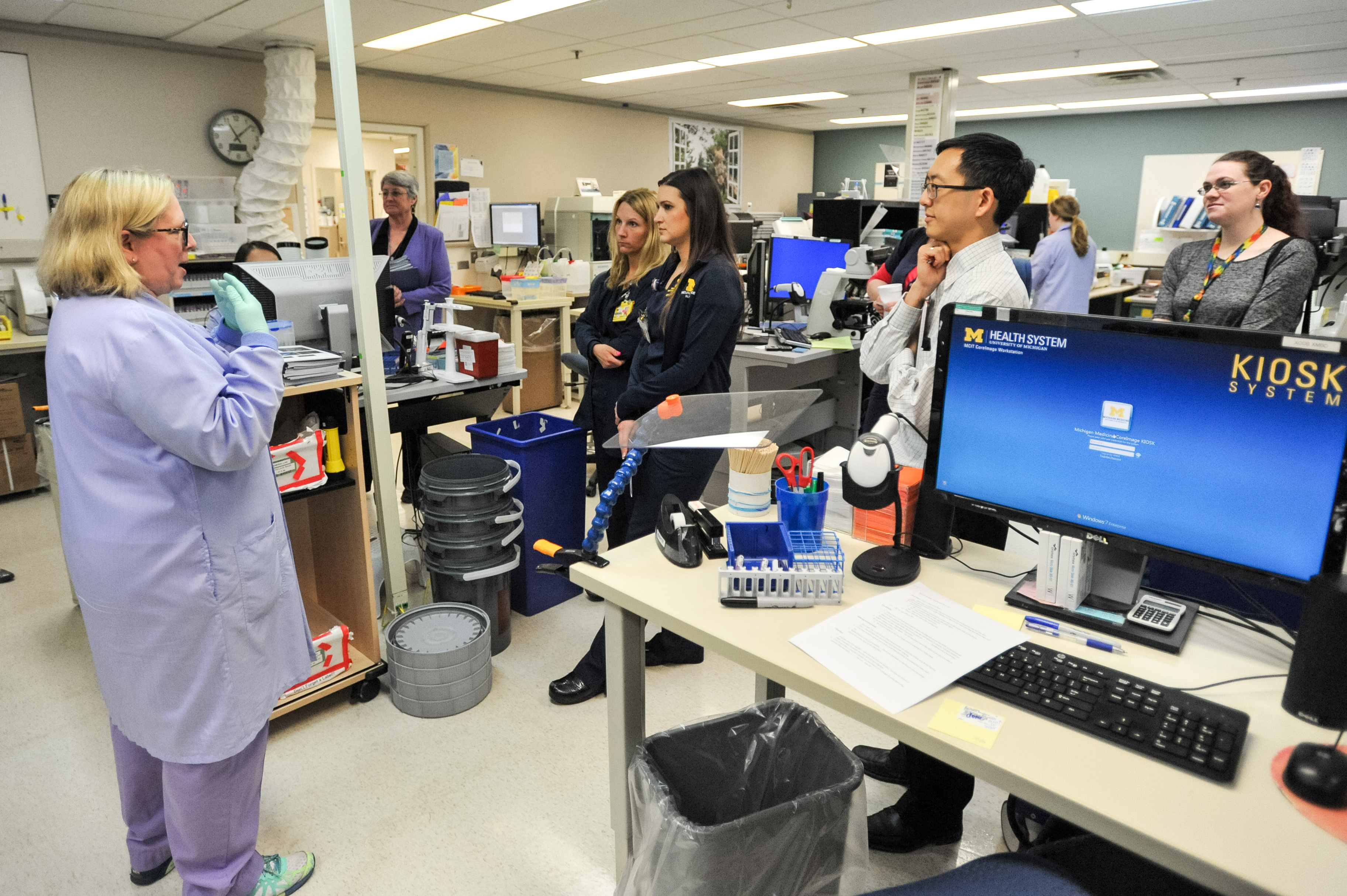 Nancy Raynal giving a tour.The Lab Ambassadors have been in existence for several years. Kristina Martin, Clinical Pathology Operations Manager, explains, "The Lab Ambassadors goal is to act as envoys between the Pathology laboratories and the Michigan Medicine nurses." Amy Drouillard, one of our ambassadors who works as a Medical Technologist in Microbiology, states that, "Our mission is to build a line of communication with the nurses. We want them to think of us when they are having an issue and reach out for help." Besides their normal laboratory duties and clinical unit training, the Ambassadors organize Laboratory Professionals' Week, give laboratory tours, and answer day-to-day laboratory questions.
This year they are joining Point of Care (POC) and Chemistry staff at the Michigan Medicine Nurses' Blitz (January 22-February 1). This commitment covers 70 hours of interaction and all three shifts. The Blitz is an opportunity for Michigan Medicine nurses to fulfill their competency requirements. Organized by Sheryl Woloskie, Lori DeVries and Mark Erber, of the UMH Professional Development and Education office, the Blitz is located in Towsley Auditorium. The Lab Ambassadors display helpful tips, Order of Draw cards, and posters highlighting the Pathology laboratories. Besides answering questions about labs, protocols, and sample collections, the Lab Ambassadors are present to encourage interactions, conversations, and camaraderie with the nurses in a friendly environment. In addition to providing answers to key issues for the nurses, their involvement in the Blitz is important because the Pathology POC and Chemistry staff do all the glucose meter certifications for over 1700 ICU nurses.
Our mission is to build a line of communication with the nurses.
As CP Operations Manager, Kristina Martin is well aware of the positive impact the Lab Ambassadors have. "They provided education to units for proper specimen collection processes, and were helpful in the roll-out of the new blood culture collection bottles." The unit nurse educators were very receptive to hosting the training and the results were so positive that now nurses feel comfortable directly emailing any questions they have to our Ambassadors.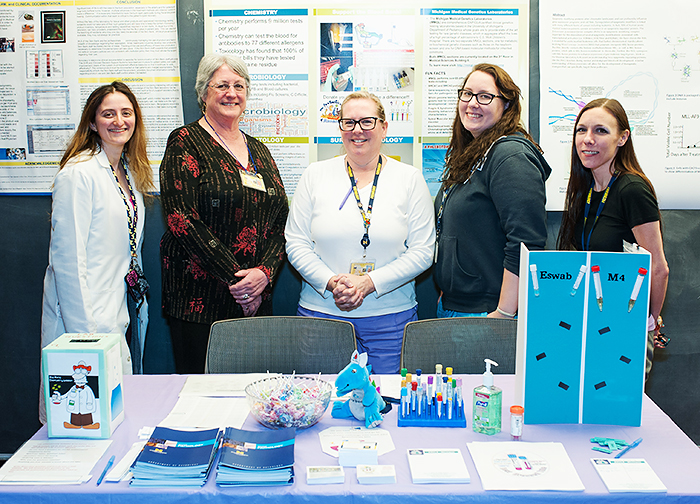 From Left to Right-Ninive Costa, Merry Muilenberg, Nancy Raynal, Ashley Powers, Amy Drouillard.Martin adds "One of the most exciting projects they are actively working on relates to upgrades to our Clinical Test Catalog. The Ambassadors have put together photographs and are creating videos to augment information about specific assays. These enhancements to the Handbook are key as the breadth and complexity of laboratory testing expands."
Staff actively participating include:
Microbiology Lab – Amy Drouillard and Ashley Powers
Hematology Lab – Nancy Raynal and Jenn Babinchak
Chemistry Lab – Merry Muilenberg and Cathy White
Blood Bank – Meredith Hoag
Molecular Diagnostics Lab – Jane Allen
Anatomic/Surgical Pathology – Sally Smith
Trauma Burn – Ninive Costa
Research (Muntean Lab) - Marisa Hildebrandt
Pathology staff with questions or interest in becoming involved can find information on the Lab Ambassadors page. Drouillard adds, "The goal is to also build community within the labs as well. Since we are not all located in the same space, the group has brought the different areas together."
Patient safety is fundamentally improved when lines of communication are open and active between clinical lab staff and nurses. Happily, Pathology is represented by these extraordinary and enthusiastic laboratory professionals who interact with the Michigan Medicine nursing community to facilitate quality patient care, healthcare education, and professional development.