Chairman's Corner
By Charles Parkos | July 8 2016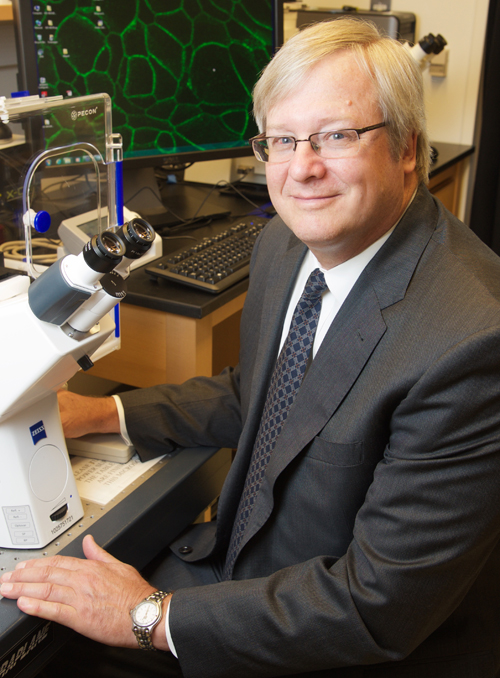 Photo/Elizabeth Walker It has been an eventful first year as Chair. Our faculty continue to thrive with new leadership roles. Dr. Kathleen Cho was appointed Vice Chair for Academic Affairs and Dr. Jeffrey Myers became the new Vice Chair for Clinical Affairs and Quality. Dr. David Lucas was recently appointed Director of Anatomic Pathology, allowing Dr. Myers to focus on his new appointment.
Multiple new Divisions within Pathology were created. Dr. Asma Nusrat leads the new Division of Experimental Pathology and will work to provide collaborative and mentoring opportunities for faculty members. Dr. Thomas Giordano is the Director of the new Division of Molecular and Genomic Pathology. He will seek to create a broad vision across all of the molecular pathology labs, setting departmental strategies for future test development and leveraging our research efforts for broader use by pathology faculty. The team in the new Division of Quality and Health Improvement (DQHI), led by Dr. Scott Owens, will tackle both quality improvement projects focused on daily processes and broad, value-creation projects that will span the interests of UMHS and beyond.
The department continues to be well recognized at national and international levels. Over the past year, our faculty have received numerous exceptional awards, and I do want to highlight the following three. Dr. Kathleen Cho was inducted into the National Academy of Medicine (formerly known as the Institute of Medicine), recognizing her outstanding contribution to national service, diagnostic expertise and laboratory research in gynecological cancer. Clinical Pathology continues to thrive under the leadership of Dr. David Keren, Professor and Director of the Division of Clinical Pathology, who was the recipient of the American Board of Pathology's Life Trustee Award. Dr. Peter Ward received the Society of Leukocyte Biology's Honorary Lifetime Award for Excellence. In this issue, he provides a personal perspective on the evolution of the Department of Pathology and changes at the U-M's Medical School and Health System. Having served as interim Dean of the Medical School and as 25 years as Chair of the Department of Pathology, you will no doubt agree his leadership and wisdom has been an essential part of the growth of this Department.
In October 2014, shortly after I became Chair, the Department received approval from the Wayne County Board of Commissioners to manage all activities of the Wayne County Medical Examiner's Office. In this issue, we look at Forensics in Wayne County and at the University of Michigan, and the steps that led to this very important partnership. You will also read about the career of Dr. Jeffrey Jentzen, Professor and Director of our Autopsy and Forensic Services. With Dr. Jentzen's leadership at U-M and Dr. Carl Schmidt's leadership as Chief Medical Examiner in Wayne County, I have no doubt we have one of the best forensics teams in the nation.
You will read about Pathology's talented imaging staff, with a historical perspective of imaging services over the years. They are the "eyes" of the department, as their work can be seen everywhere, on the website, this publication and many others. They are also the caretakers of a treasure trove of historical images, which provides a fascinating look into the past of our Department and institution. Alums of our Department will recognize many of the images from this invaluable core facility, and hopefully they will provide fond memories of how the staff in "Photography", (as it was once known) were always quick to provide assistance.
The Lab Ambassador Program was created in 2006 as a way to improve communication between the Pathology labs and the nursing staff. In this issue you will read about volunteers for this program and some of the initiatives our staff have taken to improve patient safety and communication on patient floors.
I am excited to announce that plans are moving rapidly forward to prepare the new administrative, clinical and lab spaces for Pathology's move to North Campus Research Campus (NCRC) in 2018! The former Pfizer site, which was obtained by the U-M in 2009, will provide an exceptional new space for our department. Two very important milestones were reached this past year with the Regents' approval of the $160M renovation and relocation project in May 2015 and the Regents' approval of the schematic design in December 2015. In this issue, Christine Baker, Project Manager for the relocation project, provides an explanation of the some of the virtual and Lean tools used for designing new state-of-the-art space for Pathology.
These are truly exciting times for Pathology at Michigan. I hope you enjoy reading this issue as much as I did. Please send us feedback. We would be delighted to hear from you!
Charles A. Parkos, M.D., Ph.D.
Carl V. Weller Professor and Chair, Pathology