Research Histology and Immunohistochemistry Core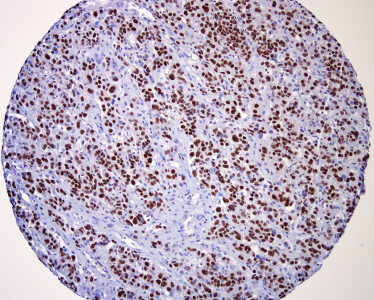 Representative immunohistochemistry result. Adrenocortical carcinoma tissue array stained with anti-CDK9.
Thomas J. Giordano, M.D., Ph.D.
3411 Cancer Center
Primary Contact for Histology: Alan Burgess
Primary Contact for IHC: Tina Fields
The University of Michigan Comprehensive Cancer Center supports and maintains a state-of-the-art histology and immunohistochemistry laboratory using automated instruments. Services are provided on a chargeback basis. We require a valid short code at the time orders are placed. Volume discounts can be negotiated.
The immunohistochemistry portion of the lab has a battery of standard antibodies available and protocols for many more antibodies. However, most of our immunohistochemistry work is done with specific antibodies provided by investigators.
Drs. Giordano and Thomas are available for consultation or can identify a collaborating pathologist if needed. We also have a large collection of neoplastic tissue arrays available via collaboration. Contact us to discuss.