Creating the Opportunity
By Camren Clouthier | October 11 2022


Highly trained medical laboratory professionals can be found all across Michigan Medicine's Department of Pathology. Whether they work in Specimen Processing, Hematology, or even Phlebotomy, these Allied Health staff members are key cogs within the daily success of the Department. These staff members do much of the behind-the-scenes work, such as analyzing human specimens, performing tests on a variety of samples, and operating complex medical instruments. Many Allied Health opportunities exist within the field of Pathology and Karen Barron MLS (ASCP), the Allied Health Education Program Manager, is eager to introduce this career pathway to others. In fact, her chief responsibility is to oversee the development of these staff members.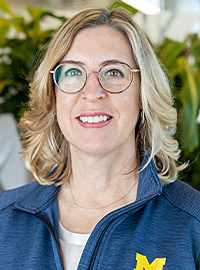 Growing up in Sylvania, Ohio, Barron had been interested in science since her childhood. She officially got her start after completing a Medical Technology internship in Toledo. From there, she worked at ProMedica Health System and gained more experience in various roles in Infectious Disease, Microbiology, and Compliance and Quality, all while still in Ohio. Barron relocated to Michigan Medicine five years ago to take a job in Pathology, first in Point of Care testing. Later, the Department introduced a new role: the Allied Health Education Program Manager, into which Barron was promoted. She remarked that she chose Michigan Medicine because she was attracted to the strong culture in Ann Arbor. "I love the arts, the music, and the cultural opportunities. I've always enjoyed learning, working with people, and sharing science. The job in Allied Health practically had my name written all over it."
In her everyday role, Barron typically wears many different hats, with a variety of duties. In fact, Barron is Pathology's first full-time staff member who oversees the Allied Health Education services. Making connections is the name of the game. "I am building on work that was started by a lot of different people in Pathology," she notes. "Over the years, groups have worked to recruit, educate, and optimize the potential of our staff, so I am building on that, and every day is a little bit different." She is focused on developing a unique pipeline for future laboratory professionals through community outreach, targeted engagement, and employee retention. One example of this is something that Barron does frequently: visit local high schools to educate students on what the field of Pathology is all about.
Barron, who also manages the Medical Laboratory Scientist (MLS) Internship program, adds that attracting more students to the laboratory setting is her specialty. "A baccalaureate degree is required to become a Medical Laboratory Scientist," she states. "Students typically complete a clinical practicum internship in Pathology during the final six months of their degree program." Moreover, the program is affiliated with a statewide network of public universities including Michigan State University, Eastern Michigan University, Ferris State University, and more. "The interns are granted the opportunity to work closely with both physicians and staff to gain real-world experience in a lab setting." Designated clinical educators from the involved labs work closely with the interns to develop their schedules, allot different tasks, and teach them about best laboratory practices. "They do patient work within four main rotations in the areas of Microbiology, Blood Bank, Chemistry, and Hematology." Students also work in more specialized areas such as Molecular Diagnostics, HLA/Flow, Phlebotomy, Specimen Processing, or Cytogenetics. Barron says that providing this additional enrichment for students is crucial to their engagement. In the past, students interested in exploring different subspecialties were able to gain more knowledge about Autopsy/Forensic services, Cell Therapy, and even the Division of Quality and Health Improvement (DQHI). Because students can experience many of these different disciplines within Pathology, they can more easily determine where they want to work in the future. At the conclusion of their internship, students are often hired full-time to continue working at Michigan Medicine. "We have so much to offer," Barron expresses. "We have so many state-of-the-art labs doing all of this interesting work."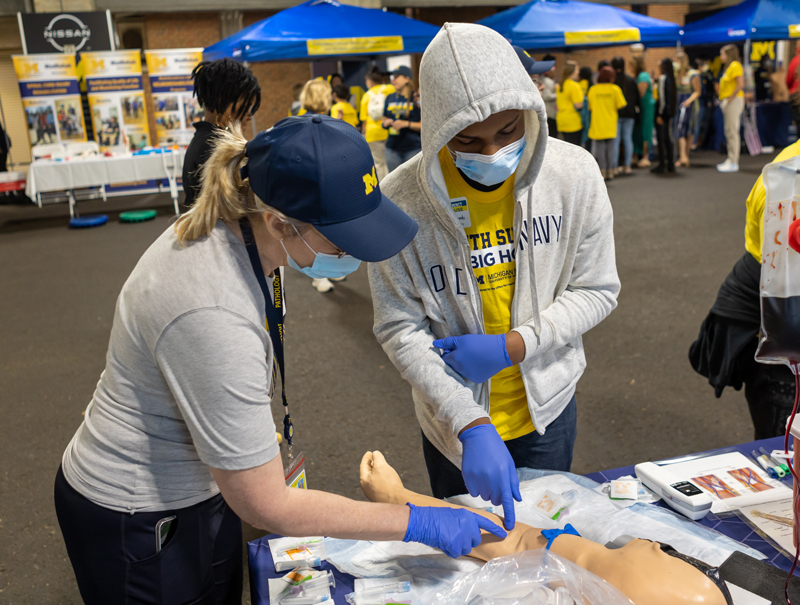 One major challenge that Barron often faces is grappling with the shortage of Allied Health staff employees. Expanding the capacity to take interns and retain current staff members is key. "We have to be creative to figure out how we can maximize the potential of our staff, bring in more interns and continue to reach out to the next generation of lab professionals." Barron has embraced the challenge, adding that it is an all-hands-on-deck effort. All members of the Allied Health program work in unison to ensure that employees are adequately supported and have the necessary resources to perform their jobs accurately.
Although she has only been in her role for a few months, Barron explains that the most rewarding part of her job is getting to work alongside such a diverse group of Allied Health staff, including Phlebotomy and the Point-of-Care team at the University Hospital. "When I go and talk to people, they are so passionate, dedicated, and excellent at what they do," she mentions. "I am proud to be a part of that." She enjoys helping her interns blossom into hardworking laboratory professionals. "To any prospective students, my advice would be to take the science courses, keep building up communication skills, and do not be afraid to be inquisitive." In the future, Barron hopes to continue focusing on making connections with staff members and positively impacting the Pathology culture. "We are a service industry and ultimately, it is all about being of service to our patients, physicians, and each other. Creating educational opportunities in science is the best way to serve." Barron concludes.