A Fundamental Passion
By Elizabeth Walker | October 18 2019


The son of a physician-scientist, a young Bryan Betz was fascinated by the field. After enrolling at the University of Michigan for his undergraduate degree, he took the usual courses to put himself on track for medical school. In his junior year, he took a course that would cement his future. That class? The Biology of Cancer. "It is a bit cliché, but I'll never forget the tremendous impact that class had on me," he recalls. Betz became immersed in the disease and knew he would dedicate his career to cancer.
Convinced he wanted to pursue a career in research, he entered a molecular and cellular pathology graduate program at the University of North Carolina. In the laboratory of Dr. Bernard Weissman at the Lineberger Comprehensive Cancer Institute, his work focused on identifying the genetic basis of a rare and aggressive pediatric cancer that frequently occurs in the kidney, rhabdoid tumors. "I performed some of the first work demonstrating that mutations in a gene called INI1 occurred in almost all cases of this tumor," Betz says.
"It is a bit cliché, but I'll never forget the tremendous impact that [The Biology of Cancer] class had on me."
He was able to demonstrate that replacement of the defective INI1 gene back into rhabdoid tumor cell lines resulted in a rapid block in tumor cell growth and shed light on some of the molecular pathways in which INI1 loss contribute to the pathogenesis of this disease.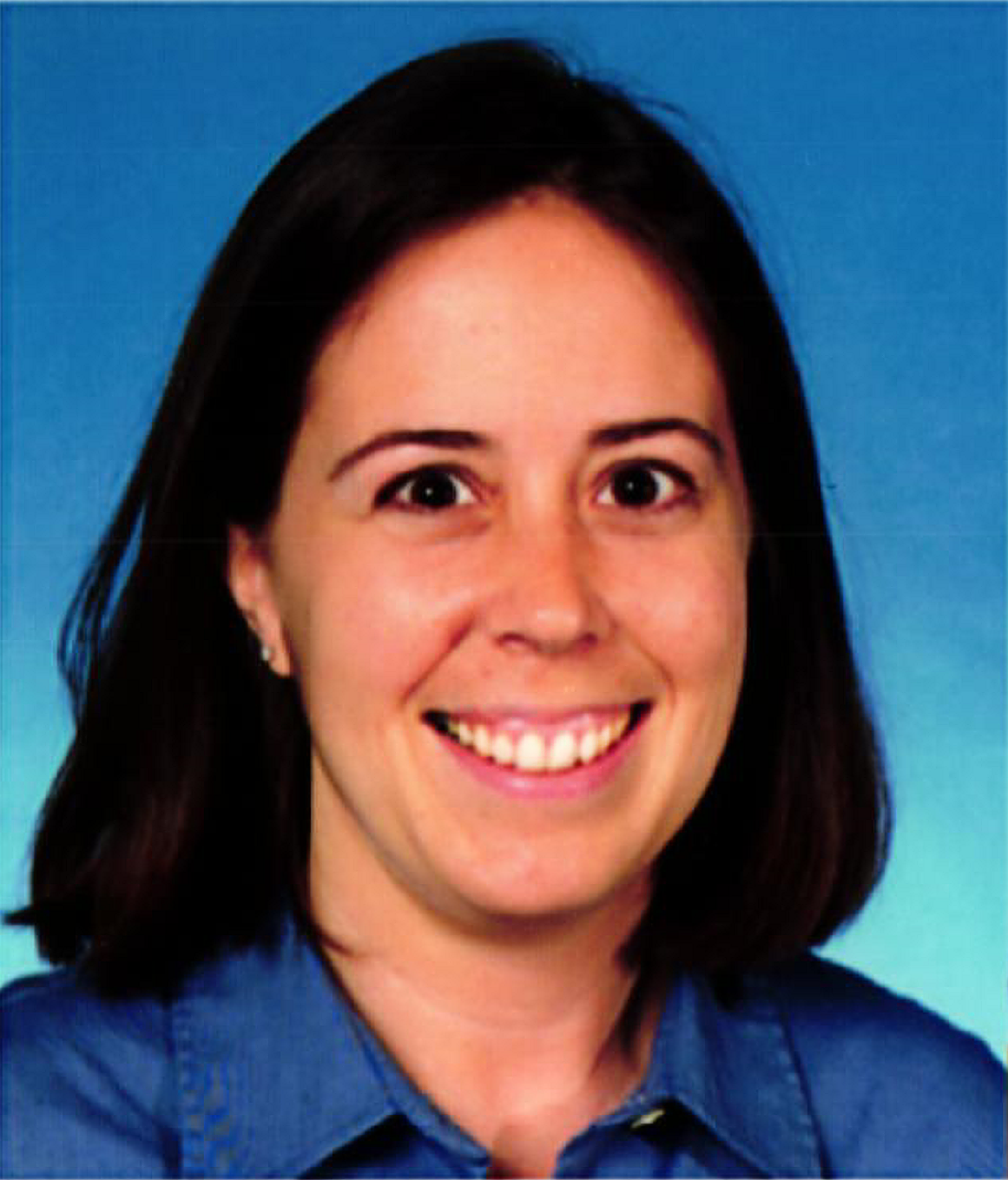 It was during this time that Betz also met his wife, Sharon, with whom he discovered he not only shared a bus route, but also a graduate program and an apartment complex. An invitation to celebrate Cinco de Mayo with a group of her friends led to more, and the couple married after completing their PhDs in 2002.
Pursuing a clinical career path, Sharon entered fellowship training in clinical cytogenetics and molecular genetics, while Betz began a post-doctoral fellowship at the National Institutes of Health. There, he identified a new mouse model of gastrointestinal stromal tumors – a rare soft tissue tumor of the gastrointestinal tract – that helped define the mechanisms of that disease. "It was through the collective and diverse set of experiences in the research setting that I was able to hone my fundamental understanding of cancer pathogenesis and my technical skills in molecular genetic techniques and technologies that laid the foundation for my career today."
Yet, he was drawn to Sharon's work in the clinical genetics laboratory. He found himself jealous of the work she was doing in the clinical setting and yearning to apply his technical skills and knowledge in cancer biology to more directly impact the care of cancer patients. So, the duo decided to co-apply for jobs and, in July of 2007, they joined the Department of Pathology at the University of Michigan as Clinical Assistant Professors. Sharon was hired as an assistant director of both the cytogenetics and molecular diagnostics laboratories while Betz was hired as the technical director of the Molecular Diagnostics laboratory.
Betz, who was raised in Ann Arbor, was excited about giving his two young children a similar childhood. "I knew that this was a great place to raise a family but also the environment here in the department was really set up to allow us to succeed." The future was bright for the husband-wife team and Betz took it upon himself to reach out to the division of Anatomic Pathology, attempting to bridge the historical divide between AP and Clinical Pathology. Under the leadership of Dr. Kojo Elenitoba-Johnson, the team was able to break down those barriers and work collaboratively to coordinate the activities between the cytogenetics lab and the molecular lab. Then their world came crashing down when Sharon was diagnosed with a rare variant of cervical cancer in December of 2007. She worked throughout treatment, but the cancer was difficult to treat, and she died in July of 2008. The blow was devastating.
"Going through that gave me a new perspective on the significance of my work. It was particularly motivating for me to enhance our clinical service to provide our cancer patients and clients access to the best, highest quality, and most cutting-edge molecular tests," Betz says.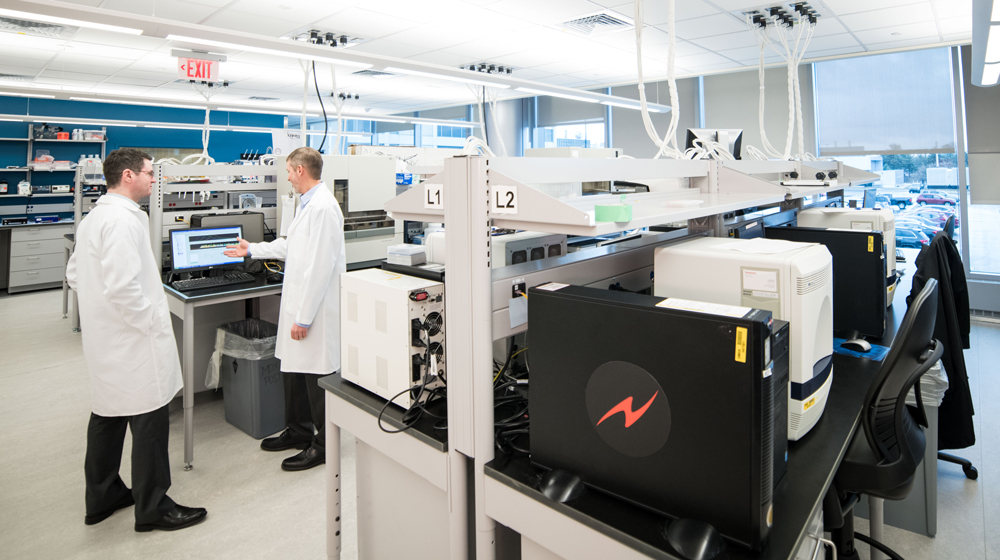 Together with the Molecular Diagnostics team, Betz honed his energy on placing a high priority on customer service for the clinical teams and clients and expanding the test menu and technical capabilities. The result? A 3-fold increase (19 tests to 66) in the number of molecular diagnostic tests offered over the next 10 years. This growth and the patient/client-first focus helped to enhance recognition of the laboratory, which today is a leading national provider of molecular diagnostics testing for cancer care.
"A recurrent theme I find myself saying is that our ability to provide top-tier molecular testing is a direct result of our collective laboratory team. Our people are what make us great and I credit them for our accomplishments."
When it came time for the move to the North Campus Research Complex, Betz and his team embraced the opportunity to co-locate 6 different molecular labs into 1 space. The individual teams had done very little collaborating previously, so the first step was a series of team-building exercises to get to know one another. From there, working groups were formed so the teams could get familiar with workflows and there were staff shadowing exchanges between labs. This helped alleviate the fears that staff had and set them up for success in actually designing the space. "The fundamental thing we did is we designed the space around testing and technologies and workflows rather than the preexisting organizational structures," Betz says. "You hear the word lean and people roll their eyes and I have to be honest, I did that as well, but actually after getting the process and learning about how that can influence and impact your efficiencies in your labs, it's tremendous." In fact, the lab implemented changes to help with inefficiencies even before the move.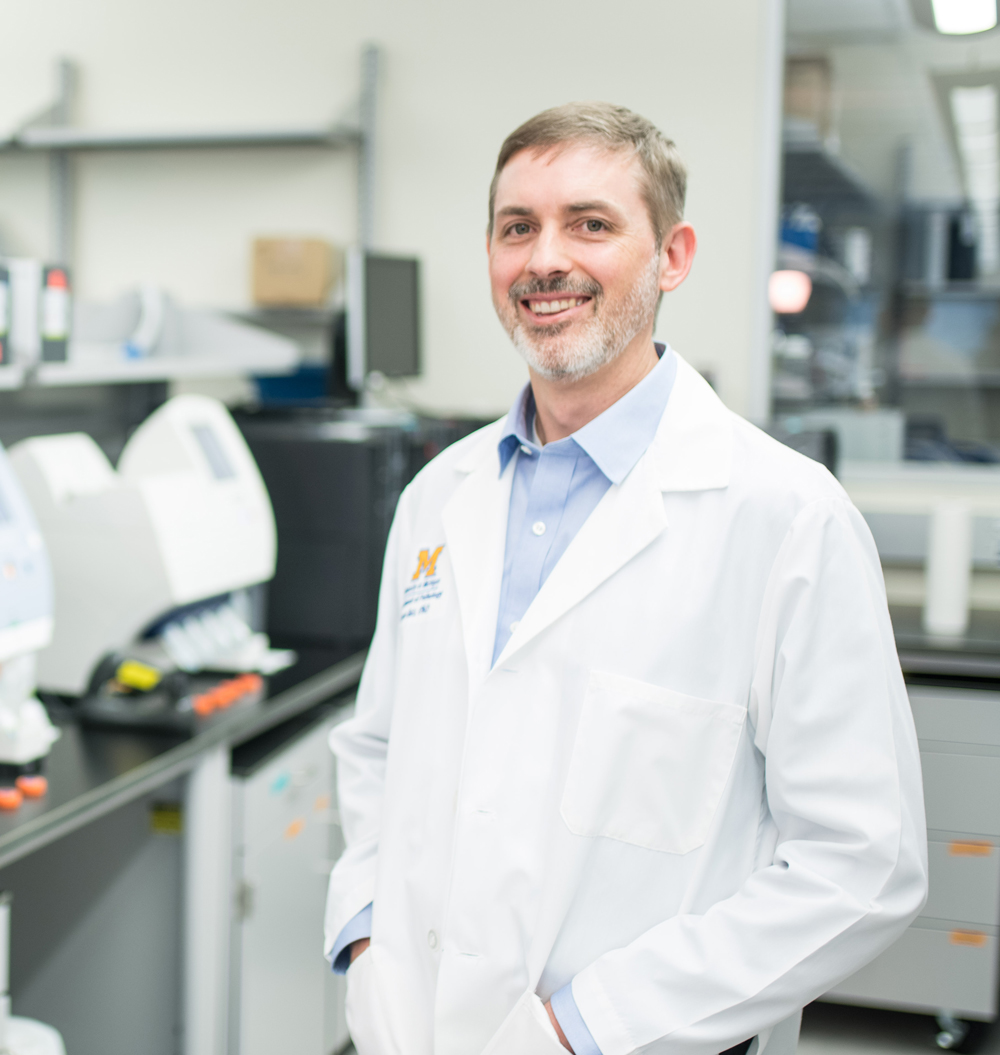 Now that the labs are all in one location, work has begun on combining efforts for shared resources. DNA extraction is a fundamental first step in any molecular test, so a DNA extraction core was the first to be implemented. The plan is for more resources to be combined as it's beneficial and naturally evolves.
There are still numerous challenges to be faced in the field of cancer molecular diagnostics. Rapidly changing technologies, the accelerating pace of discovery and application of cancer biomarkers, and continued barriers to reimbursement of molecular testing. However, Betz is optimistic about the future given the combined and collective efforts of his groups, the support of the department and hospital, and the opportunities provided by the new well-designed space. He says it's the fundamental passion for helping patients that makes his team so amazing. "A recurrent theme I find myself saying is that our ability to provide top-tier molecular testing is a direct result of our collective laboratory team. Our people are what make us great and I credit them for our accomplishments. And I credit Sharon with encouraging me to pursue a career in the clinical laboratory. She opened my eyes to clinical diagnostics, and I wouldn't be doing what I am today without her."