Residency Training Program

The Residency Training Program in the Department of Pathology Provides training in clinical pathology (CP), anatomic pathology (AP), and research. Clinical training encompasses either a combined AP/CP program or exclusive training in AP or CP. The combined AP/CP training program is organized in an integrative model where residents alternate between AP and CP rotations throughout their four-year program. Research training is available either exclusively as post-doctoral fellowship training or can be linked with clinical training. Resident training programs are personally designed and formulated to meet professional goals as well as ACGME and American Board of Pathology requirements for training in specific disciplines. Our residents typically have completed medical school within five years of initiating residency training and scored above the national average for USMLE I and II, as well as COMLEX Level 1 and 2.
Excellence in clinical service and patient care, scholarship, and research are the cornerstones on which the Residency Training Program is based. Education and professional growth are provided in this program through the integration of formal instructional activities in a core curriculum with practical clinical experiences in which residents accept increasing levels of responsibility as they progress through the program. We offer unique curricula in Quality Improvement/Patient Safety and Translation Research. The development of Residents as teachers is considered an important component of their training to prepare them for the unique consulting role Pathologists serve in bridging the domains of basic and clinical science.
Research within the Department is robust and, in terms of NIH funding, represents one of the best-funded Departments in the United States. This includes a spectrum of investigational studies from basic molecular biology to translational biomedical research and clinical investigation. Our faculty continues to expand and represents a dynamic mix of senior faculty who are leading experts in their fields with mid-career and junior faculty with strong academic interests. These strengths obviously provide boundless opportunities for trainees. Applications for residency training are accepted through ERAS.
Fellowship training is offered in many of the subspecialty areas of Pathology. We have ACGME certified fellowships in Blood Banking and Transfusion Medicine, Chemical Pathology, Cytopathology, Dermatopathology, Forensic Pathology, Hematopathology, Molecular Genetic Pathology, Neuropathology, Pediatric Pathology, and Surgical Pathology. In addition, we offer training in the areas of Bone and Soft Tissue Pathology, Breast Pathology, Gastrointestinal Pathology, Genitourinary Pathology, Gynecologic Pathology, Informatics, Pulmonary Pathology, and Research. A link for fellowship applications can be found here.
The University of Michigan offers highly competitive salaries and tremendous benefits to our residents/fellows. An overview of salary, benefits, and employment eligibility is available on the GME Office website, under "Prospective Residents/Fellows".
Medical School
Residency & Fellowship
---
Physician Scientists Training Pathway
In accordance with the American Board of Pathology's (ABP) recent inclusion of the Physician-Scientist Research Pathway, the University of Michigan Pathology Residency Program welcomes applicants whose career goals match the objectives of the ABP. This track is for physicians who are committed to contributing to new scientific knowledge in basic science, and clinical or translational medicine through a career that will involve funded research. Trainees following this track will complete all requirements of the ABP for certification in AP, CP, or AP/CP. We expect that a pathology resident in the Physician-Scientist track would complete six months of research during his/her core training, followed by one or two additional years of research, the latter funded through training grants that exist in the University of Michigan Department of Pathology or other sources. Resident candidates will have the opportunity to express their interest in this track at the time of coordinating interview dates.
---
A Note From the Chief Residents
Dear Prospective Residents,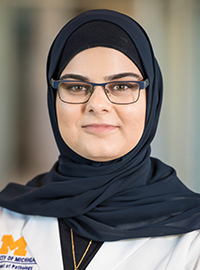 Thanks so much for your interest in our program! We are excited to share with you why we love training here. Firstly, to introduce ourselves —Batoul Aoun is the chief resident and Corey Post and Nathan McCammon are the co-assistant chief residents, who will assume the chieftaincy in 2023-2024. Batoul comes to us by way of Lake Erie College of Osteopathic Medicine in Erie, Pennsylvania; Corey from the University of Arkansas for Medical Sciences in Little Rock, Arkansas; and Nathan from the University of Texas Southwestern Medical Center in Dallas, Texas. Like many of our co-residents, we interviewed broadly across the country and could not help but be drawn to the culture, academic environment, program design, and most importantly, the people at the University of Michigan Department of Pathology.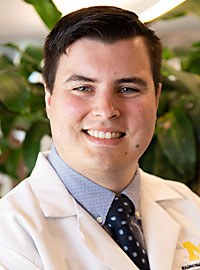 The residency program is an integral part of the Department of Pathology here at Michigan Medicine, as evidenced by our strong involvement in clinical work and day-to-day pathology operations. The intensive hands-on training that we receive as residents in anatomic and clinical pathology, in addition to more traditional didactic learning, produces excellent pathologists in both the academic and community practice sectors. Ample research opportunities are available for residents, as well as involvement in intradepartmental, interdepartmental, and hospital-wide committees.
The quality of life in the Ann Arbor area is another big draw for our residency program. The city and surrounding area are bursting with great restaurants, cultural/arts venues, and peaceful outdoor spaces. For all that the area has to offer, the cost of living is not too high!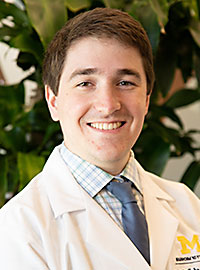 Finally, but certainly not least, our Michigan Pathology residents constantly amaze us. They are some of the kindest, funniest, most helpful, and supportive people that we know, and we are grateful every single day to be working with them.
We would love to tell you more about the program, answer any questions you might have, or just get to know you a little bit better. Feel free to reach out to us via the e-mail links below.
Thanks again for your interest!
Batoul, Corey and Nathan
Chief & Co-Assistant Chief Residents, 2023-2024