Life in the City
The University of Michigan is located in Ann Arbor, a small cosmopolitan city in the southeast corner of Michigan. With a population of ~125,000, Ann Arbor combines the congenial atmosphere and ease of living of a small city with the wide range of cultural opportunities typically found in a much larger community.
The University serves as a focus for art, music and theatrical performances. There is a network of inspiring museums including the Exhibit Museums, featuring the Museum of Art, a Hall of Evolution, the Ruthven Planetarium, the Kelsey Museum of Archeology, the University Herbarium and the President Gerald R. Ford Museum.
Ann Arbor itself also has a lively arts scene and offers an abundant array of restaurants, microbreweries, coffee houses, jazz, blues and rock clubs, museums, and other entertainment.
As a place to live, Ann Arbor regularly places within the top 10 communities in the country in national magazine ratings and has an abundance of affordable and conveniently located housing.
"Ann Arbor is the perfect amount of bustling for me - there is so much to do downtown but you can still find peace and quiet at home or at one of our wonderful parks or nature trails. The city or its outskirts are great for families or individuals alike; there are many great schools and learning resources available for everyone. I couldn't think of a better place to live!"Elizabeth Higginson
Easy Access
Located approximately one hour west of the greater Detroit metropolitan area, and only a thirty-minute drive from the Detroit International Airport, Ann Arbor's proximity to Detroit provides the advantages of life in a major metropolitan area - cultural events, museums, professional sporting events without the attendant disadvantages of urban life.
Chicago, Toronto, and other major metropolitan areas are within a four-hour trip by car or train, providing access to the distinct array of events these cities have to offer.
"There is a reason why Ann Arbor is ranked amongst the best college towns in the US. There is so much to do here with tons of culture and diversity."Batoul Aoun
Connecting with Nature
The 2500-acre University of Michigan campus in Ann Arbor is also rich in natural settings. Over 140 parks in the city and surrounding areas offer countless possibilities for outdoor activities, from boating on the Huron River to biking, rollerblading and hiking, and in the winter cross-country skiing, skating and other outdoor activities.
Chains of inland lakes and an abundance of streams and rivers offer adventurous canoeing and fishing opportunities. In addition, Ann Arbor is only a few hours from the sandy beaches of Lake Michigan, the wild shorelines of Lakes Superior and Huron, and the deep forests and campsites along the waters of the upper peninsula.
The combination of cultural, outdoor and sporting activities, excellent restaurants and a lively community make Ann Arbor a terrific place for graduate and postdoctoral studies.
"Ann Arbor really has something to offer for everyone. It's a foodie city, with plenty of great restaurants and bars. It's an outdoorsman's paradise, with numerous parks and trails to explore and a river to float. It's part of a vibrant and exciting community, filled with diverse local events - from art fairs and classic cinema to rooting for the local sports teams or playing on an intramural one."Corey Post
"I was pleasantly surprised by the diversity of food in Ann Arbor. It's also high quality and tastes amazing, you almost can't go wrong with any restaurant. There are a huge number of nurseries nearby too with a wide variety of plants, making getting into gardening or decorating your apartment/house a breeze."Maxwell Wang
Academic Life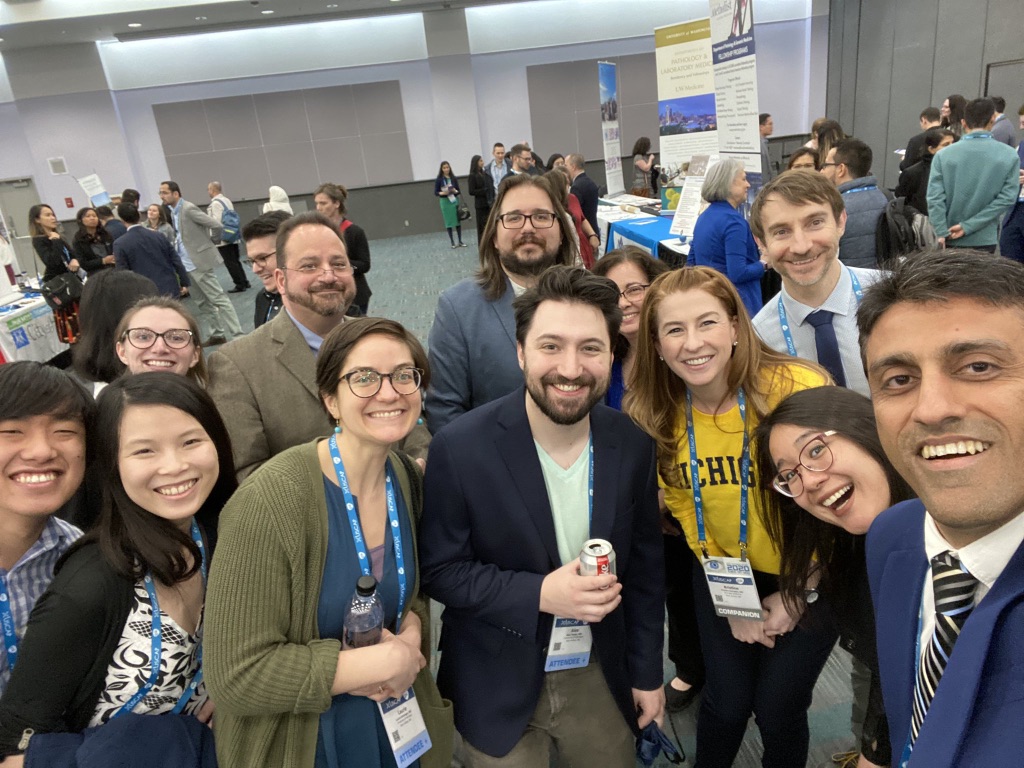 The University of Michigan, chartered in 1817, has one of the most vibrant research communities in the United States, ranking second nationally in overall research expenditures and rated as one of the best public universities in the country (U.S. News and World Report).
The Medical School, in particular, has ranked in the top ten schools nationally in NIH funding for nearly two decades. The student body is large and diverse with about 60 percent of the students engaged in undergraduate studies and 40 percent in graduate or professional schools.
The intellectual, cultural and environmental components of the University of Michigan work together to provide a comfortable home to thousands of students.
"We work with amazing co-residents, faculty, and staff who all want to see you succeed! In addition, the culture of respect, strong diagnostic training, and abundant opportunities for leadership, research, and teaching contribute to an exceptional program."Ashley Brent
Check out these sites for the latest on Ann Arbor news and events:
Pathology Trainee DEI Committee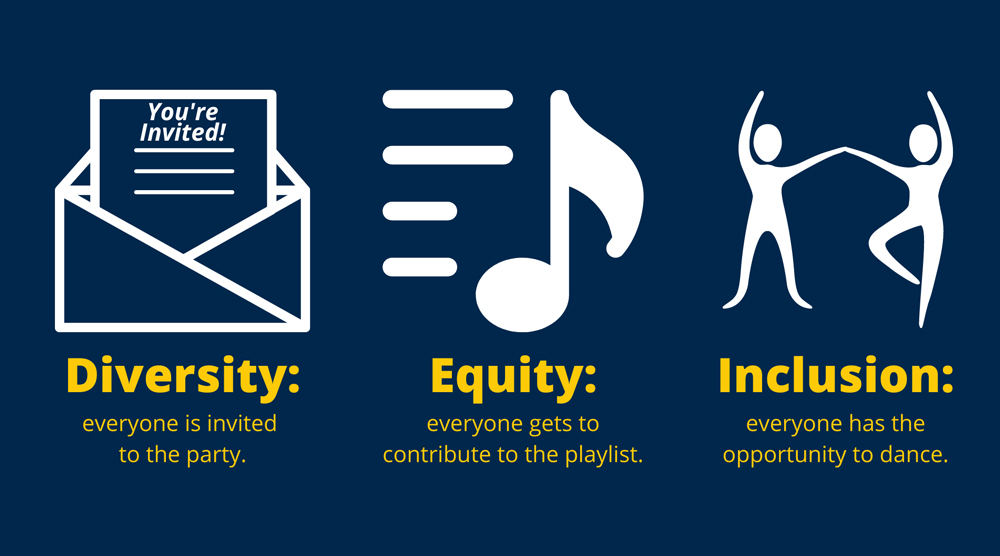 Inspired by national events and personal experiences, a group of University of Michigan pathology trainees came together in July 2020 to form the Trainee Diversity, Equity, and Inclusion (DEI) Committee. The Trainee DEI Committee's mission is to create a more diverse, equitable, and inclusive training program and support an open, safe, and welcome learning environment. In our group's first year, we focused on two things: 1) defining the group, including the creation of our core values, establishing meeting logistics, and writing formal by-laws and 2) identifying and prioritizing potential projects. Figure 1 illustrates our group's definitions of diversity, equity, and inclusion.
We hold monthly meetings to discuss ongoing projects and new business. Our meetings incorporate virtual formats to ensure all Committee members can participate. Instead of traditional officer positions, we have the following three positions: (1) the Point Communications Officer (annual position, the "voice" of the Committee), (2) the Minutes Officer (annual position, in charge of collecting, distributing, archiving meeting notes), and (3) the Facilitator (rotating monthly position, sets meeting agenda and oversees the meeting). We welcome interested Pathology trainees who would like to join the DEI Committee to email our 2021-2022 Point Communications Officer, Justin Kelley.
Our first major project revolves around assessing the status of DEI within the program. To accomplish this, we created a comprehensive survey that could be administered on an annual basis. Months of survey research and design culminated in the first batch of residents completing the finalized survey in May 2021. We are currently in the process of anonymized data aggregation and analysis with the help of the University of Michigan Office for Health Equity and Inclusion (OHEI). Our survey findings will guide and shape future DEI Committee projects, DEI-inspired didactics, and opportunities within the department.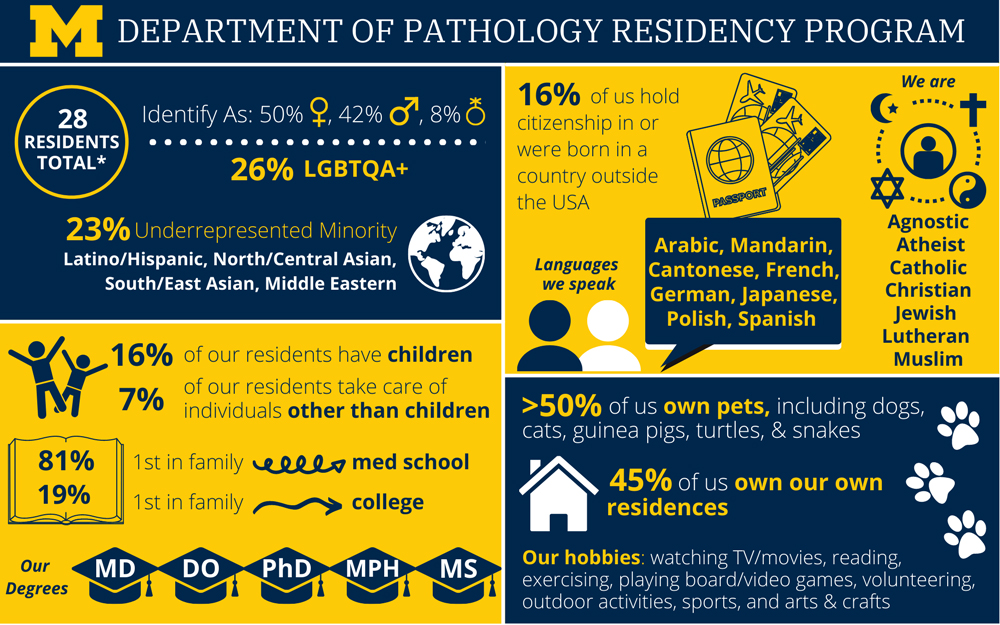 ---
Committee Members
Faculty Advisors