Glucometer Exchange Notice:
On Monday, November 2, the Glucometer Exchange location is being moved to the Blood Bank in University Hospital Room 2F225 (instead of the Chemistry window at 2F453). This is to accommodate ongoing renovations in the Pathology suite. Please be patient with Blood Bank staff who also assist customers with blood product distribution. See the Glucometer Exchange map.
The Glucometer Exchange supports glucometer users 24/7 by providing a place to bring a broken or malfunctioning glucometer and exchange it for a working glucometer. Only glucometers may be exchanged. Contact Pathology Point of Care (POCT) for other equipment problems or questions related to glucometer bases, other POC devices, operator access problems, operator barcodes, POC training, and testing supplies. See the Point of Care FAQ.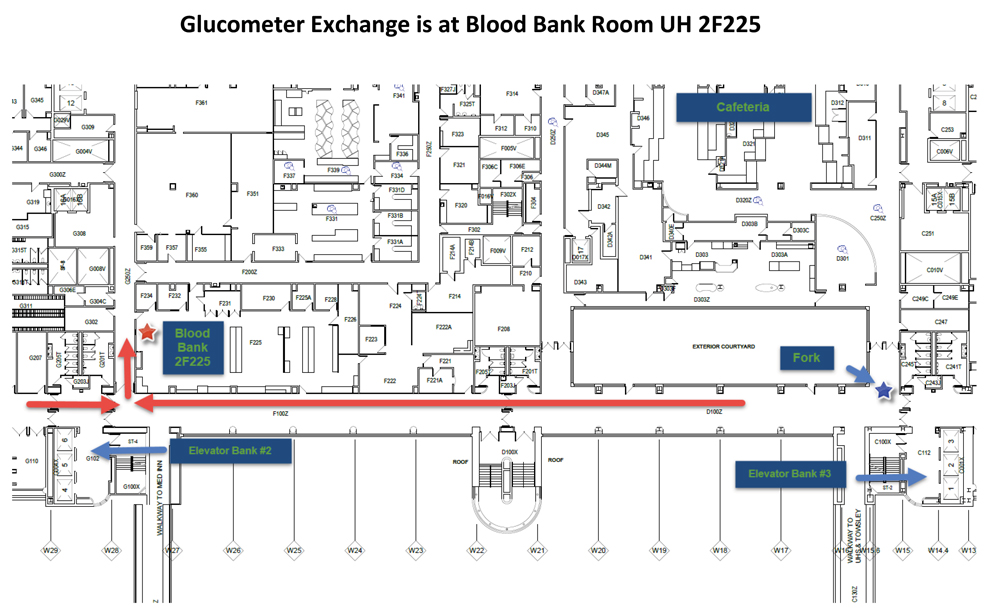 Glucometer Exchange Map
---
Mission Statement
Our mission is to improve patient health by providing access to safe and efficient lab testing at the point of care, through service, technology, and education.
About Us
Point of Care testing provides a valuable service to physicians and other clinicians by assisting in the rapid diagnosis and treatment of patients. Testing is typically performed at the patient's bedside, but may also occur in surgical suites, clinician offices, or in small decentralized laboratories. These tests are simple to perform and provide results quickly. Point of Care testing is performed by thousands of employees throughout the Health System, including Nurses, Medical Assistants, Respiratory Therapists, Radiology Technicians, Physicians, and Laboratory Professionals.