Peter Ouillette, MT-ASCP
Flow Cytometry/Slide Scanning, Operator-Manager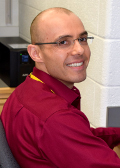 Peter Ouillette is the Operator-Manager of the Pathology Core Flow Cytometry Laboratory and Slide Scanning Service. He joined the Department in September of 2014.
Peter graduated in 1996 with a Bachelor of Science summa cum laude in Clinical Laboratory Science from Michigan Technological University, followed by board certification with the ASCP as a Medical Technologist (MT – ASCP). He worked for seven years at Mayo Clinic in Rochester, MN, in the Clinical Virology and Molecular Hematopathology laboratories, plus two years in Transplantation Biology as a research tech.
In 2004 Peter took a position in a Hematology research lab in the Department of Internal Medicine's Division of Hematology and Oncology. In that time he published several first-author papers in leukemia and lymphoma genomics and co-authored two book chapters with his PI. His tenure in this position included a large proportion of flow cytometry work, which prepared him for his current title in Pathology.
His current position involves supporting the missions of clinical education, research, and clinical tumor board conferences through the management of the department's digital pathology resources. These include a state-of-the-art high-throughput Aperio AT2 digtial slide scanner, the curation of a 34,000-slide image database, and associated continuous improvement practices geared towards greater efficiency, quality, and throughput. Peter works closely with Dr. Lloyd Stoolman, programmer Josh Jacques, and M. Nadeem Aslam.