Discovery and Development of Small Molecules for Targeted Therapies in Cancer
The focus of the Grembecka/Cierpicki laboratories is discovery and development of small molecules for targeted therapies in cancer. Targeted cancer therapies use drugs that selectively inhibit growth of cancer cells by blocking proteins directly involved in cancer cell division and spread. By focusing on inhibiting proteins directly involved in molecular and cellular changes that are specific to cancer, targeted cancer therapies are more effective and much less harmful to normal cells than other types of treatment, such as chemotherapy or radiotherapy.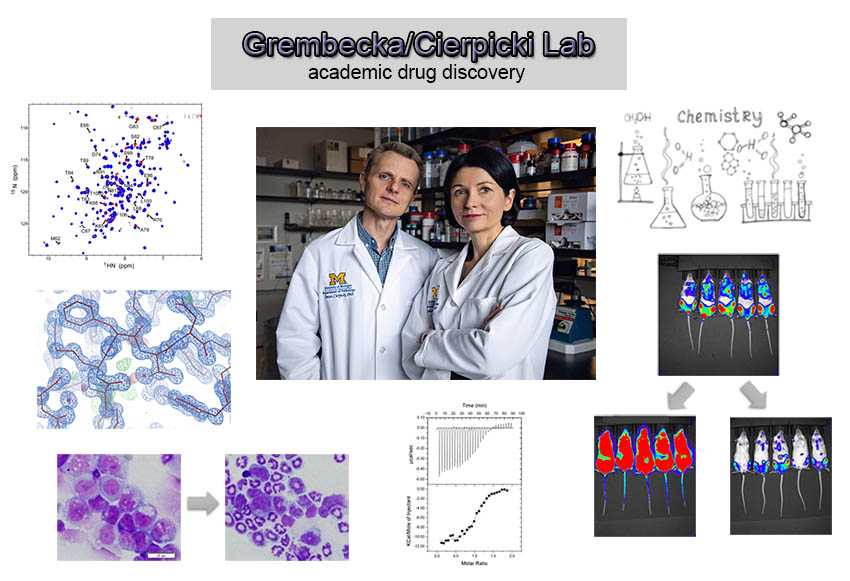 We are particularly interested in development of small molecules targeting epigenetic proteins involved in leukemia and solid cancers and in assessing their activity and mechanism of action in in vitro and in vivo models of cancer. We developed potent inhibitors of the menin-MLL interaction as a novel therapy for leukemias with MLL-rearrangements and NPM1 mutations. We are also developing inhibitors of histone methyltransferases, including NSD1 and ASH1L with activities in leukemia models. Our work has also been focused on targeting cancer stem cells via inhibition of the PRC1 complex.
The research in Grembecka/Cierpicki lab. is high interdisciplinary, and includes medicinal chemistry combined with biochemical, structural biology, biological and animal studies with an overreaching goal to develop drug-like compounds and evaluate their efficacy in pre-clinical models of cancer for their future translation to the clinic.