Discovery and Development of Small Molecules for Targeted Therapies in Cancer
The focus of the Grembecka/Cierpicki laboratories is discovery and development of small molecules for targeted therapies in cancer. Targeted cancer therapies use drugs that inhibit growth of cancer cells by blocking proteins directly involved in cancer cell division and spread.  By focusing on inhibiting proteins directly involved in molecular and cellular changes that are specific to cancer, targeted cancer therapies are more effective and much less harmful to normal cells than other types of treatment, including chemotherapy and radiotherapy.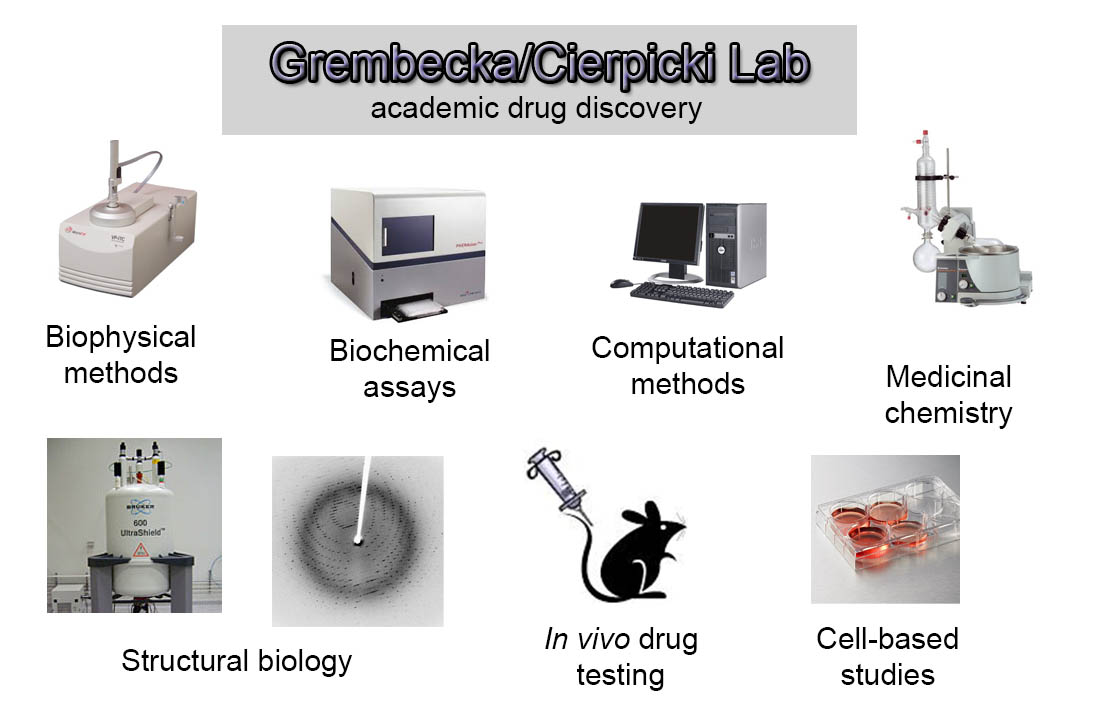 We are particularly interested in development of small molecules targeting protein-protein interactions involved in leukemogenesis and other tumors. Currently, we are working on development of small molecules inhibiting MLL fusion proteins in acute leukemias by targeting the menin-MLL-LEDGF complex, with the overall goal to advance these compounds to clinical trials in the MLL leukemia patients. Our group is also pursuing development of small molecules targeting other proteins involved in oncogenesis. This includes Cdc25 phosphatases, and several epigenetic drug targets relevant to hematologic or solid tumors.
The research in Grembecka/Cierpicki lab. is high interdisciplinary, and includes medicinal chemistry, biochemical, structural biology, biological and in vivo animal studies for lead identification, optimization and development to advanced pre-clinical stages in animal models. We also collaborate closely with the pharmacokinetic group for the DMPK studies to further support our drug discovery efforts.