Be a Birthday Leprechaun for a Child in Need
By Elizabeth Walker | February 4 2019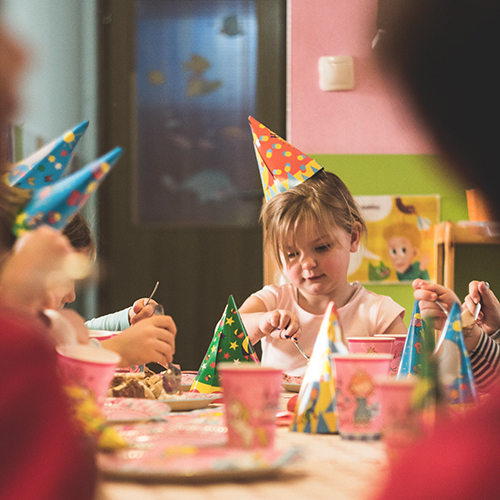 The Division of Quality and Health Improvement (DQHI) is hosting Be a Birthday Leprechaun on Friday, March 15th from 11 am to 1 pm in the Superior conference room at the North Campus Research Complex. Dress in your St. Patty's Day gear and join DQHI to assemble Birthday Bags which will be distributed to kids in need via Food Gatherers. There will be food while it lasts (shout out to Kevin and his crew at Little Ceaser's Pizza at 1944 W. Stadium Blvd.), games, and prizes.
Bring your items for the Birthday Bags to the event or donate them ahead of time. The lab that donates the most supplies will win a pizza party!
Items* needed for birthday bags are:
Store-bought cake mix
Store-bought frosting
Birthday candles
Food service ware (plates and napkins) in their original packaging
Fun items such as balloons, party hats, and streamers which don't have to be in their original packaging
Gifts for 5 – 10-year-olds, such as art supplies, board games or books
Event Schedule
Build Birthday Bags – 11:00 am - 1:00 pm (Superior conference room)
Euchre Tournament – 12:00pm – 1:00pm (Central Park)
Ping Pong Tournament – 12:00 pm – 1:00pm ( Arboretum conference room)
More fun games – 12:00 pm – 1:00pm (Superior conference room)
Dress like a Leprechaun or wear St. Patty gear for a chance to win a prize.
There will be an entry fee for the tournaments. You can either donate supplies or cash. More information on rules and signing up to come.
Drop off locations for items are:
University Hospital

The Department of Pathology break room

North Campus Research Complex

Outside DQHI
Central Park
The "shuffle board" break room (Building 35)
Brandon Newell of Molecular Diagnostics contacted Vault of Midnight, a comic book store. They have graciously offered to put a bundle together of kids gifts (comic books, board game, etc) at a discounted rate. To donate towards these gifts:
Leave cash in the box on the counter in the Molecular Diagnostics Nerve Center
Contact Brandon Newell at bsnewell@med.umich.edu to pay by Venmo or PayPal.
Have questions? Want to RSVP? Contact Lisa Brown at lisbrown@umich.edu.
*All food must be in its original packaging, non-perishable, and in-date, with an expiration date at least six months from the date the bags are built.