Frequently Asked Questions
What is it?
It's a departmental-wide, comprehensive project to ensure the Pathology Department can efficiently manage all specimens through the stages of pre-analytic, analytic, and post-analytic from multiple sources to multiple lab locations.
Why are we doing this?
During strategic meetings in January 2016, leaders from Clinical Pathology, Anatomic Pathology, and Pathology Informatics all expressed interest in beginning a formal approach to improving our management of specimens. Particularly concerning is the number of specimens that are missing or lost and the impact this can have on patients and families. With the pending move of many of the labs to NCRC in 2018, a more formalized tracking of specimens was recognized as a need. Lastly, we are required by the College of American Pathologists (CAP) under GEN.40530 to "For specimens submitted to the laboratory from remote sites, there is a tracking system and record to ensure that all specimens are actually received."
Where do we start?
While the Patient Asset Management Initiative (PAMI) will focus on the entire process indicated below, the Steering Committee has recommended we begin with Specimen Tracking, as designated with the area outlined below. This will enable Pathology to implement necessary changes within the department, an area we can readily control. After some early successes with this, an investigation about improvements upstream of Pathology will be investigated with our partners within the health system.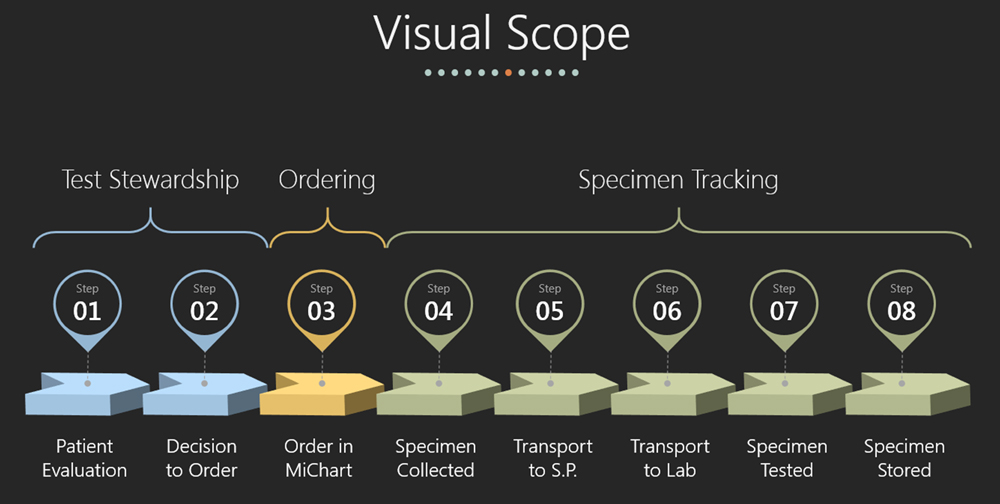 What is the scope of specimen tracking?
To design and implement a tracking system that begins when a specimen is physically collected through delivery, testing, and disposition/storage.
While creating solutions, what are the guiding principles?
The steering committee has outlined the following 2 guiding principles:
Specimen tracking begins at the time a specimen is collected (i.e., as soon as the specimen actually exists).
Every specimen must be uniquely identifiable and locatable in-laboratory to the level of a workstation or holding area, as well as when in transit between laboratories, locations and/or buildings.

What constitutes a specimen?
The definition of a specimen from College of American Pathologists:

Primary specimen - The body fluid, tissue, or sample submitted for examination, study or analysis. It may be within a collection tube, cup, syringe, swab, slide, data file, or another form as received by the laboratory.

Secondary specimen - Any derivative of the primary specimen used in subsequent phases of testing. It may be an aliquot, dilution tube, slide, block, culture plate, reaction unit, data extract file, image, or another form during the processing or testing of a specimen.

Where did we start?
The best place to start with all projects is to clearly understand the current state. Through documentation sessions called "Power Hours" we met with lab representatives (techs and managers) to outline the current process with respect to specimen tracking. These documents are a type of value stream map (VSM).

What's the goal during these Power Hours?
By mapping the current processes, we were able to identify potential gaps or risks in the system. These gaps were evaluated across all labs and grouped according to similarity. This has provided opportunities for the labs to work together in order to create solutions to the potential risks.

Now that we have the different gaps identified, what will we do?
With input from the steering committee, we identified which gaps should have formal projects created to address and prioritize the activity for each project. The areas of focus that were selected are indicated below.
Who is on the steering committee?
Who will be helping with these projects?
You! Project teams will be formed across the labs to help determine the most appropriate solution.
What are the first projects under PAMI?
There are a total of three projects that Pathology is first focusing on:
Shared Thin Preps: The design of a tracking system that addresses receiving, labeling, storing, retrieving, sending, re-receiving and disposal of Pap specimens. Focus will be on specimens shared with Molecular Microbiology for HPV testing.
Off-Site Phlebotomy: Tracking of outpatient specimens as they are collected and moved from the off-site phlebotomy collection locations to Specimen Processing.
On-Site Phlebotomy: Tracking of outpatient specimens as they are collected and moved from the on-site phlebotomy collection locations to Specimen Processing and ultimately stored in Cytology.
PathTrack: The technical design, construction, and implementation of a tracking system that incorporates information from Soft and enables users to track specimens throughout the life of a specimen.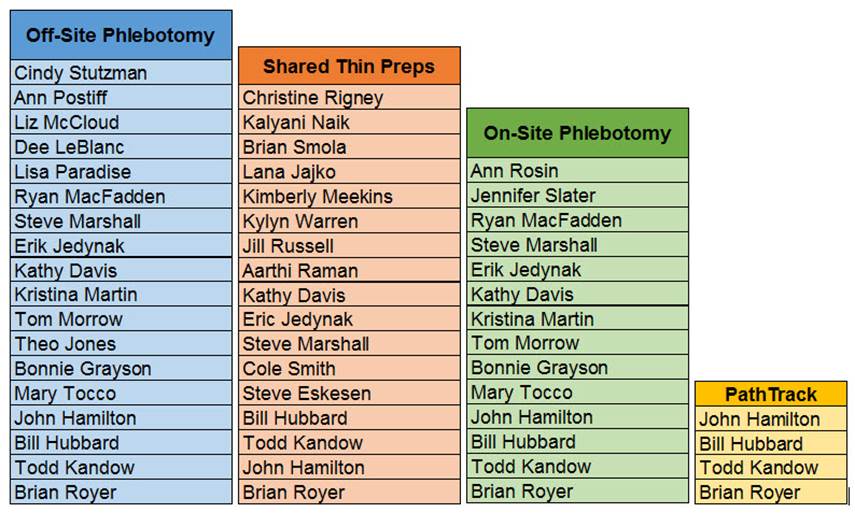 Who should I contact if I have questions or I want to get more involved?
Please feel free to reach out to Amy Mapili atamyharr@med.umich.edu, Jeff Lott at jefflott@med.umich.edu, or Brian Tolle at briantol@med.umich.edu.