The Surgical Pathology Slide and Block Request Form has been updated and moved into the Pathology Lab Portal.
Michigan Medicine employees who do not work for the Pathology Department can no longer request slides and blocks directly from the slide library. If you do not work for Pathology and would like to request slides and blocks, then please contact the AP Customer Service Desk at:
734-936-6799

You can initially find the lab portal by clicking "Pathology Lab Portal" in the footer of the Pathology Website from any page view. See below.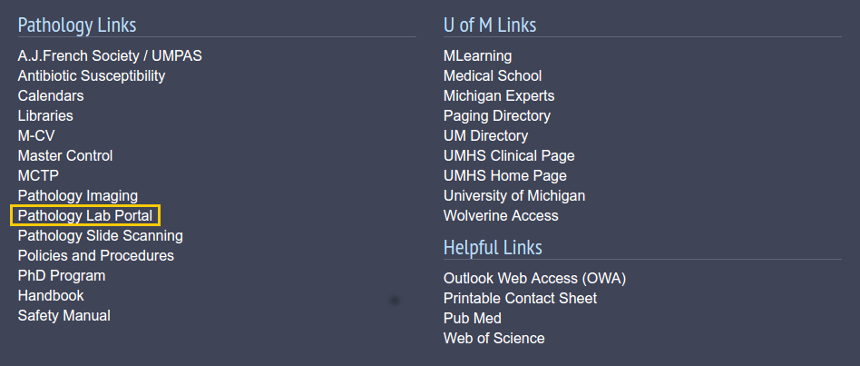 Once you have navigated to the labportal login with your level-II credentials. Use the login fields in the upper-right like below.



The new Slide and Block Request Tool has a number of new features, including a queue to view and track your requests, a search page, a place to confirm the receipt of slides and blocks, and the ability to notify the library when you hold slides after sign-out without sending the slides to file. Please familiarize yourself with these new features and more by downloading the tutorial. This is found under the help section of labportal shown below.




After you've familiarized yourself with the new process found in this tutorial/guide, you may then submit a request to the slidelibrary as normal. The link to the Slide Library Request Tool is found under the "Applications" menu in the Lab Portal.