SARS-CoV-2 Serology Testing Update
March 24, 2021
Click Here for FAQs regarding SARS-CoV-2 Serology Testing.
The SARS-CoV-2 Total Antibody, Nucleocapsid assay provides qualitative detection of serum antibodies against nucleocapsid protein of severe acute respiratory syndrome coronavirus 2 (SARS-CoV-2) and it is intended for use as an aid in identifying individuals with an adaptive immune response to SARS-CoV-2, indicating recent or prior infection. This test will not yield positive results following vaccination with most vaccines (e.g., Pfizer, Moderna, AstraZeneca). Recommend correlation with vaccine manufacturers' specified formulation.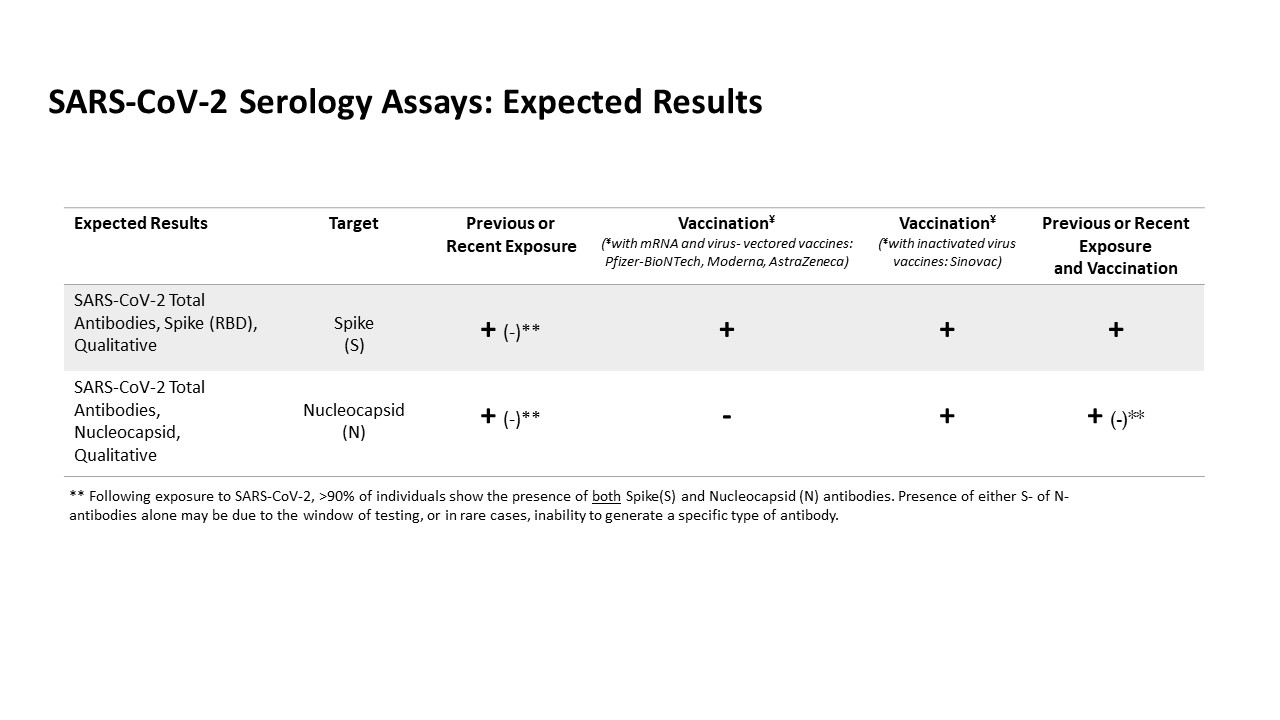 Saliva Specimens Now Accepted for COVID-19 Testing
March 9, 2021
On 3/9/2021, the Clinical Microbiology Laboratory at Michigan Medicine will begin accepting saliva as a specimen type for SARS-CoV-2 diagnostic testing (routine COVID test code only).
Based on literature review and in-house evaluation of saliva samples collected in parallel with nasopharyngeal swabs, saliva approaches, but may not equal, the sensitivity of nasopharyngeal samples for detection of SARS-CoV-2. Therefore, saliva is recommended for use in patients where it improves access to SARS-CoV-2 diagnostic testing. In situations where maximum sensitivity is needed for patient care or infection prevention, a nasopharyngeal swab sample is recommended.
Collection instructions: DO NOT eat, drink, chew gum, or smoke for 30 minutes prior to sample collection. If possible, drink a glass of water 45-60 minutes prior to collection. Gather saliva in your mouth and gently drool into an orange-capped sterile collection cup. The goal is to collect 1 to 5 ml of saliva. At minimum, fill above the ridged line at the bottom of the cup. Bubbles do not count towards the needed volume. This should take 2-5 minutes to get enough sample. Be sure to close the container tightly.
Please refer to Michigan Medicine COVID testing guidelines for recommended specimen type based on test indication:
http://www.med.umich.edu/asp/pdf/adult_guidelines/COVID-19-testing.pdf
Abbott ID NOW COVID-19 Diagnostic Test Added to Michigan Medicine Clinical Laboratory Test Menu
February 12, 2021
Beginning February 15, 2021, the Abbott ID NOW COVID-19 diagnostic test will be available at Michigan Medicine. This is an isothermal test that, like PCR, is a nucleic acid amplification technology. It can provide test results in five to fifteen minutes. The Abbott ID NOW will be utilized primarily for patients in the Adult and Children's Emergency Services Departments with planned near future availability for rapid symptomatic employee testing. The go-live date listed above is for the Emergency Services departments only. The go-live date for employee testing is February 22rd, and will be broadly announced soon. The overall turnaround time for this test used in the AES and CES is expected to be less than one hour.
The Abbott ID NOW first became available from the vendor in Spring 2020, and it was evaluated by our clinical laboratories as a potential point-of-care option for COVID-19 testing. The ID NOW came at a time when the availability of nasopharyngeal (NP) swabs was severely limited, and the test platform was evaluated with the intent to use the foam nasal swab that was part of the test kit provided by Abbott. After conducting a paired-swab patient study comparing ID NOW to the other COVID-19 assays used in the clinical laboratories, a multidisciplinary group of laboratory medicine and key clinical practice leaders concluded the analytic performance of the ID NOW with the nasal swab sample was suboptimal for clinical use, especially since clear-cut use cases could not be identified for Michigan Medicine at that time.
Rapid COVID-19 diagnostic testing has been performed on our Diasorin Simplexa (Diasorin) instruments since shortly after the onset of the pandemic (largely for symptomatic and asymptomatic Emergency Services patients, but also for a subset of our symptomatic Michigan Medicine employees). While the Diasorin has a three- to four-hour turnaround time from collection to reporting, we recognized the need for even more rapid testing to better facilitate patient care and admission decisions, as well as to provide extended rapid testing for our employees.
With the necessity for more rapid testing, laboratory medicine and other clinical stakeholders reconsidered the ID NOW, although not to be used with nasal specimens, but with rather with NP specimens. Data modeling studies performed by our clinical laboratorians showed that when direct 'dry' NP specimens were used as the sample type, ID NOW would perform equivalently to both the Diasorin and pooled-specimen testing platforms used in the central laboratories. The modeling studies were subsequently confirmed by a 96 patient paired-swab clinical study. In this study, an NP swab for the ID NOW and an NP swab in viral transport media (VTM) for the Diasorin were simultaneously collected and run on the respective instruments using specific procedures. Twenty-five positives (18 symptomatic and 7 asymptomatic) were identified among the 96 patients, with nearly 100% concordance between the ID NOW and Diasorin results. The only discordance was an ID NOW positive/Diasorin negative sample that was confirmed in the clinical laboratories as positive. These clinical data provided further support and assurance that the Abbott ID NOW with a direct NP swab as the sample type was acceptable for clinical testing in symptomatic and asymptomatic patients, without the need for reflex of negative test results.
Based on this conclusion, we obtained eight ID NOW instruments and 200 kits per day for use in the AES and CES, and a subset of our employees. Additional use-cases requiring a clinical sensitivity comparable to that achieved by the Diasorin or pooled COVID-19 testing are being considered for ID NOW testing.
COVID Variants
January 14, 2021
Evaluation of potential impact of emerging variant SARS-CoV-2 strains (UK and South African Variants) on Michigan Medicine Testing:
Based on available information, through formal and informal communications with each vendor of Michigan Medicine SARS-CoV-2 tests, we do not expect that the UK (B.1.1.7) or South African (B.1.351) variants will affect the performance of our assays. We have received explicit reassurance about detection of the UK variant from all manufacturers, and anticipate continued communication about the South African variants as the manufacturers complete their evaluations.
The TaqPath COVID-19 Combo kit, used for some testing under the COVID test code (SARS-CoV-2 (COVID-19), PCR), will still detect the UK variant but will show a unique pattern that can suggest the variant has been detected. Specifically, the B.1.1.7 variant of SARS-CoV-2 has 17 known mutations including a 6-nucleotide deletion (69-70del) within the spike (S) gene. This deletion can result in failure to detect the S gene product within the TaqPath COVID-19 Combo kit. However, this assay also interrogates two additional targets (orf1-ab and N gene) which are not impacted by any of the mutations described in the B.1.1.7 variant. Therefore, this assay can detect the B.1.1.7 variant using these other two targets. To date, the 69-70del S gene mutation has not been found to impact the overall accuracy of the TaqPath COVID-19 Combo kit. The risk of any impact on overall accuracy is considered low by both the testing manufacturer (ThermoFisher) and the US Food and Drug Administration.
Submitted by: Riccardo Valdez, M.D.