---
Rebekah Martin, MD, PhD
Molecular and Cellular Pathology Graduate Student, Class of 2017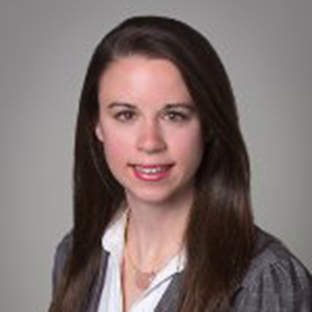 Martin When Rebekah Martin was seeking a graduate program, she was not sure what direction she wanted to pursue – and this is precisely why she chose the University of Michigan, Department of Pathology's Molecular and Cellular Pathology (MCP) graduate program. The breadth of research opportunities combined with the value that both the program and the faculty place on their students impressed Martin. She selected Dr. Michael Bachman as her mentor. Bachman holds a joint appointment with Microbiology and Immunology as well as an appointment as the Associate Director of Clinical Microbiology Laboratory and is associated with two research laboratories in addition to his clinical work. This combination provided Martin with access to the resources of both laboratories and prepared her practically for clinical service in her career. "Having a mentor that understood my training and skills was a huge advantage and made me feel comfortable in the laboratory since I did not come into the program with a great deal of basic science research experience," said Martin.

As she moved through her graduate studies, her future goals crystalized. "I realized I wanted to pursue training for a diagnostic lab directorship," she recalls. "Having a mentor in the exact field I chose to train for was invaluable." In addition to working with Bachman, whom she describes as an excellent mentor and teacher, Martin also took advantage of her access to many other leaders in pathology, clinical research tools and opportunities. "The MCP program certainly helped prepare me for my future career by providing practical training, but the access to the network of individuals associated with Pathology and Michigan Medicine is probably the most helpful resource now that I'm out in the world."
"Having a mentor in the exact field I chose to train for was invaluable."
Upon graduation from the MCP program, Martin was recruited to the School of Health Sciences at Oakland University in Rochester, Michigan, where she served as a tenure-track Assistant Professor in the department of clinical and diagnostic services. The following year, Martin transferred to the University of Utah Department of Pathology at ARUP Laboratories as a medical microbiology fellow, where she is currently training for her future as a director of diagnostic microbiology and public health laboratories.
For students who are looking for a graduate program, Martin advises that they look for a program and a mentor that suits them and that they feel comfortable with. Be clear about what you need from a mentor, expectations as a mentee, and what you need to be successful. "I'm so glad I chose the MCP program! I quickly found that not just the faculty, but also the students are amazing," Martin declared. "I met some of my best friends during graduate school. Having a support system during grad school is imperative, and MCP students are the best!"