Vincent Laufer, MD, PhD, Receives Outstanding Student in Pathology Award
By Camren Clouthier | July 24 2020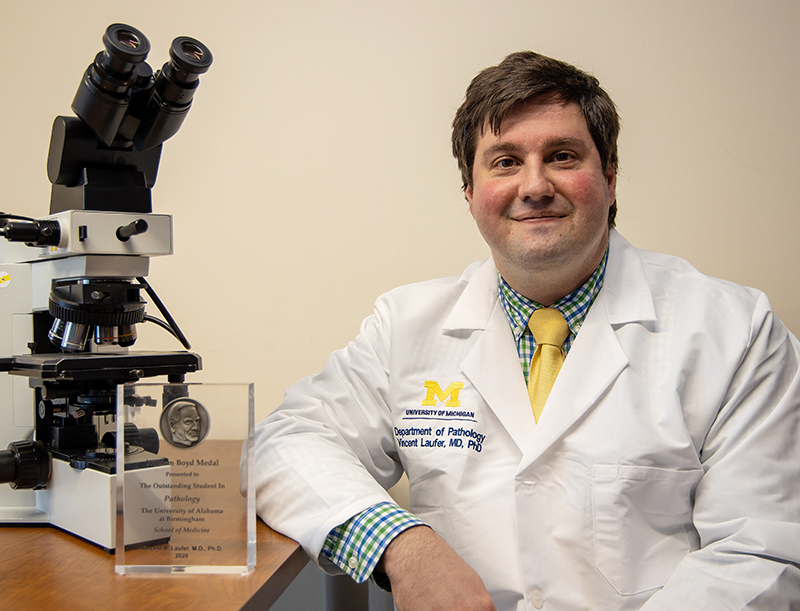 First-year resident Dr. Vincent Laufer has been selected for the 2020 William Boyd Outstanding Student in Pathology Award from the University of Alabama at Birmingham (UAB). The award is given to a medical student who demonstrates outstanding expertise in all aspects of their pathology education. The medal is in honor of Dr. William Boyd, an established pathologist who made many notable contributions to the field of medicine during his career.
Laufer, who joined the Department of Pathology earlier this year, attributes his success at UAB to why he came to the University of Michigan. "I chose U-M due to its stunning faculty, its breadth of clinical, didactic, and research opportunities and its strength in informatics and molecular diagnostics," he notes.
"We live now at a time when two transformative technologies, machine learning and genome sequencing, are poised to alter pathology not less than the rest of medicine or society. It is my sincere hope that training on the cusp of this change will afford me the ability to make a unique contribution as well."
Please join us in congratulating Dr. Laufer on this terrific accomplishment!