In Memoriam: David S. Jacobs, MD
By Lynn McCain | September 18 2020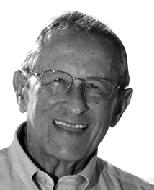 U-M Medical School graduate and former Department of Pathology Resident, David Samuel Jacobs, died peacefully at home on Sunday, September 13, 2020, at the age of 88, surrounded by family. David was an accomplished pathologist, devoted husband to his wife Judy Jacobs, father of four, and grandfather to eight. He completed his residency program under Drs. A. James French and M. R. Abell, two of the founding Chairs of the Department. He had a long career in Pathology at The University of Kansas Medical Center and the UMKC College of Medicine and was a fellow of The American College of Physicians, the American Society of Clinical Pathologists, and the College of American Pathologists. He was a founding signatory of the Heart of America Association of Blood Banks. He served as an inspector for the Commission on Laboratory Inspection and Accreditation, College of American Pathologists, and American Association of Blood Banks. He served as one of the original pathologists at the Bloch Cancer Center. He wrote and edited five editions of the multi-author reference book on clinical laboratory medicine, The Laboratory Test Handbook, which became known as the Jacobs & DeMott Laboratory Test Handbook. He served as president of both the Kansas and Kansas City Societies of Pathologists and was elected president of the Medical Staff at Providence Medical Center. He is also the author of over a dozen peer-reviewed professional publications and contributed to, edited, authored, and reviewed 16 pathology texts and books.
Memorial services were held on Wednesday, September 16th. View the full obituary for Dr. Jacobs here.
His family has designated the University of Michigan Department of Pathology Fellowship Fund as one of the recommended places for memorial donations. If you wish to make a donation to this fund in his memory, simply click on the link above. If you would like to designate the Department of Pathology for a legacy gift for yourself or others, please reach out to Jason Keech, Assistant Director of Development: office: 734-763-0866 | mobile: 313-205-5133.