And the Answer Is...Check QBank!
By Anna Owczarczyk | February 3 2021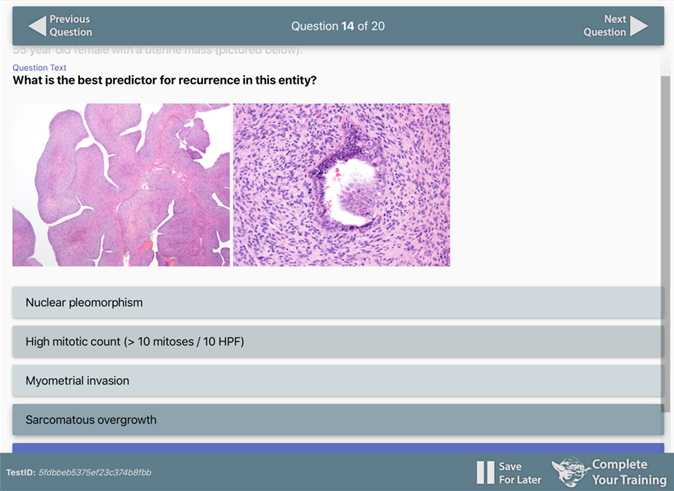 The plethora of knowledge that pathology residents are expected to master – for future practice and especially for Boards – is overwhelmingly immense. Second-year resident, Dr. Ryan Landvater, has been working on a question bank software from scratch, in an effort to make the mastery of pathology knowledge less intimidating. Below is a short interview with Landvater, as well as screenshots of the QBank (beta version).


What motivated you to start working on the question bank (QBank)?
Emily, [Dr. Emily McMullen] our 2020-2021 Gyn/breast fellow began writing weekly questions. I find these to be an excellent learning resource -- they are an efficient way to learn, pulling the most valuable trainee-level information out of a large body of literature. Emily's questions are hosted on Google's form platform, however, and I did not think would be easily accessible after she left. Furthermore, we have been updating our education curriculum (thank you Drs. Farver, Konopka, Abbott, and Manthei!). I thought these curriculum updates could be augmented with a new way to prepare for rotations – a question bank (QBank). I have found that balancing service requirements with training is difficult; I feel this is particularly true when leaving a busy service and rotating onto a new service for the first time. One way to prepare involves choosing a dense book, reading it during one's "free time," and struggling to identify the salient points. Instead, a QBank, curated by an attending physician, could emphasize the salient points quickly and allow a trainee to begin the rotation prepared, saving sign-out time.
To summarize, I wanted to create a long-term collection of questions that would help residents build a strong foundation of knowledge, prepare for Boards, and improve the educational yield of sign-out.


How is your QBank different than those already out there? For example, all residents (1st through 4th years) can use ASCP Resident Question Banks and ASCP PRISE questions (access paid for by our Education Program). At the start of the 4th year, residents also gain access to PathPrimer (tutorials and questions meant to aid in Boards studying). Another popular subscription-based QBank is PathDojo.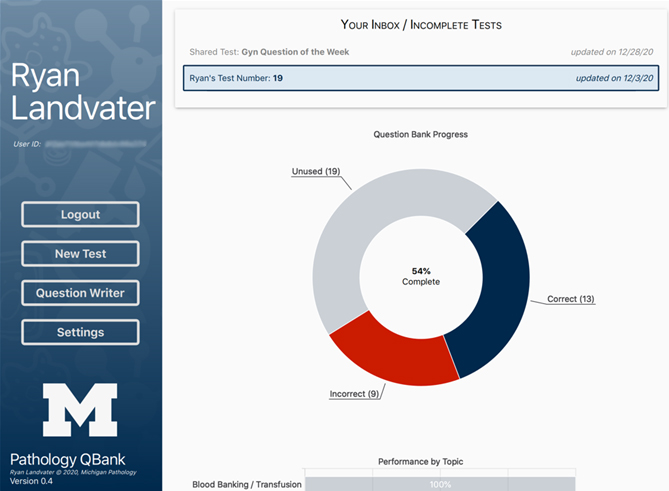 There are a couple of differences:
It's easy to use. I write software while thinking about my mother – she's an orthopedic surgeon who held out for over two decades before switching from paper charts to electronic medical records. The software needs to be something she could use happily and easily. There are not multiple URLs involved or pages to navigate while trying to find the correct bank. Under the hood, however, the system is complex. It uses the most contemporary web protocols and serialization routines from Google and is improving using question analytics with test generation logic.
We own it. I'm adding features (time allowing) that are requested by residents and faculty. We can add analytics that is helpful to guide any internal curriculum updates. We can continue to collect valuable data to help develop and revise teaching materials. We can test features and ideas, and change things as needed.
We have access to it whenever. It is not restricted to just residents or 4th-year residents. Everyone -- resident, fellow, faculty member, staff member, or affiliate – can use it!
We can incorporate it into our curriculum to augment rotations/clinical service-learning. Faculty can write their own tests that they release to residents/fellows as they rotate on service. Each faculty/service can have multiple tests that are catered to trainee level, and use trainee performance to tailor their teaching to points of weakness. There is so much you can do with this kind of tool!


What have been the biggest obstacles/challenges in getting it up and running?
Content development. I have dedicated probably a few hundred hours to the project. In this respect, I am responsible for the quality of the platform. One thing I cannot do, which requires more than simply dedicating more time, is content development. I am not a world expert, like many of our faculty, and cannot create quality questions. I really rely on faculty to develop – and our faculty are already worked to the limit with clinical requirements. Once content is written (and I would like to emphasize this), it should, hopefully, save everyone time by making service rotations more efficient, with better-prepared trainees. The QBank does require a lot of up-front commitment of time to create the questions, and I recognize this.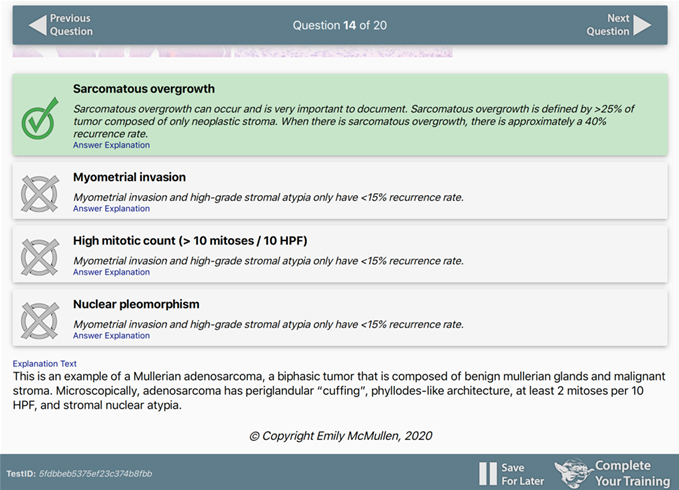 What are some future hopes and goals for the QBank, and beyond?
I would like to see it grow over time to include thousands of questions. With a consistent rate of question submission, I feel this can be easily achievable. It would serve as a major selling point of our residency program. I would also like to develop a peer-review process of the submitted questions to ensure high-quality content for our department. A QBank Committee, of sorts, would be excellent in establishing features that should be added to the system over time. An ambitious goal (likely not attainable due to time) would be the creation of an educational material archive, from which recorded lectures would be accessible and linked with the QBank -- trainees could easily pull up segments of a lecture on which questions are based, or relevant questions could pop up while trainees were viewing a recorded lecture.


What sort of feedback have you gotten from residents/faculty so far?
Very positive, including that the platform is easy-to-use, and that it is intuitive to write questions. I have gotten some great feedback from residents asking for multiple test modes. For example, I am currently writing a new feature called "J mode" (after the two residents who requested it), where the question-taker could show or hide the correct answer.


How can faculty contribute questions and/or learn how to use your QBank software?
Reach out to the Residency Program for more information. I am happy to make accounts for internal users who would like to try out the system, with the understanding that this QBank is in active development (beta mode). I am, hopefully, on the final beta version – I have a fully stable server and I am transitioning over to a high-performance serialization system to make it lightning fast.
This is a tool for our community and I welcome anyone's involvement who wishes to be involved! The program is available at request for windows, and at the Apple App Store here.
When I do finally finish with the first "release version," I will send a faculty-wide email with a Zoom invitation on how to use the software (multiple dates to ensure all interested parties can participate). At that time, I will start generating accounts for everyone in the department.