Play With a Purpose
By Lynn McCain | March 13


The advent of molecular genetics has resulted in a boom of scientific knowledge about diseases and the precursors to disease with new genetic mutations discovered almost daily. Novel biomarkers for cancers and other diseases are being identified more rapidly than at any time in medical history. This environment led the leadership of Michigan Medicine's Department of Pathology to try a bold new experiment. They would add a technical director to the immunohistochemistry laboratory to support the medical director, Dr. May Chan. This new position would be responsible for staying current on the newest breakthroughs and for developing and validating new immunohistochemical stains. This unique position would require someone with research expertise and training, with a thorough understanding of biomarkers, types of stains, how to both create new stains and how to validate new-to-market stains for clinical use. This was not going to be an easy position to fill.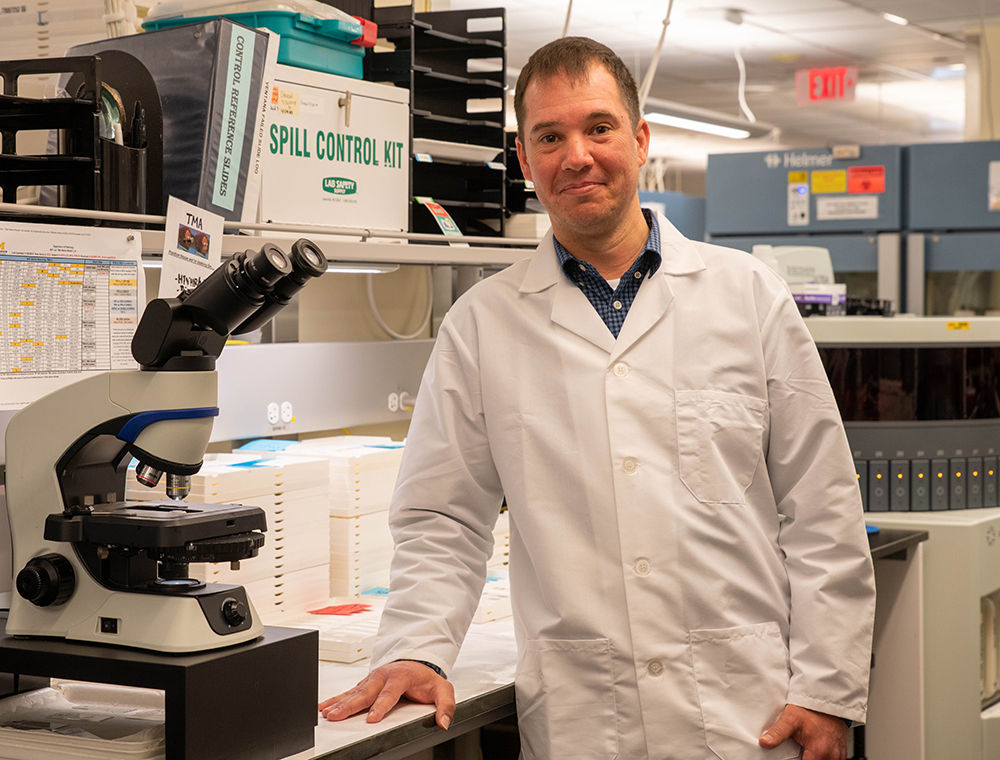 Meanwhile, Steven Hrycaj, PhD (pronounced Ritz-eye) had spent ten years in a research lab run by Dr. Deneen Wellik from Michigan Medicine's Department of Internal Medicine and was looking for a change in his career trajectory from pure research to something closer to the patient. When Wellik left the university, he decided it was time to make the change. He spoke with Dr. Nicholas Lukacs who encouraged him to look into Pathology, as it was the intersection of research and patient care. Hrycaj found the technical director posting which was a great fit for the skills he had developed in the research lab over the past ten years. Lukacs told him to apply immediately, which he did. A few months later, he was launching a new career as a clinical assistant professor and technical director in the Michigan Medicine Department of Pathology Immunohistochemistry Laboratory.
Hrycaj was born in Warren, Michigan and attended Detroit Mercy for his undergraduate degree, before going to Wayne State University for a PhD in evolution and organismal biology. He completed his postdoctoral training under Wellik and rose through the ranks to research assistant professor before making the move to pathology. "I started on March 1, 2020. Two weeks later, COVID protocols changed us to a Lombardy schedule, with one week on-site and one week working remotely. I didn't know what to do. This position was a very big departure from what I did in the research labs. I was quite intimidated, actually, coming into it because I didn't know what to expect. It was a completely different workflow and a completely different environment," Hrycaj reflected.
In spite of the challenges caused by the pandemic, Hrycaj has been thrilled. "The second I started, it felt like home. Everybody has been great. The people in the lab that I work with everyday are just fantastic. I couldn't be happier." He describes himself as a "science nerd" and believes that is why this position is such a great fit for him. "I get to play around the lab, play with machines, experiment with protocols, and use all these fancy colors. I feel like I'm just playing around having fun, but it is fun with a purpose – it has a direct impact on patients and the care they receive."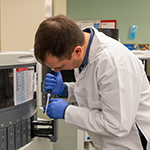 All patient slides come through the immunohistochemistry laboratory for staining. As new biomarkers for diseases are discovered, pathologists will come to him and ask him to get new stains validated for clinical use. "I get the antibodies in and start testing them. I have to get 10 positive cases and 10 negative cases. It is a very strict validation protocol, as this will ultimately be used to diagnose people, not just at our hospital but around the country." Hrycaj works closely with the Medical Director of the Immunohistochemistry Laboratory, Dr. May Chan. "She is absolutely fantastic," he praised.
The second aspect of his job is to troubleshoot issues that arise. Sometimes antibodies are not staining properly. It is weak, or the signal is fading, or it just doesn't look right. "We immediately jump in and fix the problem and get everything corrected and back on track, because case turnaround time is very important. Doctors are waiting to be able to treat their patients." The defects could have several underlying causes. Possibly the antibodies, which are stored in refrigerators, are not stable and need to be replaced more frequently. The machine may have a clogged nozzle. Reagents may be old. Tissues may have experienced processing issues. "It's a puzzle. But each slide we stain has on-slide positive and negative controls. That is very helpful in diagnosing potential problems." With more than 400 stains and probes to validate, optimize, and troubleshoot, he definitely has his hands full.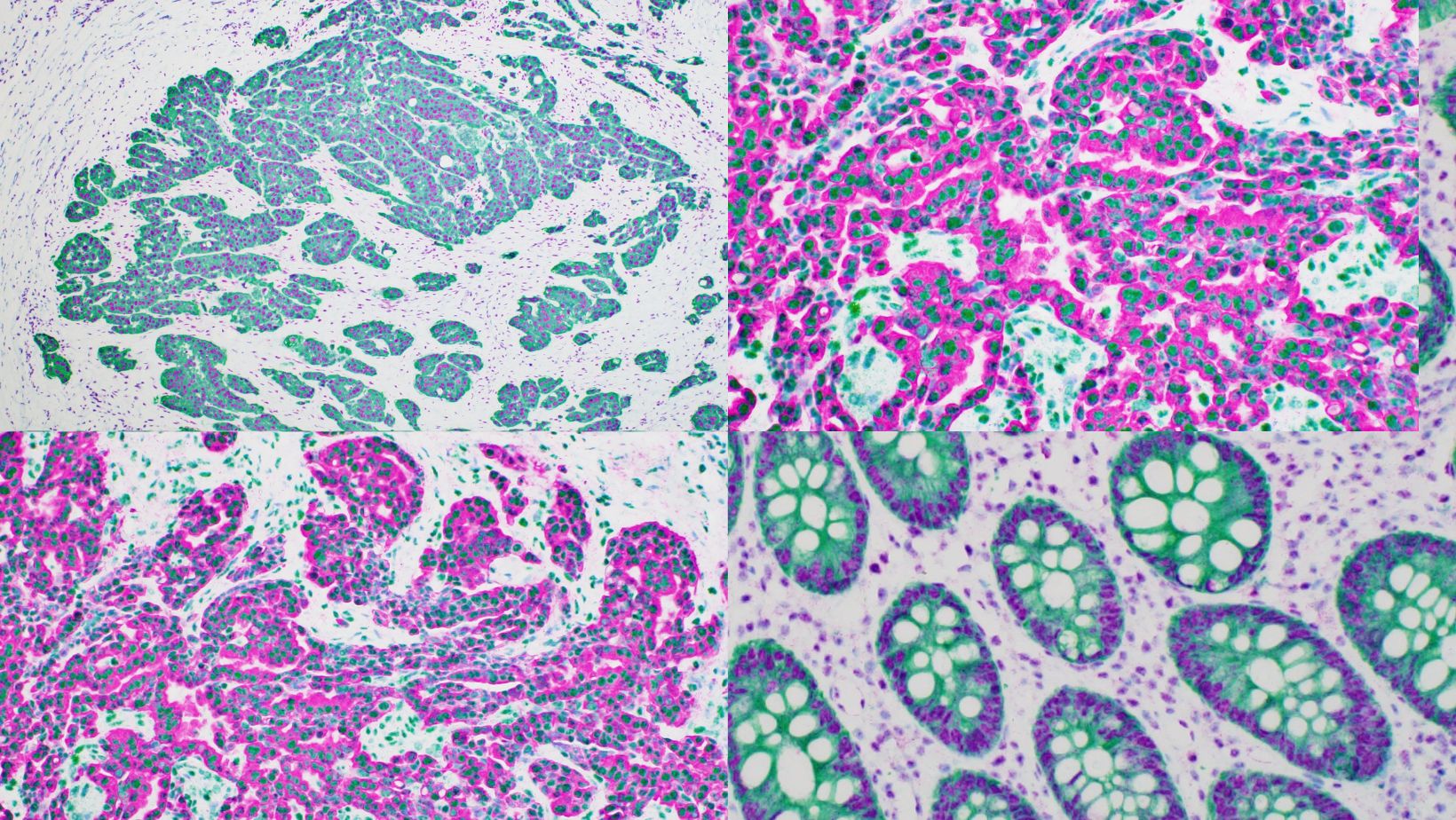 In addition, Hrycaj engages in teaching residents and fellows, giving lectures and introducing them to immunohistochemistry. A project he has been working on is to develop an elective rotation for residents and fellows where they will spend a week in immunohistochemistry learning how the equipment works and how to optimize antibodies for staining. This would complement the week spent in a molecular pathology rotation, enhancing the quality of education for our trainees.
Hrycaj has found the faculty in Pathology to be very collegial and Dr. May Chan, the IHC Medical Director, to be exceptional. "She is a trained dermatopathologist and surgical pathologist, and she also leads the IHC lab. She is brilliant and great to work with." While there are always situations where something isn't working correctly and panicked phone calls come in, there are also times when people stop and thank him for his help in making the diagnosis. "One time, Dr. Tom Giordano (Professor of Pathology and Director of Molecular Genomics) emailed me out of the blue and the subject line was simply the antibody that I recently worked up. I thought, "Oh no, something's wrong with it." But he simply emailed to say "This is super helpful. Thanks a lot for all your hard work." It was really nice. I really appreciate when senior faculty take the time to positively reinforce the people who are very junior, like me. It speaks volumes for the faculty. I really do feel at home here. It is a great department."
Looking ahead, Hrycaj is excited about all the new chromagen stains that are coming out in different colors. "The human eye can see two or maybe three colors on a slide, but when you get to 4 or 5 or more, the human eye can't distinguish them clearly within a cell, especially in areas that coexpress. That's where digital pathology comes in. It can scan for red, then scan for green, then blue and so forth. The computer can tell you what percent is red, green, blue. Companies are working to be able to stain 10 different colors on a slide to identify multiple biomarkers, which will require computer assistance to interpret."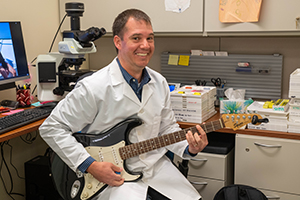 The first thing one notices when entering Hrycaj's office is his electric guitar, which immediately drew the attention of Dr. Jeffrey Myers, Vice Chair for Clinical Affairs and Quality. Myers is a musician who was delighted to learn of Hrycaj's musical chops. Hrycaj has been a member of the St. Thomas Boys Academy Band since he was 17 years old. He loves to write music and perform. His basement has been converted into a makeshift sound studio where he records his own music and that of some friends. Through music, Myers and Hrycaj have formed a friendship and they often chat about music while reviewing cases. "I can go into his office and tease him. Without music, I couldn't even imagine teasing someone who is that much more senior than I am!"
As he reflected on his new role compared to his time in basic science research, he stated, "The goal of doing research is to eventually help people, but in this role, I'm actually putting my finger on that scale. I'm actually helping people and it is directly downstream of what I'm doing." This leaves him feeling fulfilled at the end of the day. Each evening, he walks out his office door and removes his "pathology" hat. He puts on his "daddy" hat when walking into the door of his home. There he is greeted by his two kids, ages 7 and 4. Now it is time to prepare dinner, help with homework, give baths, and read bedtime stories as he tucks them in bed. From time to time, his homecoming is delayed by late, urgent cases. He recalls a late case coming in that needed a special stain. "I looked at the case and it was an 8-year-old child at Mott. I knew if it was one of my kids, I would want me to stay late to be sure I could get the diagnosis right away. So, I stayed, completed the stain, and the rare diagnosis was made. The child's family could now start their therapeutic journey. This is what gives me joy in my work every day," he concluded.