Why Michigan?
By Lynn McCain | July 25


The new academic year has begun and with it, the Department of Pathology has a new influx of Residents who are continuing their training with us. This year, seven newly minted physicians have been matched to Michigan Medicine Department of Pathology to receive world-class training in Pathology. It is our pleasure to introduce you to our Class of 2027!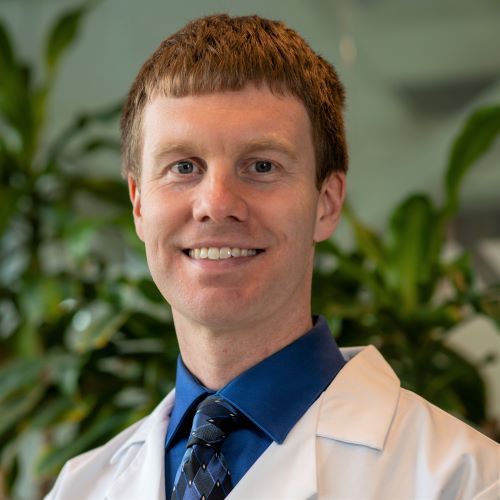 Daniel Alt, MD, PhD – Anatomic Pathology/Physician Scientist Training Program Resident
Daniel grew up in central Ohio and attended Case Western Reserve University, earning a BSE in biomedical engineering, an MD, and a PhD in biomedical engineering. His graduate work focused on microvascularization strategies for tissue engineering. Upon graduation, he completed a general surgery internship at Riverside Methodist Hospital in Columbus, Ohio. Daniel ranked Michigan highly, stating "I was interested in Michigan Medicine for my training due to its strong research reputation and funding. I am in the PSTP program, and the breadth of both clinical and research resources are ideal for launching a career in academic medicine. I also was attracted to the genial Midwest demeanor of the program."
Outside of medicine he likes to spend time with his wife and daughter, work out, play guitar, study foreign languages, and do genealogic research.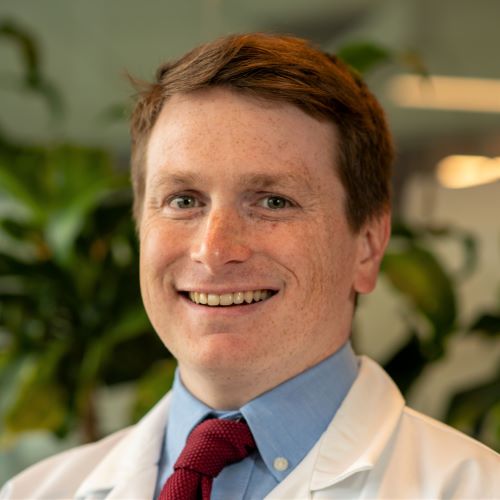 Christopher Henderson, MD, PhD – Clinical Pathology/Physician Scientist Training Program Resident
Chris grew up near Orlando, Florida and attended Harvard University for his undergraduate studies, obtaining a degree in Human Developmental Biology with minors in French and English Literature. He went on to attend medical school at the University of Virginia in Charlottesville, Virginia, where he received his MD and PhD degrees. His graduate research focused on cardiovascular disease and genetics. "I chose the University of Michigan for my residency training in Clinical Pathology in the Physician Scientist Training Program track because of the robust clinical and research training offered at U of M," he explained.
In his spare time, Chris enjoys reading, biking, rock climbing, scuba diving, camping, and renovating his new Ann Arbor home.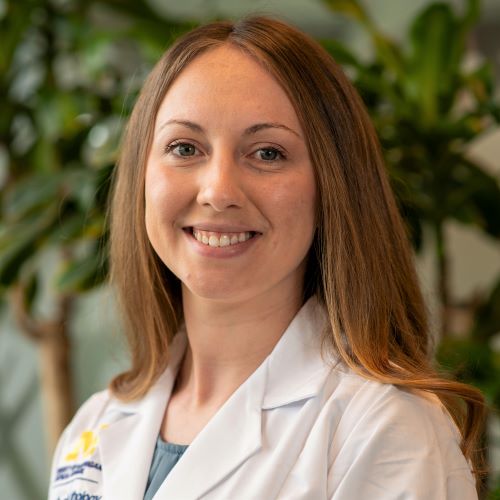 Meredith Herman, DO – Anatomic and Clinical Pathology Resident:
Meredith is a life-long Michigan resident from Fenton, MI. She attended college at Michigan State University and earned a B.S. in Biomedical Laboratory Science. She attended medical school at Michigan State University College of Osteopathic Medicine and completed a Post-Sophomore Pathology Fellowship (PSPF) at the University of Toledo in Ohio. Her studies in lab science and her work in pathology during medical school solidified her decision to pursue a pathology residency. "I was impressed by the collegiality, education, fellowship opportunities, research, resources, and so much more," says Herman. "U of M is a perfect fit and I would make the decision to come here again!"
Herman expanded on her choice for Michigan, "U of M checked all the boxes of what I was looking for in a residency program. Aside from U of M being a leader in healthcare and a highly respected institution, it also offers excellent training to its residents. I know the education I receive will give me a strong foundation across all pathology disciplines. There are endless cases of varying complexity, a multitude of laboratory services, numerous research opportunities, and extremely knowledgeable staff. At U of M, you are valued as a unique person. Everyone brings a different element to the team through their backgrounds, interests, hobbies, etc. and these differences make U of M Pathology a well-rounded program. Faculty are supportive of your interests and future goals and do everything they can to help you along your journey. I am thrilled to be a part of this incredible program and look forward to these next 4 years!"
Outside of pathology, Meredith enjoys painting for her small business (White Coat Artistry), spending time with her husband and family, going up north, gardening, and traveling abroad.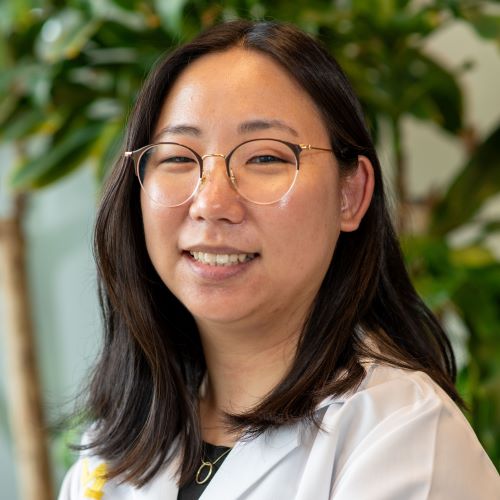 Jenelle Lee, MD – Anatomic and Clinical Pathology Resident:
Jenelle grew up in East Bay, California and Denver, Colorado. She completed her undergraduate studies at the University of California, Irvine and received a B.S. in Biological Sciences with a minor in Philosophy before continuing her education with an M.S. in Integrated Life Sciences from Kyoto University. She attended medical school at Western Michigan University Homer Stryker M.D. School of Medicine, where she discovered a love for forensic pathology through her faculty mentors. She chose Michigan Medicine for residency training because of its outstanding reputation, great faculty, and plethora of opportunities for learning and research.
"I chose to train at Michigan Medicine after being taught by two UMich Pathology graduates in medical school – Dr. Fisher-Hubbard and Dr. Brown – who were integral in both my education in general medicine and my introduction to pathology as a medical specialty. I felt that they both exemplified the character and knowledge that I hoped to achieve as a doctor / future forensic pathologist so following in their footsteps by going to UMich for residency seemed like the obvious choice.
Outside of medicine, Jenelle's interests include sewing, cooking, and her cat, Soren Kierkegaard Lee-Huan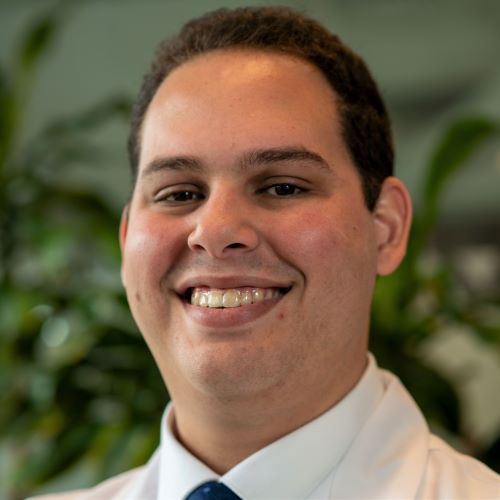 Orlando Quincoces, MD – Anatomic and Clinical Pathology Resident:
Orlando grew up in Ponce, Puerto Rico. He attended the Pontifical Catholic University of Puerto Rico, earning a B.S. in Biomedical Sciences. He then attended medical school at Ponce Health Sciences University. During Christmas break in his third year of medical school, Orlando shadowed a community pathologist; this experience helped him decide to pursue a career in pathology.
"Apart from being an excellent pathology program with a diverse range of cases and ample opportunities for professional growth within the field, I chose Michigan because of its commitment to inclusivity and its active promotion of resident education in a supportive environment."
Orlando loves playing his guitar, singing, cooking, and spending time with friends and family.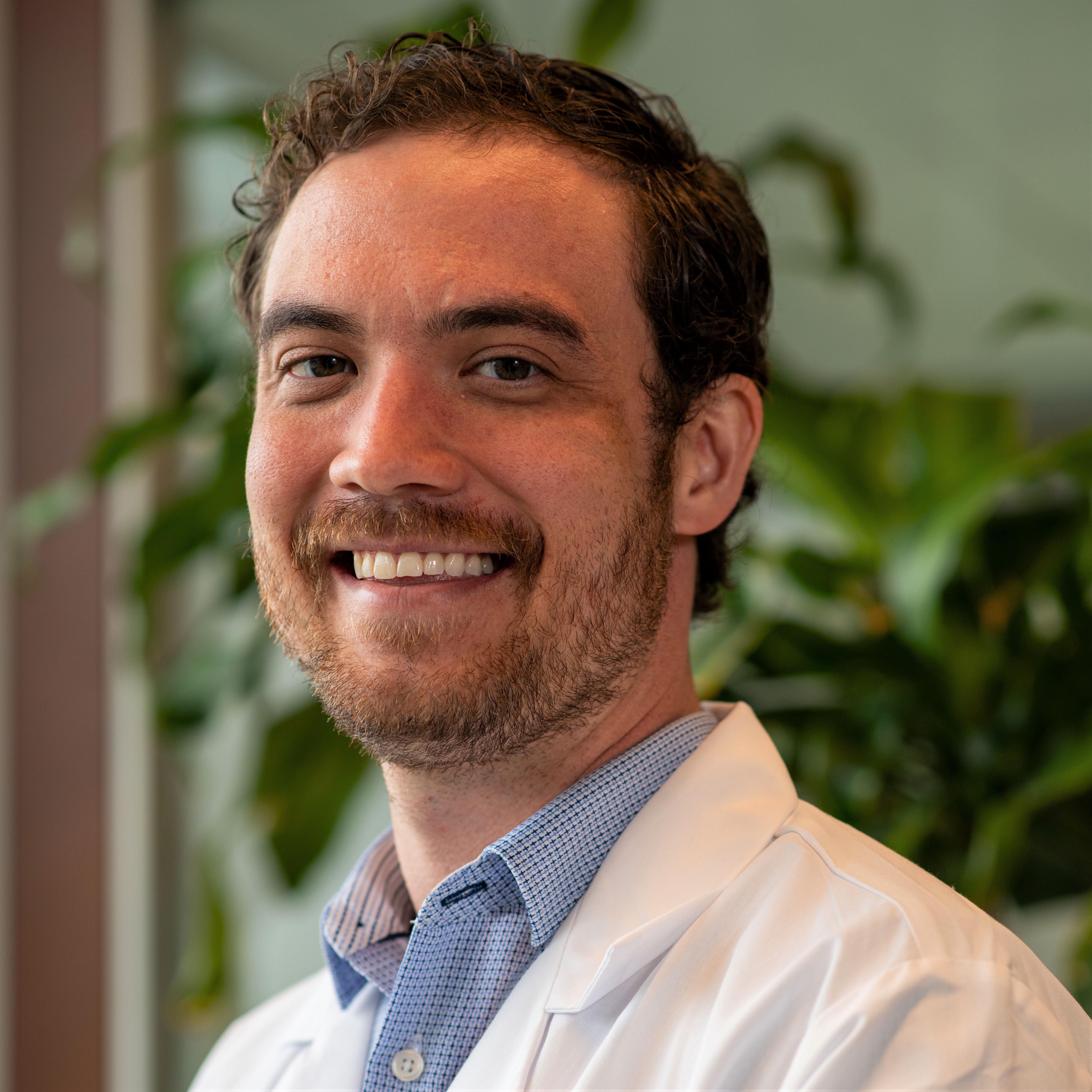 Jacob Sorensen, MD – Clinical Pathology Resident:
Jake grew up in Boulder City, Nevada and completed his MD/PhD at the University of Nevada, Reno. His graduate studies focused primarily on the hepatitis B virus, which inspired and fostered his interest in clinical pathology.
The University of Michigan Pathology proved to be a clear choice for residency with its renowned faculty, excellent training, and abundant research opportunities in infectious disease as well as global health. "I hope to eventually aid in the development of low-cost diagnostic devices for underserved and vulnerable patient populations."
He and his wife are excited to live in the charming and welcoming city of Ann Arbor. They spend their free time playing with their two dogs and two cats, enjoying nature, and trying new local restaurants.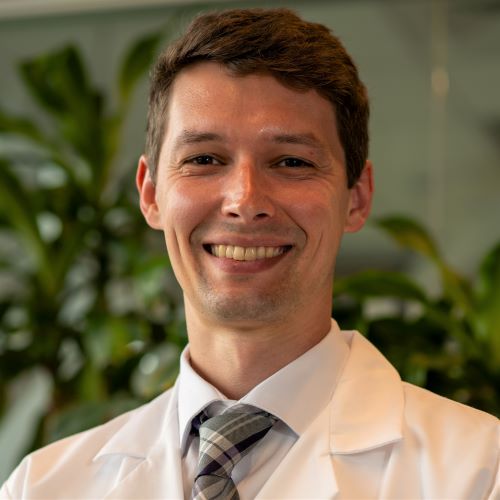 Andrew Valesano, MD, PhD – Anatomic and Clinical Pathology Resident:
Andrew grew up in Albany, Oregon and completed his undergraduate degree in Biology at Hope College in 2015. He earned his MD and PhD at the University of Michigan in 2023. During his PhD, he studied the genomic epidemiology and intrahost evolution of RNA viruses. He developed methods to characterize viral genetic diversity within infected patients and investigate prolonged infections in immunocompromised hosts. These experiences, combined with his clinical training during medical school, sparked his interest in residency training in Anatomic and Clinical Pathology.
"I attended medical school here and I really enjoy living in the Ann Arbor area. During my rotations here and throughout the interview season, I found that the Pathology residency program here has excellent clinical training, fantastic resources for research, and a wonderful community of people. I couldn't be happier about the opportunity to stay here for residency."
In his personal time, he enjoys pickleball, trying new recipes, and spending time with family and friends.
We are delighted to have these stellar residents joining us for the next four years. Please be sure to introduce yourself as you see them around the Department and welcome them to Michigan!