Dr. Steven L. Kunkel Appointed as Distinguished University Professor
By Dustin Johnston | July 2 2018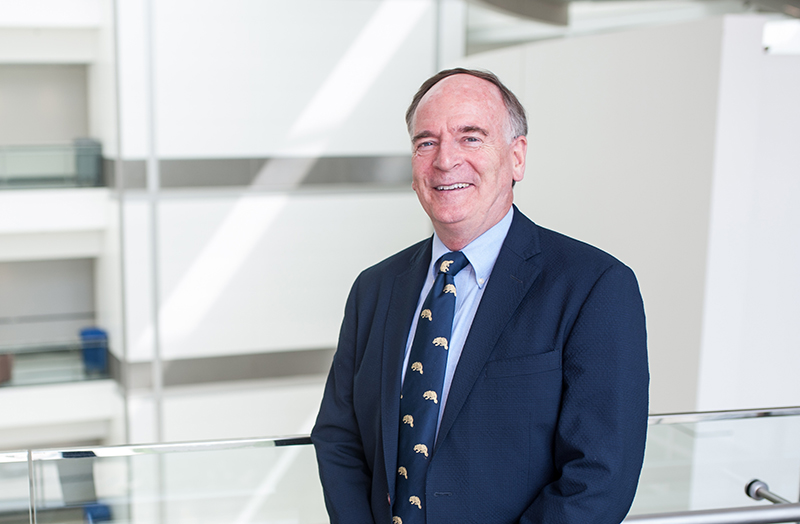 KunkelSteven L. Kunkel, Peter A. Ward Distinguished University Professor of Pathology, was one of five faculty members appointed as Distinguished University Professors, one of the University of Michigan's top honors.
Dr. Steven Kunkel is the Endowed Professor of Pathology Research and Senior Associate Dean for Research at the University of Michigan Medical School. His areas of research have centered on assessing molecular mechanisms of lung inflammation by investigating the expression and epigenetic regulation of cytokine directed cell-to-cell communication circuits.
The Distinguished University Professor appointment came as a surprise to Dr. Kunkel. "To be recognized not just in our school or department, but from the University as a whole, is a real honor." He said. "At U-M we have numerous world-class schools and so many great faculty, that it was unexpected for me to receive such prestigious distinction."
"This is a testament to Dr. Steven Kunkel's stellar career as a leader in the field of immunology as well as his many contributions as a teacher, mentor and senior administrator at Michigan Medicine and the University of Michigan Medical School." said Dr. Charles Parkos, the Carl V. Weller Professor and Chair of Pathology. "We are fortunate to have him in our department. "
Distinguished University Professorships, established in 1947, recognizes senior faculty with exceptional scholarly or creative achievements, national and international reputations for academic excellence and superior records of teaching, mentoring and service. Each professorship bears a name determined by the appointive professor in consultation with his or her dean. The Board of Regents approved the appointments on June 21 and they will be effective September 1. Recently appointed DUPs are invited to give an inaugural lecture that highlights their work at the university.
Dr. Kunkel's areas of research have centered on assessing molecular mechanisms of lung inflammation by investigating cytokine and chemokine directed cell-to-cell communication circuits. His studies in cytokine and chemokine biology are internationally recognized and have provided a more clear understanding of how these proteins participate in the initiation, maintenance, and resolution of acute and chronic lung. His research group has provided evidence for specific cytokine phenotypes that dictate the progression of particular chronic diseases.
He has co-authored more than 600 peer-reviewed manuscripts, contributed numerous chapters to different books in his field, served as the editor for four books, presented more than 150 lectures as a visiting professor/lecturer in the past 10 years, maintained continuous funding of multiple National Institute of Health grants for a number of years, has been a past recipient of an NIH MERIT Award, served on National Institute of Health peer review study sections, organized numerous international conferences on inflammation, and is an associate editor for various professional scientific journals. He is the present co-chair of the Board of Scientific Counselors for the NIAID-NIH.
The other DUP recipients are:
Deborah E. Goldberg, Margaret B. Davis Distinguished University Professor of Ecology and Evolutionary Biology. She also is an Arthur F. Thurnau Professor and professor of ecology and evolutionary biology, LSA.
Laura K. Kasischke, Theodore Roethke Distinguished University Professor of English Language and Literature. She also is a professor of English language and literature and in the Residential College, LSA.
Jeffrey C. Lagarias, Harold Mead Stark Distinguished University Professor of Mathematics. He also is a professor of mathematics, LSA.
Victor C. Li, James R. Rice Distinguished University Professor of Engineering. He also is the E. Benjamin Wylie Collegiate Professor of Civil Engineering, professor of civil and environmental engineering, of materials science and engineering, and of macromolecular science and engineering, College of Engineering.