Lauren Rosen, MD becomes Michigan Medicine's newest Breast Pathologist
By Elizabeth Walker | September 10 2018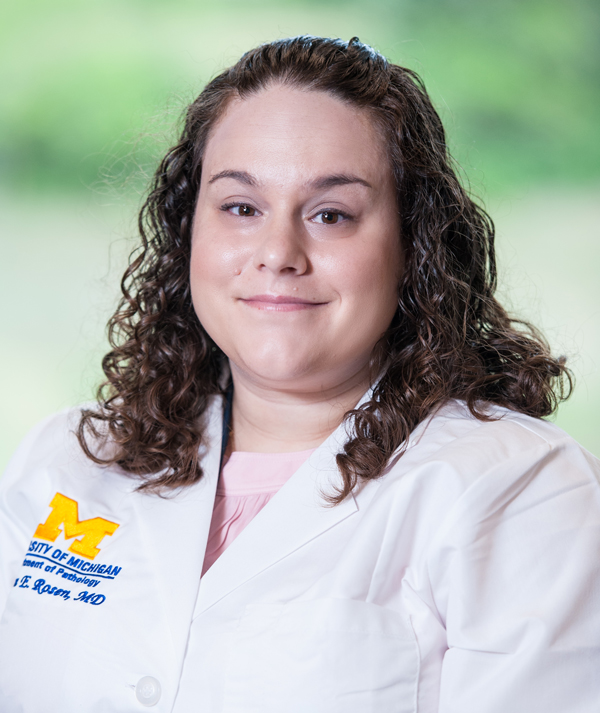 As a teenager, Lauren Rosen, MD, was an avid reader and watcher of everything about forensics. Her parents were both nurses at a nearby hospital and fostered her interests in science and medicine by arranging for her to view an autopsy. Loving the work of investigating what went wrong, causing a person to die or fall ill, she decided to look for a college program which would give her more insight into the field. She chose to enroll in a pathobiology program at the University of Connecticut.
While the program was geared toward students interested in veterinary science, the animal histology and anatomy courses were similar to what she was looking forward to experiencing in medical school. She found a job in the university's necropsy lab, working alongside veterinary residents. Eventually, her interest shifted away from autopsy pathology and toward surgical pathology.
As the Department of Pathology's newest breast pathologist, Rosen appreciates how her work as a surgical pathologist allows her to work directly with the clinicians, making her feel like she has a more active role in patient care. "It's behind-the-scenes, but I'm still looking at patient charts and histories," she explains. "I want to know how they came to be a slide on a microscope and how I can best impact their care."
Working closely with clinicians to help guide decision-making in treating patients is part of what she loves about her work. Pathologists play an integral role in caring for patients which is why she thinks it's a fascinating field and a great fit for any medical student who is interested in diagnostics and knowing the how and why.
Following medical school, which she also completed at the University of Connecticut, Rosen moved to Chicago where she completed her residency at Rush University Medical Center. She continued her training with a fellowship in thoracic and surgical pathology at the University of Chicago before moving on to Northwestern Feinberg School of Medicine for a breast pathology fellowship.
It was at Northwestern that Rosen got involved in research, looking specifically at pregnancy-associated breast cancer. "It's unfortunate because it happens in the prime of your life, and they tend to be aggressive cancers that we don't have many therapeutic options for," she explains.
Rosen's work involved staining inflammatory and tumor cells for immunotherapeutic markers to look for patterns in increased staining. Her team focused on the protein, CTLA-4, where an increase in staining could potentially indicate that the tumor cells would be more receptive to targeted treatment against the protein.
Once she settles into her sign-out routine, Rosen hopes to return to research and collaborate with Michigan Medicine's oncologists and breast surgeons. She is excited to be working in an innovative and almost entirely brand-new pathology facility with a team of faculty members she is looking forward to learning from. "I'm excited, and feel lucky to have the opportunity to begin my career here."
---
Fun Facts About Dr. Rosen

Rosen and her husband, Amoah Yeboah-Korang, met in medical school. He's currently doing a transplant hepatology fellowship here at Michigan Medicine.

Rosen is looking forward to exploring the Michigan coastline once her 4-month-old daughter is a bit older.

A weekly visitor of the farmer's market, Rosen enjoys gardening and cooking and loves baking. (She made the amazing cupcakes pictured here!) She hopes to eventually take Zingerman's nine-hour bread baking course and would also like to try her hand at making pastries.