Renovation to Rogel Cancer Center Blood Draw Station Improves Patient Experience
By Elizabeth Walker | October 23 2018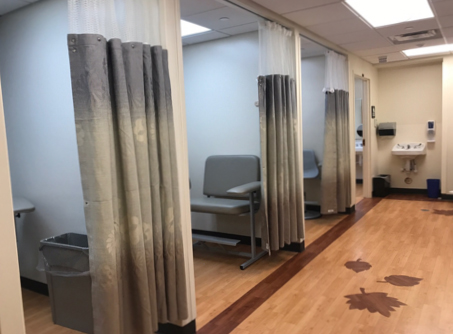 New bays were designed for patient privacy.
The Department of Pathology's blood draw station at the Rogel Cancer Center has been renovated to improve the patient experience. Prior to the renovation, the average wait time was over 30 minutes with the majority of that time focused on waiting for a phlebotomist or a chair at which to have blood drawn.
The renovation increased the number of draw bays by four, for a total of twelve. Additionally, the new bays are designed to consider patient privacy and port access workflow. Other improvements include a "two-bin" system for supplies, an expansive lab area for specimen processing and transport, and an updated and re-designed check-in area. These changes have improved wait time considerably with a new average wait of 10.5 minutes, the majority of which is now spent at check-in and registration.