Michigan Medicine was Well Represented at the AABB Annual Meeting
By Theresa Downs | November 4 2019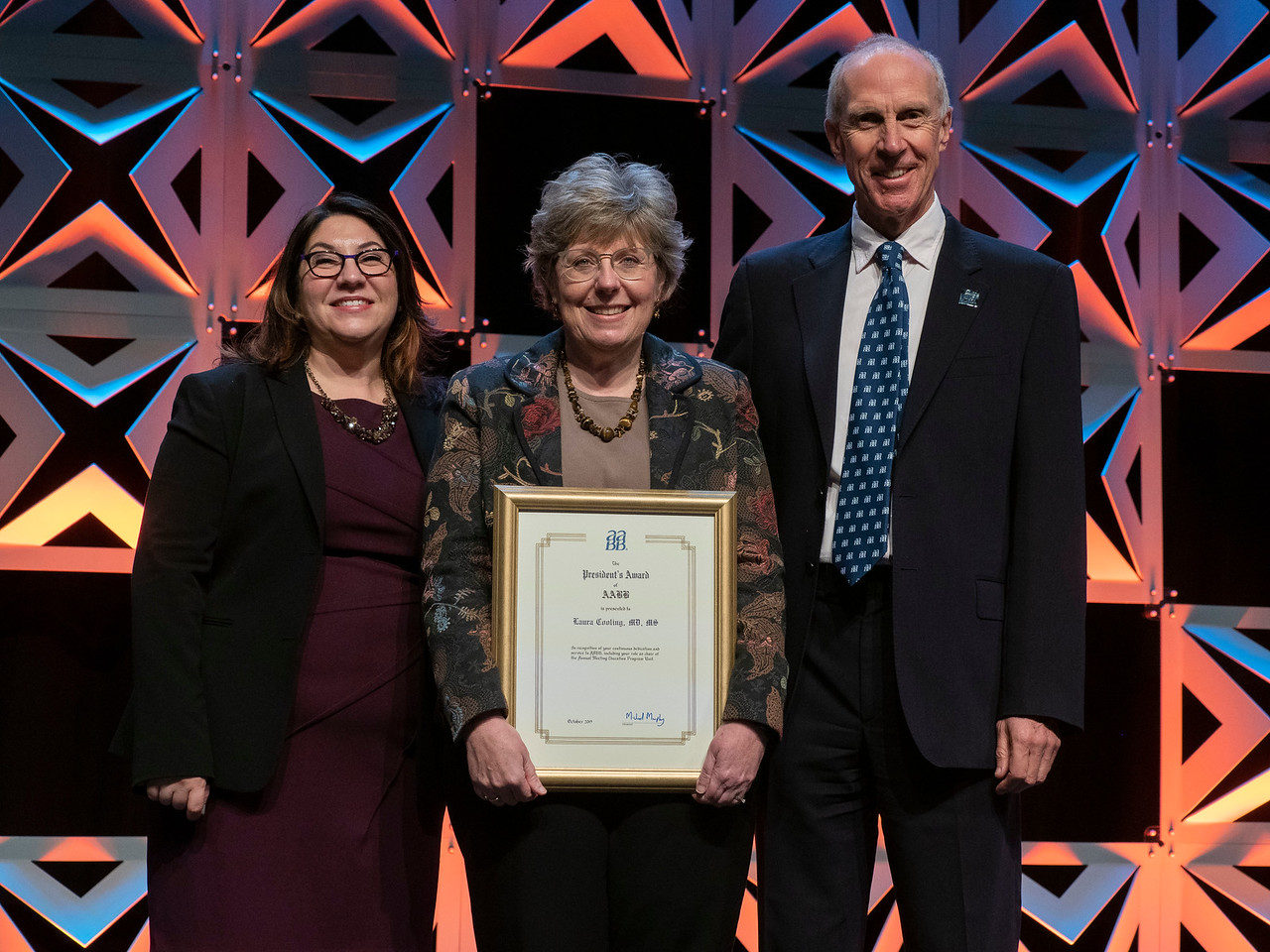 The American Association of Blood Banking (AABB) Annual Meeting is the must-attend event to learn about cutting-edge research, keep up with the latest technological advances, and network with like-minded transfusion medicine professionals from around the world. AABB is committed to providing continuing education that focuses on optimizing patient and donor care and safety. Michigan Medicine was well represented at this year's meeting, held in San Antonio, TX:
Oral Abstracts
A Phase 1, Open-Label, Multi-Center, Dose Escalation Safety Trial of Lyophilized Platelets in Bleeding Thrombocytopenic Patients
—Dr. Robertson Davenport
Molecular and Other Testing: New Alleles, Antigens, and Methods
—Dr. Laura Cooling
Presentations
Navigating the Challenges of Monoclonal Antibodies and Transfusion Therapy, Flipped Classroom in Action: See One, Do One, Go Out and Teach One
—Dr. Laura Cooling
Emergency Event Planning in the Transfusion Service (Speaker)
—Terry Downs
Emergency Event Planning in the Transfusion Service (Program Director), What's New with Reimbursement and Coding for Blood Products, Transfusion Medicine and Cellular Therapies (Speaker)
—Suzanne Butch
Posters with contributors from MM Pathology
Case Report of Six Patients Demonstrating New Unexpected Antibodies Following Treatment with PD-1/PD-L1 Blocking Antibodies
—Sheri Hugan, Dr. Laura Cooling, Brian Novak, Dr. John Sherbeck:
Changes in anti-B with Enteral Nutrition, Diet and Probiotic Use in Children
—Dr. Laura Cooling, Dr. Helen Worrell, Sheri Hugan, Brian Novak
Manual Whole Blood Exchange in Two Pediatric Patients with Sever Warm Autoimmune Hemolytic Anemia
—Dr. Laura Cooling, Dr. Sean Li, Sheri Hugan, Michelle Herrst
Type 1 CD36 Deficiency with Aberrant CD36 Bone Marrow Expression and Compound Heterozygosity for a CD36-Null and CD36-Weak Allele in an African American Male
—Dr. Laura Cooling, Dr. Helen Worrell, Dr. Bryan Betz, Dr. Charles Harmon, Dr. Thomas Wilson
Recognition acknowledgment by the AABB president at the keynote address
Dr. Laura Cooling for her work as a previous chair of the annual meeting program committee.
Committees
Coding and Reimbursement – Terry Downs