Andi Cani becomes Dr. Cani
By Lidija Fremeau | December 23 2019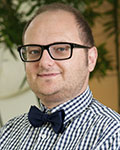 Andi Cani, PhD, successfully defended his thesis entitled "Precision Medicine Approaches to Hormone-Driven Cancer" on December 5, 2019. Sex hormone-driven cancers of the breast and prostate are among the most commonly diagnosed malignancies. Better biomarkers are needed to improve early detection in localized prostate cancer as well as monitor tumor growth and response to therapy in advanced metastatic breast cancer.
Dr. Cani explained, "We addressed those issues in two highly translational projects with potential future clinical application. First, we developed and validated a next-generation sequencing assay that detects prostate cancer RNA biomarkers in urine, and then established a platform for comprehensive genomic profiling of individual breast cancer circulating tumor cells. This work promises to help improve outcomes by detecting aggressive prostate cancer cases early and enabling real-time tracking of metastatic breast cancer patients for individualized treatment and precision oncology."
Dr. Cani will be working as a postdoctoral fellow right here at the University of Michigan in the lab of Dr. Daniel Hayes, The Stuart B. Padnos Professor of Breast Cancer Research and Professor of Internal Medicine, Michigan Medicine Breast Oncology Clinic, Rogel Cancer Center, focusing on circulating tumor cells work.
Congratulations, Dr. Cani!