Serendipity: Q&A with Henry Appelman, MD
By Lidija Fremeau | April 2 2020


An endowed professorship helps keep U-M a critical player in an ever-present quest to recruit and retain first-rate faculty. It's a tool all universities employ. An endowed professorship recognizes the distinction of outstanding faculty while providing invaluable support beyond salary. Not only does it celebrate a current faculty member, it also honors the legacy of someone who made great a impact on the University, either with academic, departmental, or financial contributions.
Henry Appelman, MD, the M.R. Abell Professor of Surgical Pathology, is one of the pioneers in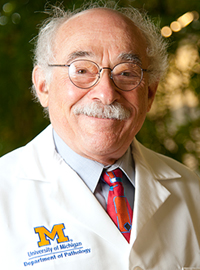 modern biopsy pathology of the gastrointestinal tract. He was the first president of the Gastrointestinal Pathology Club, now the Rodger Haggitt Gastrointestinal Pathology Society (GIPS). He is a past president of both the United States and Canadian Academy of Pathology (USCAP) and the Society for Statistical Study of Diseases of the Esophagus, headquartered in Paris. He has been the recipient of major teaching and service awards from several national societies, including the Distinguished Pathologist Award from the USCAP and the Harvey Goldman Lifetime Achievement Award from the GIPS. He is the 2015 recipient of the Lifetime Achievement Award in Medical Education from the University of Michigan Medical School.
He is the author of more than 400 peer-reviewed publications, books, book chapters and abstracts. Dr. Appelman has been invited on more than 300 occasions to deliver extramural, national and international presentations, including 20 named lectureships and more than 50 visiting professorships.
In true Dr. Appelman form, he willingly and entertainingly answered our questions.
What did you want to be when you "grew up?"
An Adult. As a kid, how would I know what I wanted to be? As I got into my mid-teens, I got some ideas. I was pretty good at math and science. When I was ready to go to college, I knew I wanted to go into the sciences. My father was an engineer, he was a great guy and a terrific role model. In 1954 when I enrolled in U-M, I chose the engineering school. My wise uncle talked me out of it, and suggested I consider something else, like medicine.
Who was influential in getting you to this point in your career? How/why?
My first lecture in the second year of medical school was given by the chairman of pathology, A. James French. He was a fabulous chairman, but not a particularly good lecturer. We were supposed to take notes in all our lectures, but we couldn't understand what he was saying. However, one thing he said that made a great impression on me was that the Department of Pathology was offering three research fellowships that paid $600 for the year. This was 1958, and I did not have much money. I didn't know the field of pathology, but I did know $600. It would pay my room in a rooming house and board in a co-op for almost the entire academic year. So, I ran to Dr. French's office and asked, "Can I be one of the fellows?" He said "Sure." I started out my sophomore year in med. school researching with Jerry Abrams, who was finishing his residency and was working with germ free guinea pigs in the laboratory. While we were doing the research projects, Jerry took me upstairs to diagnostic sign out, where I met the faculty. They were all interacting, challenging each other, showing cases around and having a wonderful time. "This is a fantastic operation," I thought. "I'll keep my eyes open and consider all the other clinical services to see if they matched pathology for fun and interest." I couldn't be a surgeon; my eyesight wasn't good enough. In no other service were the people having nearly as much fun as the pathologists. I went back to Dr. French and asked to be a resident. There was no selection committee, so he made all the choices of residents. He knew me, because I had been working in the department, and he thought I was good. The other people in the department also knew me.
A whole series of serendipitous events led me to this career in pathology. Pathology at Michigan has always had great intellectual support, technological support, fabulous material, outstanding colleagues, great clinicians with whom to work, and spectacular role models. Dr. French really was a great leader who did not toot his own horn. Instead, he tooted the horns of those who worked for him, his faculty, and he took great pride in their accomplishments.
What have you found rewarding about a career in pathology?
Everything: meeting great people, learning how to diagnose, learning how to think my way through complex cases, how to do clinical research, learning to get along with colleagues. I can't think of a downside. I've been doing this so many years, I sometimes think, "some things I do daily are drudgery, so maybe it's time get rid of the drudgery." But I'm part of a group, and as such, I have to take the drudgery with the great stuff. Getting to work with superb colleagues is a delight. Our gastrointestinal team (GI) is composed of an incredible group of people. GI pathology is a great way to make a living. Sometimes I almost feel guilty, getting paid for doing this and having such a great time and with so much fun. It's almost surreal. It's not even proper!
What advice would you give students considering a career in pathology?
Make sure Pathology is a good choice; something you want to do. And that you can have fun doing it. Motivation is extraordinarily important. You don't want people dropping out of the residency program because they made the wrong choice. There are two issues that our residents need overcome with Pathology. One is their mother. She sent them to medical school because she expects them to take care of her in her old age. You won't even remember how to draw blood. The other issue is cocktail parties. People at parties will ask what you do. You'll tell them you're a pathologist and they'll think of forensics and working with dead people. That's all they know because of all the crime shows. I've never solved a crime! You get tired of being asked about dead bodies. I finally got to the point of saying, "I love dead bodies; my office floor is littered with them."
How has being an endowed professor made a difference in your career?
My professorship is named for my great mentor, Gus Abell, which is special. I enjoy being the Abell Professor, and I appreciate it. I don't know anyone who aspires to be a named professor. It's a great honor and recognition of accomplishments. Gus Abell gave me a rocking chair with my name on it. The department gave me a reception. I don't remember if wine was served at the reception.
What are you working on right now?
A number of different projects working with colleagues in other departments, mainly Gastroenterology. Our current GI pathology fellow, Sarah Hall and I, published a paper a year ago and now have a poster covering the same subject to be presented at a national meeting the first week of May. I'm working with a resident on an esophageal project. I may corral residents to work on other projects, hoping to get the results put into abstract form and accepted for presentations at local and national meetings. Part of my job is to get the residents to meetings. All of us faculty have that approach. We're very resident and research oriented.

What qualities make a great leader?
Never having been a great leader, this is pure guesswork. There is no leader school. You come to a leadership position with certain qualities. You need to be creative; to know when things need to be done or changed. Listen to other people, even if it's offensive to you. You have to appreciate the people who allow you to do your job: the clerical and technical staff. They are critically important. Without them you'd be unable to accomplish much. Make sure they know how important they are to your well-being. I still do it. I tell the admins how great they are. I go down to the lab to tell the people there how great the work looks and what a great job they do every day.
As a leader, you can't take yourself totally seriously. You have to have a sense of humor.
If you could learn to do anything, what would it be?
I have no objectives to learning anything… what would I do? I'd learn more stuff. Learn how to get smart. I work out most evenings in my basement on a bunch of torture machines my wife bought to stress every muscle in my aging body. I do the elliptical trainer while watching documentaries on public television. I like learning stuff. It's fun. I don't need to play a musical instrument. I don't like writing. I've done my share of writing; I don't want to do it anymore.