New Study Discusses Viral Transportation in COVID-19 Pandemic
By Camren Clouthier | April 20 2020


A new study from Dr. Rajan Dewar of the Department of Pathology has found that inactivated virus transporation should be implemented for safe transportation and handling at diagnostics laboratories.
The article, just published in Archives of Pathology and Laboratory Medicine details the testing strategies and the current capacities within the state of Michigan.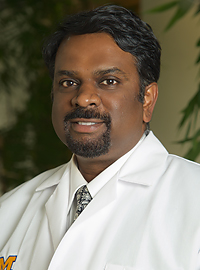 "We as laboratorians knew that there was a severe shortfall of test kits to begin with," Dewar says. "I started collecting data and information about the test capacities from 5-6 labs within the state. In my surveys, I found that one of the severe limiting factors was the transportation methods for specimens."
Ultimately, according to Dewar, the Center for Disease Control and Prevention (CDC)'s recommendation of transportation medium was based on the age-old tradition of keeping the virus active but kill bacterial organisms so that the virus could be transported via the Viral Transportation Medium (VTM).
"This will be a huge bottleneck from a cost perspective, safety perspective and practical perspective. When we discussed this, our experts suggested that we should recommend a safer alternative for viral transportation called Molecular Transportation Medium (MTM) instead of VTM."
And while specimen transportation is crucial for virus testing, experts urge to consider the safety of healthcare works and inactivate the virus soon after collection. "Use Molecular Transporation Medium or some other ways of inactivating viruses," Dewar notes.
--
The full publication in Archives of Pathology and Laboratory Medicine is accessible here: https://doi.org/10.5858/arpa.2020-0175-LE