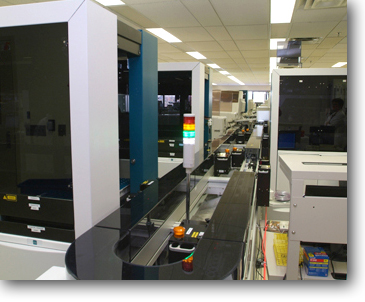 Core Lab Director:
Don Giacherio, PhD

Administrative Manager:
Janette Todd, MT. ASCP
2F453 UH
1500 E. Medical Center Drive
Ann Arbor, MI 48109-5054
(734) 936-6702

Clinical Core Laboratory Group
Chemistry
Director: Don Giacherio, PhD
Chief Technologist: Eric VasBinder, BS MT(ASCP)
Afternoon Supervisor: Carl Byington, BS MLS(ASCP)
Midnight Supervisor: John Alfsen, MHSA MLS(ASCP)
Location: 2F453 University Hospital
Phone: 734-936-6702
Hours of Service: 24 hours, 7 days per week

Drug Analysis & Toxicology
Director: Carmen Gherasim, PhD
Day Supervisor: Sheridan Mattson, BS
Location: 2F453 University Hospital
Phone: 734-936-6702 / 734-936-6758
Hours of Service: 7:00 am to Midnight, 7 days per week
Hematology / Urinalysis
Director: Riccardo Valdez, MD
Chief Technologist: Todd Teifer, MLS(ASCP)SH
Location: 2F360 University Hospital
Phone: 734-936-6866
Hours of Service: 24 Hours / 7 Days per Week


Coagulation
Director: Steve Pipe, MD
Chief Technologist: Todd Teifer, MLS(ASCP)SH
Location: 2F360 University Hospital
Phone: 734-936-6866
Hours of Service: 24 Hours / 7 Days per Week


Services
The section of chemical pathology consists of clinical chemistry, including both automated and special chemistry, drug analysis/toxicology, and clinical immunology. Approximately 9.2 million tests are performed per year. The automated chemistry section utilizes a Siemens Lab Cell automation track system (including 3 Centaur XP instruments and 4 Advia 1800 instruments) to offer a menu of over 100 chemistry and immunoassays on blood, urine, and other body fluids 24hours per day.

Special chemistry performs an extensive menu of esoteric testing, including hemoglobin fractionation, viral serology, therapeutic drug monitoring, endocrine function, tumor markers, and vitamin assays utilizing multiple analytical methodologies. These include high-pressure liquid chromatography (HPLC), fluorescence polarization, radioimmunoassay, chemiluminescentimmuno assay, and ELISA methodologies. Also, an intraoperative PTHI testing program to support the performance of 350 parathyroidectomy surgery cases a year is administered by this section.

The drug analysis/toxicology section of the laboratory offers comprehensive testing for banned drugs and drugs of abuse, immunosuppressant drugs, volatiles and heavy metals utilizing HPLC, GCMS, LC-tandem mass spectrophotometry and atomic absorption methodologies.

The clinical immunology lab offers a wide variety of serum autoantibody testing, serum and urine protein electrophoresis, and multiple assays for the evaluation of monoclonal gammopathies. In addition, the lab performs celiac disease screening, viscosity measurement, cryoglobulin evaluation, and syphilis serology. A variety of methods are employed, including enzyme immunoassays, multiplex immunoassay, indirect immunofluorescence, high-resolution protein electrophoresis, capillary electrophoresis, immunofixation, and nephelometry.

Additionally, Chemical Pathology supports emergency department point-of-care laboratories in University Hospital and C&W Hospital.