Dermatopathology Fellowship
Next Opening 2026-2027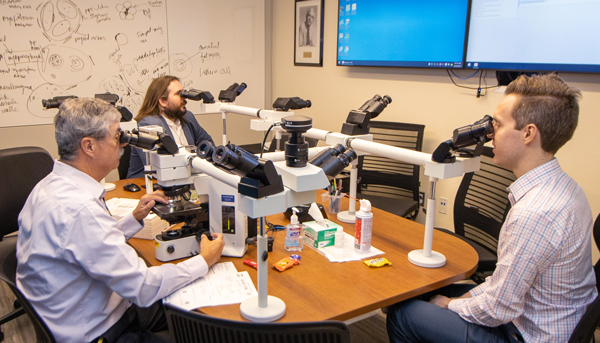 The Department of Pathology, in conjunction with the Department of Dermatology, offers an ACGME-accredited, one-year fellowship in dermatopathology with emphasis on diagnostic dermatopathology. The program is well balanced and provides broad exposure to all areas of dermatopathology, including inflammatory dermatoses and cutaneous oncology. Pathology-trained fellows spend half of each day during an eight-month period of their training rotating in the Dermatology Clinic. Dermatology-trained fellows spend half of each day for an eight-month period in surgical pathology, with an emphasis on areas that overlap with dermatopathology. All fellows interact closely with residents and faculty in both departments as well as the University of Michigan Multidisciplinary Cutaneous Oncology Program. The dermatopathology service receives approximately 30,000 accessions per year, including in-house cases, outside consultative cases, "transfer" cases enriched in melanomas and Merkel cell carcinomas, and direct immunofluorescence specimens. In addition, the fellows will gain first-hand experience in interpreting molecular diagnostic tests used in dermatopathology, via our Dermatopathology Molecular Laboratory. The fellows are encouraged to participate in investigative projects in the area of dermatopathology.


Requirements:
Applicants must be US citizens, legal permanent residents (green card holders) or J1 visa holders who are board-certified or eligible in anatomic pathology and/or dermatology.
The U-M accepts degrees from colleges and universities listed on the Medical Schools Recognized by the Medical Board of California list. Candidates must have graduated from a medical school found on the California approved list, affiliation with a school on the approved list is NOT sufficient. Medical Schools Recognized by the Medical Board of California
The following list of osteopathic medical schools are also accepted American Osteopathic Medical School List
Applications:
Fellowship applications are accepted on a rolling basis but will be reviewed in accordance to the ASDP timeline once ALL required documents listed below are received:
Completed fellowship application
Current CV
Three letters of recommendation
Applications should be submitted electronically: click here
All letters of recommendation may be sent to Marie Goldner, GME Program Administrator via e-mail at: mariesas@med.umich.edu
All interviews will continue to be conducted virtually.
The University of Michigan offers highly competitive salaries and tremendous benefits to our residents/fellows. An overview of salary, benefits, and employment eligibility is available on the GME Office website, under "Prospective Residents/Fellows".
https://medicine.umich.edu/medschool/education/residency-fellowship