Dr. Celina Kleer: Physician Scientist, Dedicated Mentor, ASIP Outstanding Investigator Awardee
By Camren Clouthier | July 20 2020


Congratulations to Dr. Celina G. Kleer for receiving the 2019 American Association for Cancer Research (AACR) Outstanding Investigator Award for Breast Cancer Research from the San Antonio Breast Cancer Symposium (SABCS) and the AACR, supported by the Breast Cancer Research Foundation (BCRF). This award is given annually at the American Society for Investigative Pathology meeting for scientists who have made seminal contributions to breast cancer research.
Dr. Kleer received her medical degree from the University of Buenos Aires School of Medicine in Buenos Aires, Argentina in 1993. Her passion for disease and pathological changes began as she was a histology teaching assistant, and worked in the laboratory of Dr. Amanda Pellegrino de Iraldi, one of the most renowned scientists in Argentina, where she learned to perform electron microscopy. Upon coming to the U.S., Dr. Kleer began her residency in Anatomic and Clinical Pathology at the Mayo Clinic in Rochester, Minnesota, and continued her residency and surgical pathology fellowship training at the University of Michigan, specializing in breast pathology with Dr. Harold A. Oberman, a pioneer in the field, and an advocate for women in medicine. In 1999, she joined the faculty at the University of Michigan Department of Pathology and was extremely fortunate to work with Dr. Sofia D. Merajver, a clinician scientist who inspired her lifetime dedication to breast cancer research. In November 2007, Dr. Kleer became the first Harold A. Oberman Collegiate Professor of Pathology at age 36, and reached the rank of full professor with tenure in 2011.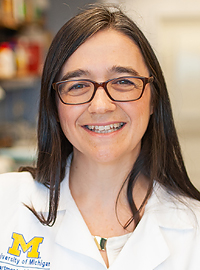 In conjunction with her clinical work, Dr. Kleer is the principal investigator of a federally funded research laboratory at the University of Michigan Rogel Cancer Center working to understand mechanisms of breast cancer invasion and metastasis, and to develop useful breast tissue-based biomarkers. Her work bridges basic science and clinical application, with 150 peer reviewed papers. Of particular interest are non-canonical functions of the Polycomb group protein EZH2 in breast cancer metastasis, in particular using novel mouse models and molecular biology approaches. A main focus of the lab has been elucidating the underlying mechanism of metaplastic breast carcinomas, the most aggressive form of triple negative breast cancer.
Dr. Kleer is a dedicated mentor to medical students, graduate students, and physician residents both in the laboratory and in surgical pathology. She has enjoyed mentoring high school and undergraduate students in the lab and instilling the enthusiasm for medicine and science that has fueled her life. In particular, she has been an advocate for women and minority trainees many of whom have been persons of color, or from families where the trainee may have been the first one to attend college. Because of her dedication to education, she received the 2018 Distinguished Clinical and Translational Research Mentor Award by the University of Michigan Institute for Clinical and Health Research, which recognizes mentors across disciplinary boundaries in pursuit of science, from across the University of Michigan.
She is a permanent member of the NIH/NCI Cancer Prevention Study Section and participates in scientific Editorial Boards including serving as Associate Editor of JCI Insight and Breast Cancer Research. She has served in the Editorial Board of AJP for several years. Dr. Kleer is an elected member of the American Society for Clinical Investigation (ASCI).
--
This story originally appeared on the ASIP Pathways website on 5/6/2020. The full publication is accessible here.