Marie Moorhouse Retires After 35 Years
By Lynn McCain | December 21 2020


Marie began her career at the University of Michigan as an undergraduate biology student working in security at the old Mott Hospital, checking ID badges. This is where she caught the attention of the phlebotomy supervisor, Theresa Malcolm, who encouraged Marie to contact her about a position in phlebotomy. Marie called and, as Marie recalls, "The rest is a 35-year history."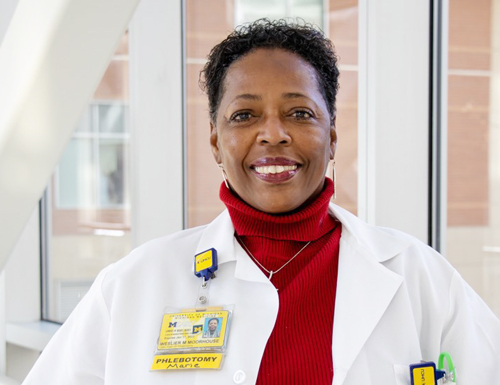 "It has been a rewarding, illustrious career. I couldn't have asked for better," said Marie. "I have met some wonderful people along the way that have been life changing for me. I've changed a lot of lives and they changed mine." Marie estimates that over her 35years in phlebotomy, she has trained well over 1,500 phlebotomy students, medical assistants, certified nursing assistants, technicians, and nurses. "I am proud to say that I was part of the process of catapulting the phlebotomy team from an 8-hours-per-day service into what it is today, a 24-hr. comprehensive services division with highly trained and proficient 1st-class phlebotomists, who work hard to provide the best service possible to our patients. I am so very proud to have been a part of that development. I feel truly blessed."
Over her career, Marie was an exemplary leader and served in many ways, including:
Training Med Techs in blood drawing
Department of Pathology DEI committee
Helping Hands (a founding member)
Pathology Recognition Committee (a founding member)
Women of Color Task Force – Chairwoman
Facilitated Hospital-wide Diversity Leadership training
Facilitated NEO (once called MTV-Michigan Traditions and Values)
Annual speaker for AMT (American Medical Technologist)
Authored a Pediatric Blood Drawing Handbook
Facilitator for Service Excellence
Representative for Teddy Bear Clinic
Marie's positive attitude and cheer is reflected in everything that she does, and was returned to her in kind in Pathology. "I will carry with me all the love, respect, and admiration that was shown to me during my tenure here. I am a true Wolverine and I bleed Maize and Blue," said Marie. "That will follow me forever. I am looking forward to what lies ahead as I plan my second act in life. The first act was phenomenal, so it is with great anticipation that I move forward. The leadership here has been outstanding from the top down. Pathology administration is phenomenal and you would be hard pressed to find a better, more supportive, dedicated, welcoming, and caring group of people. Their visibility and availability in the organization is unprecedented. We truly are the Leaders and the Best in every way possible."
In retirement, Marie plans to spend time with her grandsons and "I will take some time to do nothing: take long walks, reflect on my life, commune with nature, and talk with God. Mostly thank Him for an outstanding career here at the U. Truthfully, it has been amazing. I wish everyone had the life I've had," Marie reflected. Her secret to life, as she puts it, is she "surmised that there are only two major choices I will have to make in life: 1. I can be happy or 2. I could be sad. I decided that if I chose the first, everything else would fall into place no matter what happened. Not that it would be easy, but if I chose happiness, at least my baseline was good. Life really is what you make it so it isn't by happenstance that I have enjoyed my time here. It was by divine choice."
As she departs, Marie left us with a final message, "As I bid farewell to all of my comrades, I take a part of you with me and I hope the part I leave with you will be cherished as much as I will cherish your memory."
We cherished the time we had with you, too, Marie! May you have a long and happy retirement. You will be truly missed.