Linda O'Brien retires after 30 years!
By Lynn McCain | February 24 2021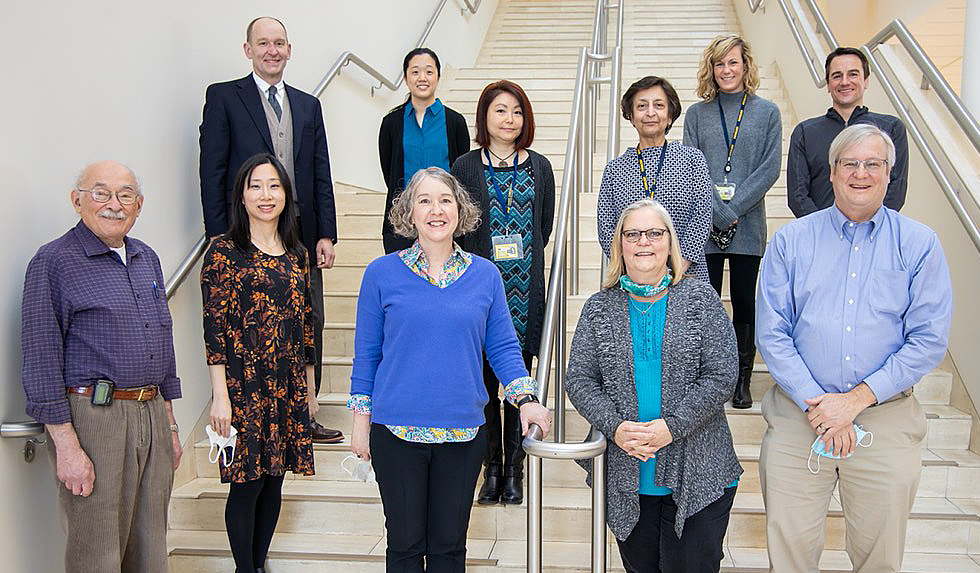 The Department of Pathology bids a fond farewell to administrative assistant Ms. Linda O'Brien, who is set to retire from the Department at the end of February. Linda leaves the department with over 30 years of service, primarily working with the GI pathology faculty. She came to Pathology as a part-timer in Accessioning, as she had young children at home. Later, when an opportunity opened up to job share in GI pathology, Linda jumped at the chance, and the rest is history! Linda remained part-time in a job-share until the COVID-19 pandemic hit. At that point, her job-share partner, Laurie Chopko, moved to fill a vacancy full time, and Linda, who had been planning to retire, put her retirement plans on hold and began working full-time for GI pathology.
"I am a detail-oriented person," related Linda. "I like to be organized. One of my favorite parts of my job is to solve the little problems that come up…where is the case, why did this happen?" She also truly enjoys working with the GI pathology team. "There is no better team in Pathology. They are a great group of people to work with. They are more than friends; they are my work family."
"I have had the pleasure of working closely with Linda for many years," reflects Dr. Henry Appelman. "When I say 'the pleasure', I am not simply making things up. Linda has been the role model for an Admin, and, as such, she has been instrumental in making my professional life so amazingly enjoyable, so easy to do things and, as a result, so much fun." He too recognized Linda's efficiency and professionalism. "She handles new assignments with ease and good cheer... I have such confidence in what she does and who she is that I can relax and enjoy my job and know that Linda will always have my back. Of course, it helps a lot that Linda is just a lovely human being, caring, compassionate, interested in life, and funny at all the right times. Replacing Linda in this job will be difficult for me, but I will always have the great memories of working with one of the most accomplished and thoroughly professional people I have ever had the joy of knowing."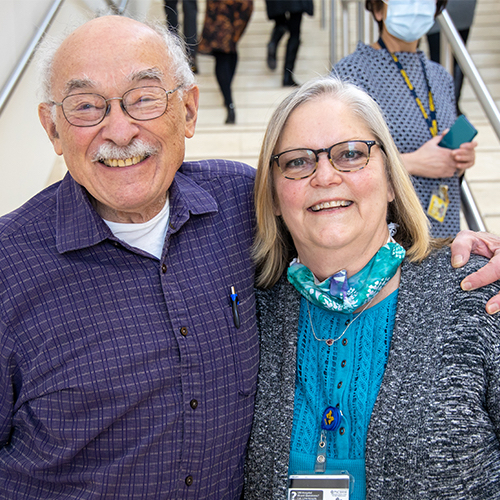 "Linda is the surprisingly peaceful nerve center of our fast-paced and very busy subspecialty of GI pathology," described Dr. Maria Westerhoff. "Her incredible work ethic, professionalism, and long-term devotion to the department for thirty years are exemplary, and seem to personify all that we are about." In addition to her calm and well-grounded demeanor, Linda is also impeccably organized and trustworthy. "I know I can entrust patient matters to her and be at peace, knowing that a patient's case issue will be handled right away. She does the work of three people and still seems to do it all without batting an eye," continued Westerhoff. "Linda will be sorely missed, but I am thankful for the way she helped us to better serve our patients."
"I have worked with Linda since I was a GI fellow here in 2005-2006 when we still used to sign our consultation letters with actual pens!" recalled Dr. Scott Owens. "With the exception of my short time practicing in Pittsburgh, working with Linda has been a constantly positive and enjoyable part of my career for more than 15 years. Linda's organization, professionalism, capability, and willingness to jump in to learn and effectively manage things on the GI service has been of immense benefit not only to us but also to our patients. I'm going to miss her!"
Dr. Jiaqi Shi, who has worked with Linda as a resident, fellow, and faculty member over an 8-year career at Michigan Medicine described Linda as the most efficient administrative assistant that she has ever worked with. "One example is that sometimes she would finish typing cases before I even gave her the case," Shi notes. "She helped me in numerous ways and I can confidently say that I will not be able to do my job efficiently without her help! She is part of our GI pathology family and I will miss her dearly."
Shi's sentiments were echoed by Dr. Joel Greenson, another GI colleague. "Linda is the most efficient person I have ever known. We have all had the experience of bringing Linda a consult we just dictated only for her to say, 'It's already typed.' No matter what arises, Linda is on top of things. Dealing with patient care matters, lost slides, promotion packets, our never-ending consult load and our eccentric personalities would drive most people insane, but Linda handles it all effortlessly and with good humor. Linda has been our MVP in GI pathology. Michael Jordan and Tom Brady all rolled into one. She is the type of person that makes GI pathology at Michigan such a great place to work.
"I don't quite know how we're going to survive without her," stated Dr. Laura Lamps, the Godfrey Dorr Stobbe Professor and Director of Gastrointestinal Pathology. "When I asked one of my colleagues what should we do for her going-away celebration, he said, 'Tie her to a chair.' We will miss her very much, but I'm excited for her in this new phase. I can't wait to see what she knits and sews!"
Linda stated that in retirement she hopes to have "knitting play dates" with Dr. Lamps, who is also an avid knitter, to stay in touch. She looks forward to having time to sew for her grandkids, do some traveling with her husband when it is safe to do so, and spend time visiting family in Colorado and Georgia.
"This is the only department I've known. I don't know that there is a better department to work for than Pathology. They have been really good to me," shared Linda. "I appreciate that they allowed me to work ½ time, so I could take care of my kids and family. There are just a bunch of good people here, especially my team, the GI team is awesome." When she told Dr. Appelman, who recently celebrated 50 years in Pathology, that she was retiring, Dr. Appelman said, "You can't retire, you are waiting for me!" to which Linda replied, "I tried!"