"Tear Down This Wall!": PRR Moving Into Its Next Phase at UH
By Christine Baker | July 19 2021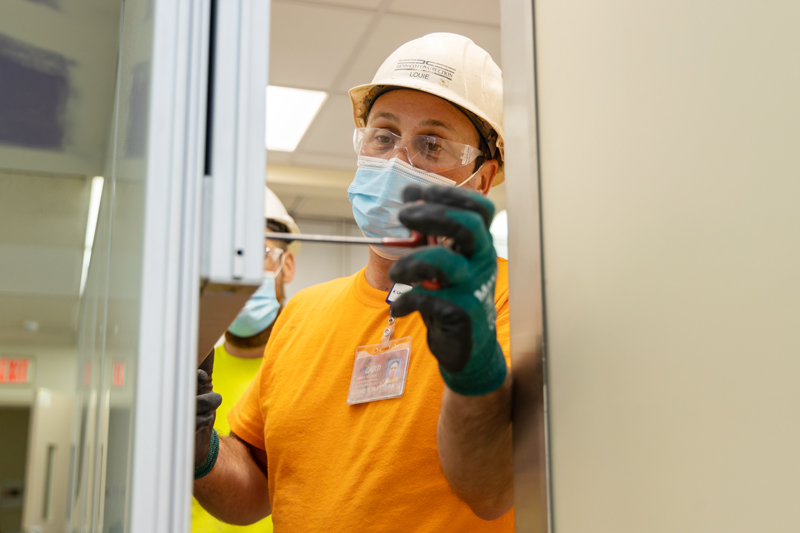 On June 12, 1987, President Ronald Reagan delivered a speech in Berlin where he famously said, "Mr. Gorbachev, tear down this wall!" These words would then be frequently used in connection to the later fall of the Berlin wall in 1989.
For the last 18 months, some faculty and staff may have been echoing a similar sentiment during the renovation being done in the hallways of the University Hospital. Because of construction, they have endured significantly longer routes to deliver specimens, social separation from teammates, as well as barriers, closed hallways, crowded conditions, and other challenges as result of the renovation.
However, on July 7, 2021, the walls around the Pathology Renovation and Relocation (PRR) Phase 2.2 construction areas came down. While not a world-famous event, it was nevertheless an equally inspiring sight. The department had passed another milestone as the second of five phases of construction came to an end and opening the floodgates for labs to begin activating, and moving, into the new space. On July 8, the first components of the Siemens automation line for Chemistry arrived on site. Then, on July 12, the new lab benches arrived for the teams including Chemistry, Specimen Processing, Anatomic Pathology, and Microbiology.
Over the next several weeks, Specimen Processing, the UH components of Microbiology, and the accessioning/packaging group within Anatomic Pathology will have also completed its move to their new spaces. In parallel, the automation components, including new automated Coagulation equipment, will arrive at the site, be installed and validated, and eventually start running clinical specimens.
The culmination of this phase of construction takes us one step closer to our collective goal of newly designed and state-of-the-art laboratories within the University Hospital to provide optimal care to our patients. Over the next two years, the barriers caused by space constraints will continue to come down as we move towards the completion of our project.