Service with a Smile
By Lynn McCain | September 17 2021


In the past several months, I have experienced a key breaking off on my laptop, a desktop that decided it no longer wanted to turn on, a printer that needed to be reconfigured, and a few other issues that were all solved with phone calls to Chris Shaski from the Pathology Informatics Help Desk and support from the PI Desktop team. Multiply this by more than 1000 Pathology employees and this team of five is kept hopping throughout the year! Everyone in Pathology is served by Steve Marshall (Operations Manager), Oliver Bichakjian (Desktop Support Specialist Senior Supervisor), David Austin (Desktop Support Specialist Senior), Ivan Holland (Desktop Support Specialist Intermediate), and Chris Shaski (Help Desk). This is the team that provides you with your computing and printing hardware, network access, software portfolio, and support services. Without them, the department could not function.
Since the services of this team are so vital to Pathology, I chatted with them about their backgrounds, interests, experiences, and roles in the department. The camaraderie of the team was clear during our conversation, with plenty of light-hearted joking and laughter.
When a member of Pathology has an issue that needs to be resolved or a new account that needs to be created, Chris Shaski is the first point of contact at the help desk. Shaski joined Pathology Informatics almost three years ago, after working in Michigan's Campus ITS group for 3 years and then Housing technical support for a year. Shaski takes calls and tries to provide immediate assistance with issues. If the issue is one that he cannot solve, he creates tickets in the help desk system and routes them to others on the team. He is also responsible for merging patients in the Soft Laboratory Information System (LIS) and doing updates when there are demographic changes such as date of birth or names that need to be corrected. When new faculty and staff come onboard, Shaski sets up the accounts and when they depart, he deactivates them. "I like to improve on processes and make things more efficient," Shaski said as his phone rang and he added, "I gotta go!" After providing help to the caller, he was back. "There is always something going on. There is not a lot of downtime in the group. The good thing about the group is there probably isn't a question that can't be answered by one of these guys in our group. It is a good group to have."
Steve Marshall has been with Pathology Informatics for 37 years. During that time, he has worked in multiple areas of PI including performing LIS database updates, computer consultations, desktop support, operations, systems administration, and management positions. "These positions have all stayed with me," stated Steve. "I hold onto a lot of responsibilities from prior jobs." The responsibilities of the teams under Steve include supporting applications developed within the department, licensed applications such as the Soft LIS, maintaining the grossing bays' cassette markers, label printers, and other pieces of equipment. "Any time a new piece of networked equipment or application is added, the team is involved in setting it up, changing server settings, going through a 7-step process to get it added. With that, they have to be good troubleshooters. If something doesn't work right, you need to come up with a list of questions to figure out what is wrong," explained Marshall. "Everybody on the team is good at that."
Another long-term member of the team, David Austin, has been with PI since the late 1990s. His career began in college where he trained in electrical/electronic technology. He was fascinated with computing and it quickly became his life's hobby. He has seen many changes in the department through the years and has supported faculty, staff, departmental leadership, researchers, and laboratories. "I enjoy the interactions with the rest of the department, especially the people in the labs. For those in the labs, you must be right there when a problem arises," explained Austin. "The clinical work needs to get out. The people in the labs are good people to work with and we have to be good problem-solvers for them. We enjoy that."
"Computers fascinated me from childhood, so my interest started with a hobby," recalls Bichakjian, who grew up in The Netherlands (aka Holland). After graduating with a computer science degree, he began working as helpdesk support at the University of Holland, later becoming a systems administrator. "I've always been in technology, career-wise as well as a hobby," reflected Bichakjian. "I like to tinker with those devices, play with them, create networks…it is a hobby of mine that became my job." Fifteen years ago, Bichakjian left Holland and came to the United States, and a year later, he joined Pathology Informatics in desktop support.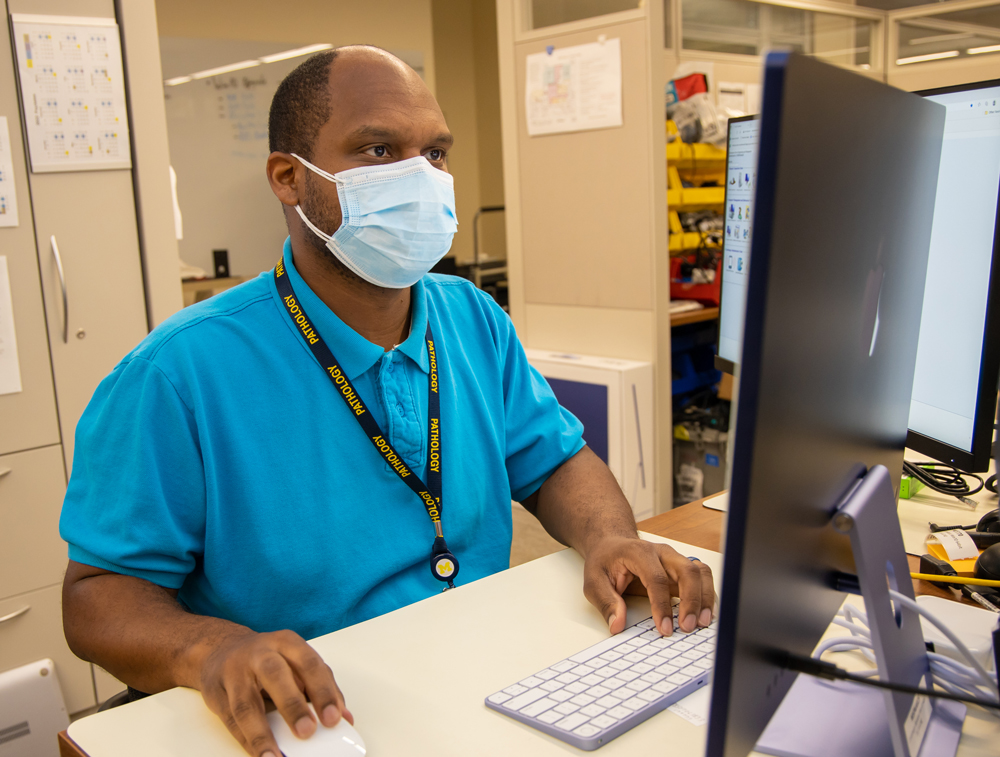 Ivan Holland obtained a degree in Information Systems Management from Wayne State University and has been with PI for six years. He is the one who is always smiling. "It is an amazing thing that we do. We go above and beyond for our users when we do our job. We make sure that we keep that smile on their face when they get the help they truly need. It is the Michigan difference in what we are truly achieving. It is all about our patients. Patient care to the max!" The most rewarding aspect of the job for Holland is "receiving that smile from an individual after you achieve something that was a challenge to you. Something they didn't see as being hopeful, but you got it. That is very rewarding." Marshall chimed in with a laugh, "Cookies or brownies are always good, too. Put that in your article… I don't think anyone would be upset if suddenly people were giving us more cookies or brownies!"
The pandemic hit members of the PI team hard. Holland lost six family members and a neighbor to COVID. Bichakjian's father passed away from COVID in the Netherlands early in the pandemic and the funeral had to be held virtually. It was a year before he could return to the Netherlands and reunite with family. Despite their personal challenges, the team continued to effectively support the department. They were on-site supporting the needs of the laboratories, faculty, trainees, and staff every day. Shaski's role, however, like many others, was moved to fully remote. "When everybody first started working from home, everything got crazy for a week or two as people started getting used to working from home. After that, it went back to normal," recalls Shaski. Austin was instrumental in getting equipment prepared for those who shifted to remote work. "In the beginning, we had a lot of equipment to get together to send people home. In supporting those working from home, we had to troubleshoot blindly. We try to picture what they mean. Fortunately, we know our users and we know when they say this, they don't really mean that, they mean something else." Austin added some advice, "Did you turn it off and on? That really does work." Bichakjian added, "Facetime worked great when the user had a hard time describing what they are seeing or the problem. I could see what was going on. That helped."
We wrapped up the discussion by asking if they could share a few "fun facts" to help us get to know them better. Did you know that Shaski collects unique Gibson guitars? His collection includes rare guitars where there may be only a couple of them in the world. He has been playing guitar for 25 years. "And he is only 24 years old," quipped Marshall, whose hobbies include playing sports and anything outdoors. He recently purchased a cabin where he spends his free time fixing it up. Holland enjoys tinkering in the kitchen, making baked goods like cheesecakes ("I want a cheesecake!" exclaimed Shaski), and nice meals. He enjoys computers and technology. Austin also enjoys technology and playing with it. "I'm in the perfect job - I get to play with it all the time." Contrary to Marshall's assertion that "Austin's car is older than him," Austin does not have a classic car. Bichakjian's fun fact is impressive – he speaks multiple languages including English, Dutch, German, French, and Spanish!
The next time you see one of the PI Desktop and Helpdesk team members, be sure to give them a smile, thank them for their service and for keeping the department running…and maybe bring them some cookies or brownies, too!