Careers in Pathology: Pathology Imaging
By Lynn McCain | December 14 2021


The Department of Pathology at the University of Michigan has a robust imaging team of individuals whose purpose is to capture visual patient data, document events and activities, and promote the Department on various digital media channels. This team is made up of Lisa Belanger Neal, Supervisor of the Morgue and Biomedical and Forensic Photographer for University of Michigan Autopsy and Forensic services; Sierra Onickel, Forensic and Biomedical Photographer for Wayne County Medical Examiner's Office, Kelly Root, Pathology Imaging Specialist/IT, also at Wayne County Medical Examiner's Office; and Camren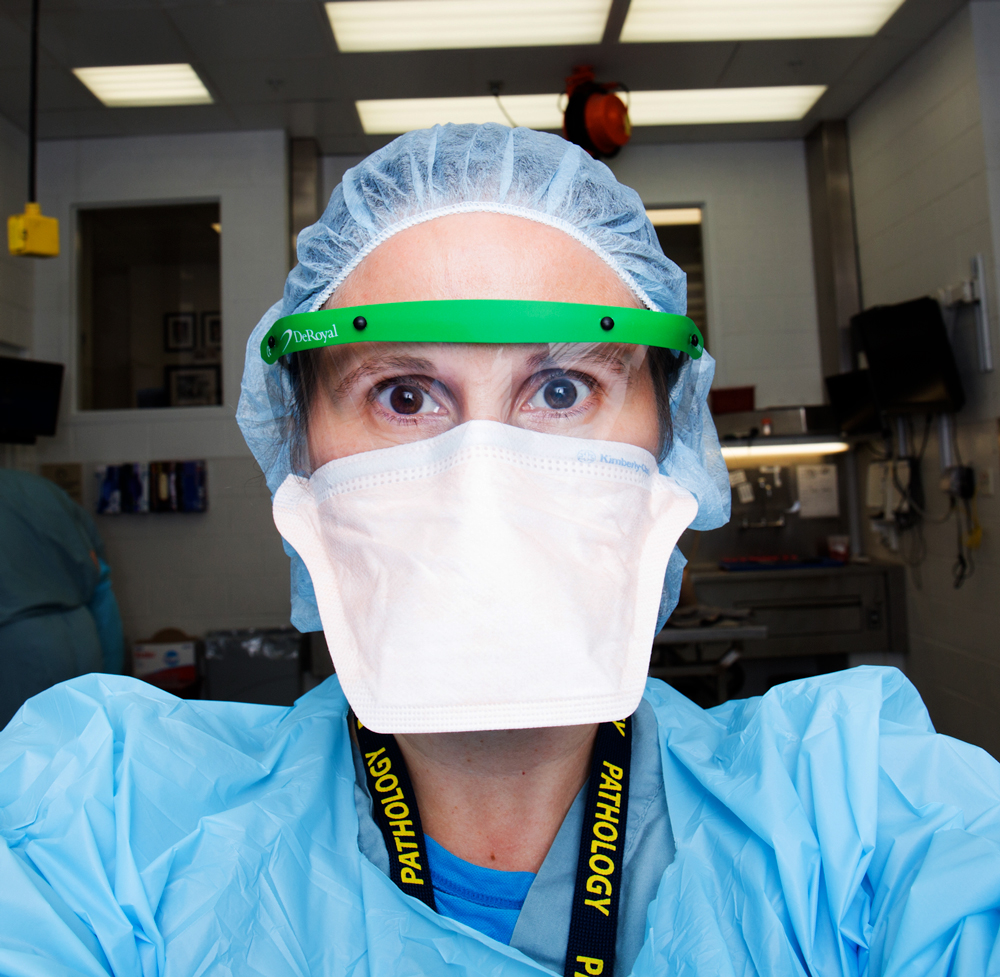 Clouthier, Multimedia Designer for UM Pathology. The responsibilities of this team are unique and vary. We recently sat down with them to learn more about this career option and to get to know them a little better.
Neal joined the team in 2017, although forensic photography was not her initial career choice. She went to college to pursue a degree in journalism with a minor in English. "When I was a senior, a friend suggested taking a photography class as I would be a more valuable journalist if I could take my own pictures. So senior year of college, I took one photography class and that was it for me! I knew I had to do something more with photography." Neal went back to school for photography, completing degrees in fine arts and biomedical photography. After graduation, she began as an ophthalmic photographer. Fifteen years later, she joined Pathology as a forensic and autopsy photographer.
"My interest started in high school," Root joined in. "We had a black & white darkroom and a studio. So I started shooting in high school. After high school, I went to the College of Creative Studies, where I took the same biomedical photography program as Lisa. My style was more of a documentary style of photography. While I was there, I did an internship at the Wayne County Medical Examiner's Office (WCMEO) and was hired in 2000. I joined Michigan Medicine when the Wayne County Medical Examiner's Office partnered with U-M in 2014. It was something that spoke to me. It has been one of my favorite and most important jobs that I have had."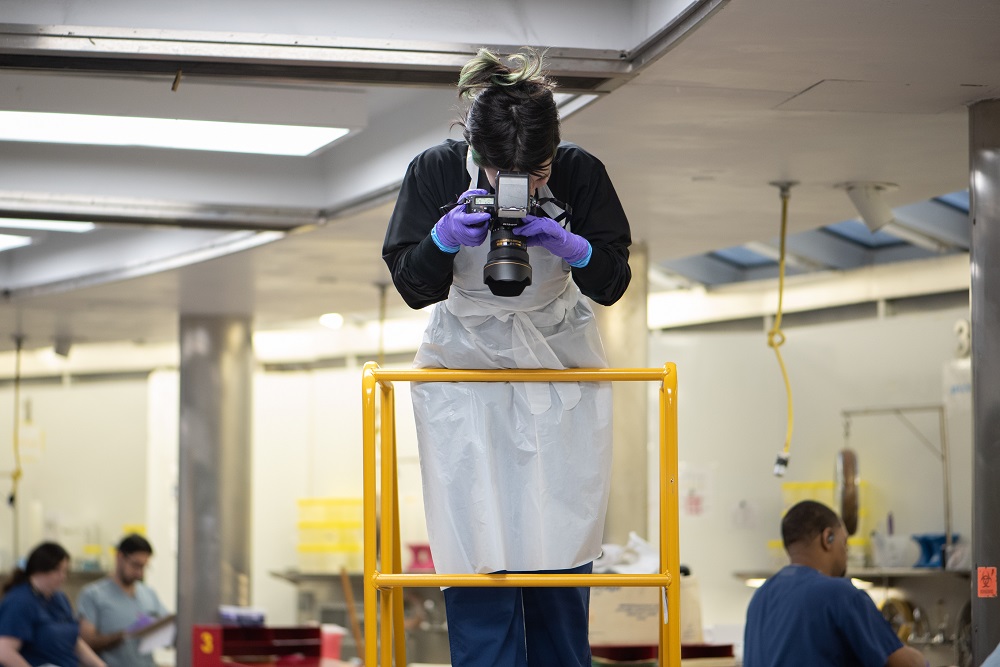 Onickel's interest in photography started during her childhood; a hobby she turned into a career. She went to school for photography, earning a Bachelor of Fine Arts degree in photography. Initially, she thought she would pursue fashion photography. "I saw Avedon at the DIA and I thought that this is what I wanted to do. Then I realized that is NOT what I wanted to do! My teachers told me about forensic photography, and I reached out to the WCMEO and did an internship with Kelly for a semester in 2016, then a year later, I was hired."
Clouthier's interest in photography also began in high school with a photography elective course. "That was the first time I picked up a camera and learned what it meant to take a photo. Later, I went to Eastern Michigan University and studied photography, videography, and digital media production." Unlike the others, Clouthier, who joined the department in late 2019, did not begin in Pathology as a forensic photographer, but rather as a multimedia designer. His responsibilities include all the photography and videography needs of the Department – whether it is documenting a conference, creating assigned videos, taking faculty and staff headshots, capturing work processes and milestones, or anything else that may come up. In conjunction with this, he manages the social media presence for the Department. He also provides backup coverage for the forensic photographers in the morgue. "I never envisioned ending up in medicine, but I'm glad that I did and feel fortunate to have the opportunities to tell the stories while doing what I love," concluded Clouthier.
However, Clouthier still received further training for forensic photography. "The credit has to go to Lisa, as she trained me", he says. But as Neal put it, "There is no specialized training available for an autopsy and forensic photographer. The training is 'on-the-job'. You need biomedical photography knowledge for technique, but the cases we deal with can only be done at a medical examiner's office." It doesn't take long for people to determine whether or not forensic photography is an appropriate career path for them. It is not a job for those with a weak stomach.
There is no specialized training available for an autopsy and forensic photographer. The training is 'on-the-job'.
Many may wonder what the draw is to photograph deceased people. Isn't it a little macabre? Not according to our team. "Forensic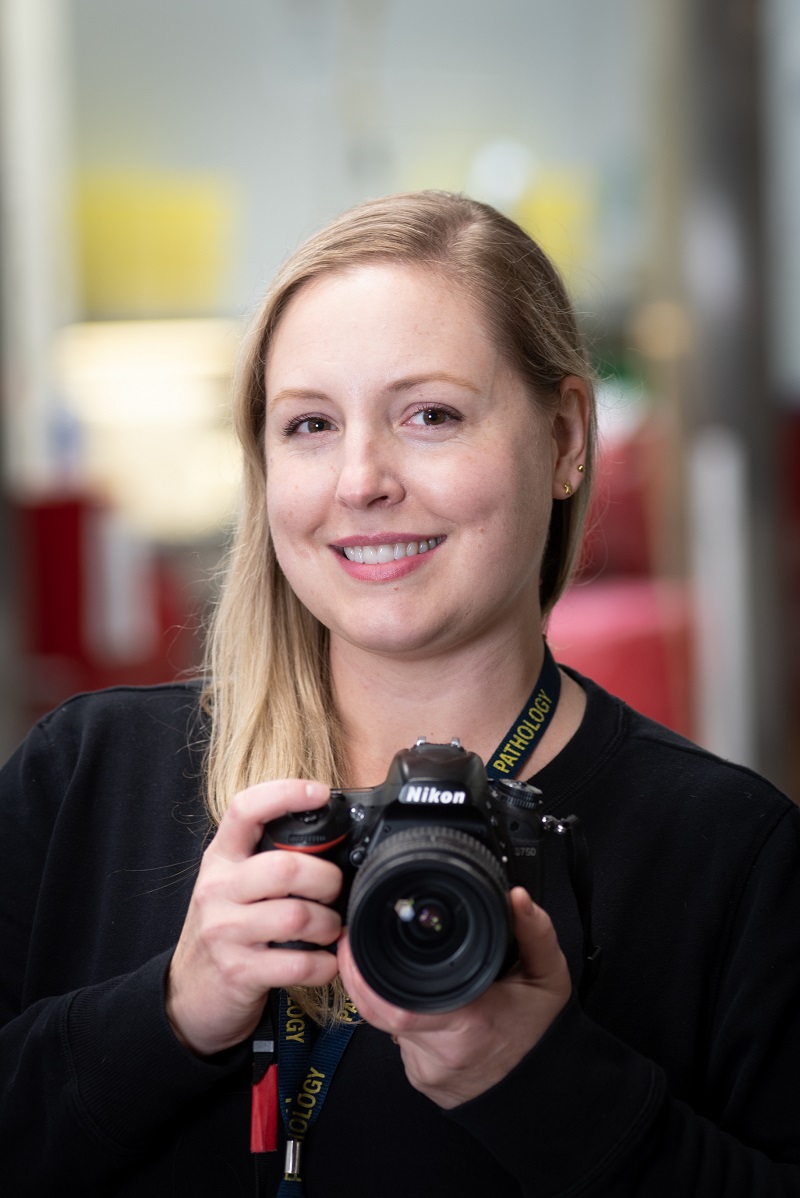 photographers help pathologists and medical examiners answer questions that will help families heal," stated Neal. "Our photographs can be utilized for educational purposes to help train future medical professionals. They are utilized for research and peer publication, and for law enforcement and legal purposes." For Clouthier, the most important thing is to bring closure to families who have suffered a traumatic loss, a loved one, a family friend, or whomever it may be. "The photos we provide offer insight into the cause or manner of death and may potentially be used in court. The most rewarding thing is knowing that the work we do is important." Onickel agrees, "We deal with a lot of homicides, so knowing that we helped in a case and helped to bring justice and closure to families is very rewarding."
"I'm always happy when I see a prosecutor's request for photos. Because then you know that it has now come full circle. The police have done their investigation and now they are at trial," concluded Root.
That being said, this is certainly a challenging career field. It is a very physical job that can require many hours of heavy lifting. "We have days where we will have 15, 16, 17 bodies and will be photographing them for 4 hours, moving them, cleaning, preparing them for photography. Some days we may have 4-5 homicides, which is time-consuming and very detail-oriented. We have help, obviously, but it can be physically very taxing," related Onickel. Root added, "We have a great team here, and we work like a well-oiled machine. After morning inspection, we get straight to work, helping each other, performing our specific duties. We prioritize efficiency." For Neal, the most challenging is keeping her emotions in check when it comes to pediatric cases, especially some of the more traumatic cases that seen through the medical examiner's office." Just trying to compartmentalize what I am doing. It is difficult for me when I do the 'as received' photos, with any clothing associated with the case. It is really difficult. Once everything is stripped down and it becomes more of a medical procedure, I can focus, and I can check myself there. It is easier once the procedure starts."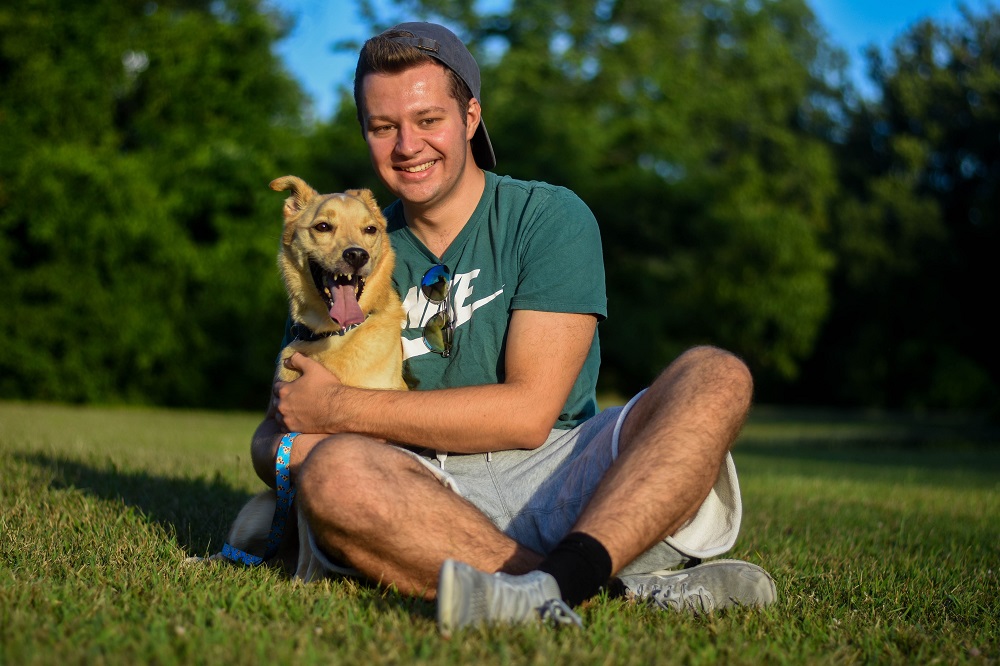 Clouthier's challenges are different in that his role is much broader and forensic pathology is only a small piece of his responsibilities. "One of the challenges for me is it is a balancing act – trying to make sure that I'm giving the appropriate attention, effort, and commitment to everything I'm doing, whether it is a video, a photography assignment, or covering the morgue." Another challenge was being new to the job when the COVID pandemic hit. Suddenly, he was working from home, which made photography and videography difficult. He would go into the office on an "as-needed" basis to film projects, such as resident recruitment virtual tours, but most of the time he was alone, at home. To fill the void, Clouthier adopted a dog. "Rex is my greatest companion. He alleviated my loneliness and gave me a sense of purpose. Rex is good for my overall mental health and well-being. Getting a dog was the greatest decision I ever made."
COVID-19 brought new challenges to those photographing in the morgue. "Last year, 3600 cases came through our office in Detroit," recalls Root. "We photographed all of them." Frequently, when individuals are in the morgue, families come to view their loved ones before they are released to funeral homes. "With COVID, families were not permitted to do any viewings. It has been very difficult for some families. So, we have been able to provide some portraiture of hands, tattoos, and even some post-mortem portraits for families. They are incredibly well-received," explained Neal. "We have had nothing but positive feedback from families who are appreciative of the accommodation." The forensic photographers also had to deal with the fear of contracting the virus and what it would mean for their families. "At the beginning of the pandemic, it was terrifying," said Neal. "I remember coming home in mid-March and saying, if I get sick, I don't know what I'm going to do. At the time, I had a 6-month-old baby. I can't infect my family. We had just purchased a home for our aging parents that our dads could live in someday. We decided, if I get sick, I'll go live in that house so my family can be safe. It was all about finding ways to alleviate some of our anxiety. In March 2020, we all contracted COVID. We lost our sense of taste and smell, but we were not able to be tested because we had no other symptoms. It wasn't until we had serology testing that we were confirmed. It was a really scary time as we didn't know what to expect."
Root contracted COVID in April 2020 from her husband, who also works in medicine. Root was out of work for a month, and her husband was hospitalized. "He was very, very ill. My parents had to come and get the dogs as I couldn't get up to take them outside. I would get up and see stars. It was like nothing I have ever experienced before. It hit everybody hard." Later, COVID ran rampant through the WCMEO office with about 10 of the staff members getting hit within a month of each other. Forensic photography is not a job that can be done from home, so when Root was off for a month, Onickel was the only photographer handling the load. Onickel added, "I haven't gotten it, knock on wood! It was a weird time, though. With so many peoples' schedules changed so drastically, it really cut down on my commute time. But early on, I was afraid that I was going to get the virus from a decedent. I lived alone at the time, and I didn't see my parents or my boyfriend at all because I just didn't know. Protocols were changing daily; I was afraid to take the risk." On top of it all, there was a 20-25% increase in the homicide rate. "We had an increased caseload and a decrease in the number of people actually working, so everyone was working extra hard," said Root.
If someone is looking to enter the field of medical or forensic photography, it is important to have a good visual eye. It can be very difficult to break into this field, as there are few places who hire full-time forensic photographers. "Medical photography is easier, as there are a lot of ophthalmic or eye-care locations who are looking for interns and there are entry-level jobs where you can get exposure to patients and the medical aspect of photography," explained Neal. Root agreed, adding, "You may be looking at the only full-time forensic photographers in Michigan. It is a very niche field, and you are only going to find full-time forensic photographers in large metropolitan areas, like Chicago or New York." You are more likely to find positions such as Clouthier's, where he provides a broad range of imaging services to an academic medical center department, with forensic photography being just one aspect of the job. For either route, finding an internship is key to getting one's foot in the door. "When I was right out of college," Clouthier explained, "I interned at Michigan Medicine's Department of Communications and that is what translated into my full-time role today. Internship is crucial as it gives you real-world experience and it gives you contacts, whether that may be doctors or medical staff. It gives you the exposure to be able to shadow, get your hands on a camera, and learn what it takes to do general photography and forensic photography as well."
To round out our conversation, our team shared some interesting facts about themselves. Neal is an American Canoe Association Coastal Kayak Instructor – so if you ever want to learn how to kayak in the ocean, look her up! Clouthier was nominated for an Emmy award for a video he worked on during his internship. He also loves sports photography and is always happy to share his tips for how to get the best shots. Root, on the other hand, used to work as a freelance photographer and shot merchandise and promotional photos for the Insane Clown Posse for several years. She worked for the Psychopathic Records label and photographed all the bands for the record label. Speaking of clowns, Onickel is an aerial acrobat and enjoys circus-related activities. "I hate to do exercising, but I love to do this! It really helps build up muscles."
Our four photographers selected some of their favorite photos for inclusion in this story, which can be seen in the photo gallery. We hope you enjoy viewing their work!