Department of Pathology Travels South for the NAME 2022 Conference
By Batoul Aoun | November 14 2022


The Department of Pathology was well represented at the 56th Annual Meeting of the National Association of Medical Examiners (NAME) held on October 14-18, 2022. This year's event was held at the Fairmont Dallas Hotel in Dallas, Texas with hundreds of people in attendance. The meeting provided an international forum for discussion of a broad range of issues pertaining to forensic pathology and death investigation. The event featured hundreds of platform and poster presentations from forensic pathologists, pathology trainees, pathology assistants, forensic anthropologists, toxicologists, and medical students. Several of our faculty and trainees were featured at this year's conference.
Dr. Jeffrey Jentzen, MD, PhD gave a fascinating talk titled The Jeffrey Dahmer Death Investigation: Questions and Answers 30 Years Later during the seventh annual NAME Foundation fundraising event. His presentation was an effort to understand Dahmer's psychological state and motivation for killing. The presentation also explored death investigative practices and challenges in a pre-911 era when DNA analysis and federal mass fatality funding was not readily available to medical examiner offices. The talk was met with unanimous praise from the audience and numerous questions that Dr. Jentzen graciously took the time to answer and discuss.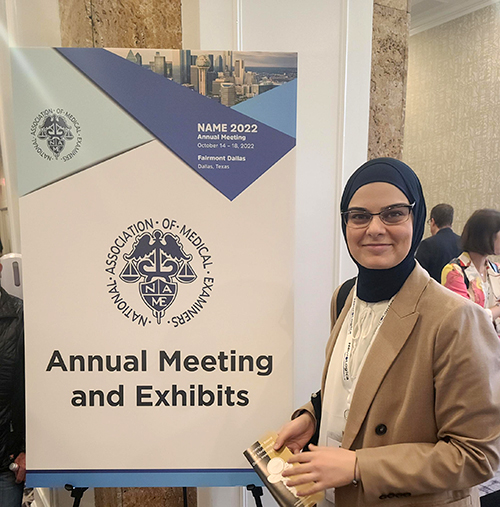 In addition, our hardworking and dedicated trainees were able to showcase their projects that they have been working on for the past few months. Dr. Batoul Aoun, fourth-year chief resident and future forensic pathology fellow, gave a platform presentation titled Case Series of Self-Inflicted Sodium Nitrite Toxicity in Three Michigan Counties: A Comparison of Scene Investigations, Toxicology, and Autopsy Findings. The presentation shed light on the alarming rise in suicides due to sodium nitrate and sodium nitrite poisoning. Drs. Ashley Brent and Elaina Daniels, second-year residents, gave an excellent platform presentation titled Differentiation of Precharged Pneumatic Air Gun Wounds from Firearm Wounds. Their study was done in collaboration with the Wayne County Medical Examiners Office. Dr. Thomas Herb, third-year resident and future forensic pathology fellow, gave a poster presentation titled Electrocution Due To Fractal Wood Burning: Two Case Reports And A Review Of The Medical Literature. He successfully published his presentation in The American Journal of Forensic Medicine and Pathology. In fact, Dr. Herb's work was cited by another platform presenter during the conference.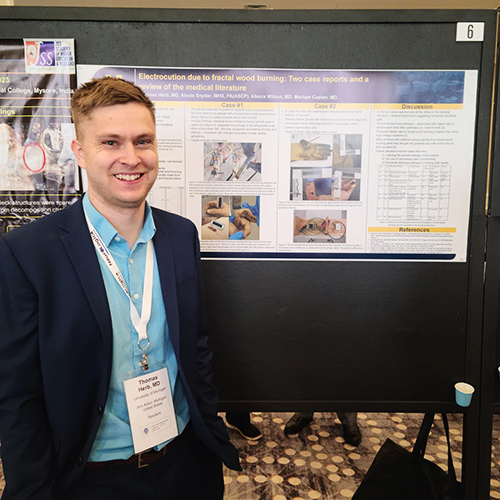 The NAME 2022 Conference was a success offering a broad range of interesting and educational forensic topics, as well as creating a networking opportunity for all those interested and working in the diverse field of forensics. The NAME 2023 annual meeting will be held October 13-17, 2023 in sunny San Jose, California.