Visual Recognition Talent Leads to Career in Dermatopathology
By Lynn McCain | August 16


"I never imagined I would come to Michigan," began Dr. May Chan, Professor of Pathology and Dermatology at Michigan Medicine. "I really thought I would stay in Boston following my fellowship training. I interviewed at Michigan because it was one of two academic dermatopathology jobs available at the time, and a position at my home institution didn't open until after I applied elsewhere. The day I came here to interview – I just fell in love with the Department of Pathology, way beyond my imagination! I was eager to become a part of it!"
What Chan experienced during her interview is fondly called The Michigan Difference. Those who have spent their entire careers at Michigan know that there is something special about the Department of Pathology, but it is those who experience it for the first time from outside the department who can truly appreciate the difference.
Born in Hong Kong, at age 16 Chan moved to Toronto, Canada alone, where she attended a boarding high school. After completing college in Canada, she came to the United States for medical school in Buffalo, NY. As a medical student, she was introduced to pathology through an elective. Pathology was not part of the required curriculum, and she thought it might be useful to know a little about it. During this elective, she discovered her talent in visual recognition – as soon as she saw something under the microscope, she remembered it. She found rotations in other areas of medicine to be a lot of plain memorization of information. "There were a lot of buzz words, like 'non-caseating granulomas' in sarcoidosis, that I just memorized without clearly understanding what it meant. It was not until I saw one under the microscope that it finally made sense to me. Most diagnoses in pathology are indisputable-you see it, you prove it, and that's what it is." Pathology was exciting and intriguing. It appeared to be more "black and white" than other fields of medicine, although Chan now realizes there are many shades of gray in pathology, too.
Following medical school, she moved on to Boston, MA for postgraduate training. During her first year of anatomic pathology residency, she was exposed to at least five weeks of dermatopathology under the guidance of a key mentor, Dr. Steve Tahan. From that moment, she gravitated to the field and continued to pursue it throughout her residency and fellowship training.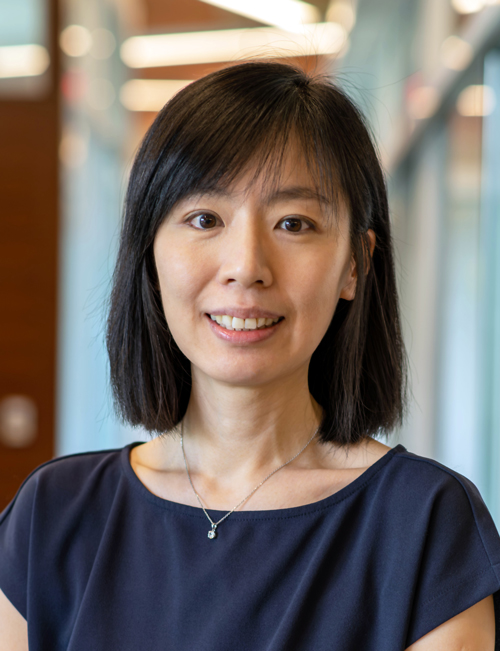 Then in 2011, Chan came to Michigan to join the dermatopathology team at Michigan Medicine. "We have one of the largest academic dermpath sections in the nation and it is unique in many ways," Chan explained. "We have a huge case volume, primarily driven by Michigan Medicine's dermatology clinics which includes a busy melanoma clinic that sees more new patients than almost any other melanoma clinic in the United States, in addition to MLabs reference laboratory cases and consult cases." The case volume continues to grow and has fostered expertise among the department's dermatopathologists who are able to excel in niche subspecialty areas. "We have dermpath experts subspecialized in cutaneous lymphomas, cutaneous soft tissue neoplasms, molecular pathology, and clinical dermatology, among other areas. I also do surgical pathology and have a special interest in melanoma, inflammatory skin diseases, and immunohistochemistry." This combination of niche subspecialties in dermatopathology and heavy case volumes allows each member of the team to continue to enhance their expertise, which is part of the Michigan Difference that Chan observed during her interview.
The majority of dermatopathologists do not practice in other areas of pathology. When asked what motivated her to keep doing general surgical pathology, she explained, "When you have a mentor that you truly respect, you set them as your goal and want to do what they do." Her mentor, Dr. Tahan, used to sign out surgical pathology cases and cover frozen sections in addition to practicing dermatopathology, and Chan does the same. She was most impressed by the breadth of knowledge and diagnostic acumen shown by Tahan. "Seeing a great master in dermatopathology diagnose a pancreatic carcinoma on frozen section was humbling and inspiring." When she covers frozen sections, she pretty much sees everything except brains, which are reserved for neuropathologists. At Michigan, Chan was given the freedom to expand beyond frozen sections to the "Room 1" surgical pathology service where she reads bone and soft tissue, head and neck, lung, and endocrine cases. "Even though I'm a dermatopathologist, I enjoy seeing other organs, too. The nature of the job is the same; we look at the tissues and make a diagnosis." In this day and age when pathology is increasingly subspecialized, Chan is eager to use her experience and knowledge to bridge any gaps between dermatopathology and other subspecialties.
"One of the things that drew me to Michigan, which stands apart from other institutions, is their internal research funding mechanism. At other places, a great research idea is often followed by the question, 'Who is going to fund it?' At Michigan, the Department of Pathology has its own internal funding mechanism for clinical research," Chan explained. It was through this mechanism that Chan began to study the utility of various immunohistochemical stains in dermatopathology. One of the markers that Chan has explored using internal research funding is the PRAME antibody, which stands for PReferentially expressed Antigen in MElanoma. PRAME is very useful in differentiating benign moles from melanoma. What Chan and colleagues did was study its expression in a number of melanoma mimickers. For example, they examined melanomas composed of tumor cells with a spindle morphology, which may at times be difficult to distinguish from other spindle cell tumors. They found that PRAME has lower sensitivity and specificity for spindle cell melanoma compared to conventional melanoma, so it cannot be relied on as a sole diagnostic marker in this context. Other markers need to be included for definitive diagnosis in these morphologically unusual cases. Chan published her research (Histopathology, 2022) to ensure other dermatopathologists would be able to learn from her findings and ensure patients receive the most accurate diagnoses.
"This job forces me to keep up to date with what's new in pathology across different subspecialties, which is both fun and rewarding."
When the former medical director of immunohistochemistry stepped down, Chan was given the opportunity to take on this leadership role. She considers this one of the best career moves she has made thus far. "This job forces me to keep up to date with what's new in pathology across different subspecialties, which is both fun and rewarding." A few years back, Drs. Charles Parkos (Chair of Pathology) and Jeffrey Myers (Vice Chair of Pathology) also recruited Steve Hrycaj, PhD, to be a technical director for the immunohistochemistry laboratory. "Steve has been able to help us optimize some really challenging antibodies. There are not many clinical immunohistochemistry labs that have a technical director like Steve. We are really blessed to have him and to have leadership that supports us in this way."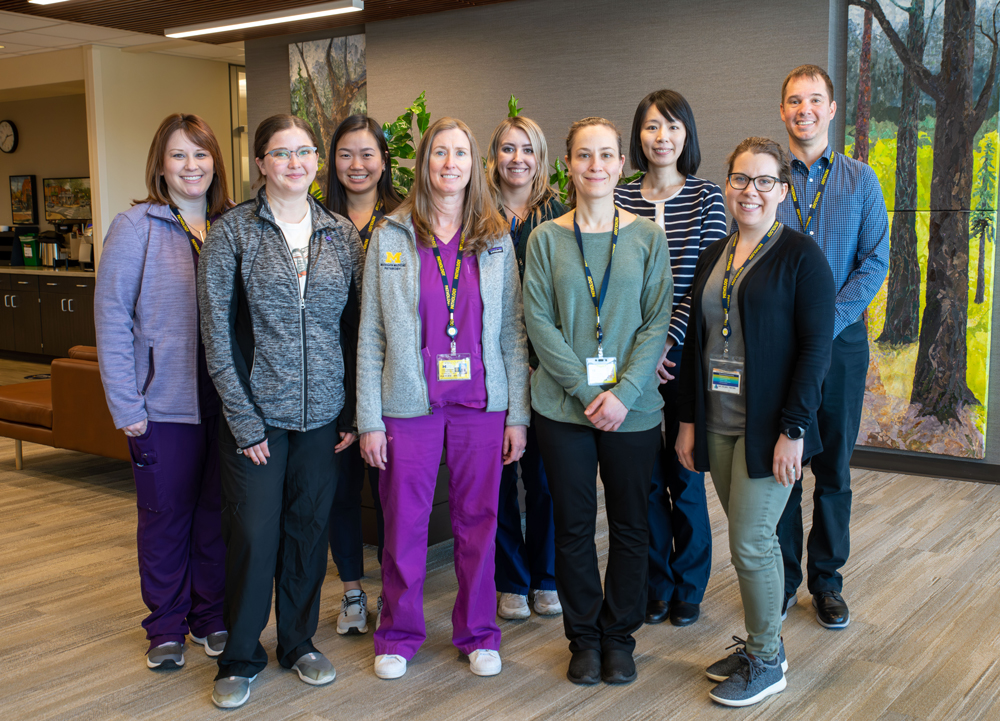 Under her leadership, the immunohistochemistry laboratory has been able to bring on a constant stream of new immunohistochemical markers that help with diagnosis and guide therapeutic decisions for patients. "If I were a patient, I would go to the University of Michigan because I know there would be tests available at Michigan that may not be available elsewhere. Other institutions send us their slides to stain because they don't have the bandwidth or resources to run those tests, some of which are used to determine what kind of therapy patients will receive based on their predicted response to a specific treatment," said Chan. She emphasized that the success of the immunohistochemistry laboratory would not be possible without the excellent teamwork modeled by our skillful and dedicated histotechnologists.
In many institutions, women may find moving into leadership roles challenging. But not at Michigan Medicine's Department of Pathology. Chan serves not only as the Medical Director of the Immunohistochemistry Laboratory, she is also the Program Director of the Dermatopathology Fellowship and Interim Director for the Dermatopathology Section. Chan is also recognized outside the department for her expertise, recently being named to the Dermatopathology Test Development and Advisory Committee at the American Board of Pathology. The committee is responsible for designing the board exam that certifies dermatopathologists. One of her goals is to focus on practical questions that adequately assess someone's ability to make accurate diagnoses, rather than trivia-type questions with which prior test takers have struggled.
"Initially, AI may bring some anxiety among pathologists. But AI is there to assist us, not to replace us."
Looking ahead five or ten years, Chan believes that most pathology departments will convert to a full digital review of slides. At Michigan Medicine, the department is moving forward with the plan of digitizing all glass slides into whole slide images. "Transitioning to digital images will have a lot of advantages. If the pathologist with the necessary expertise is away at a conference, they can still pull up the digital slides on their computer and provide a diagnosis remotely." Glass slides still need to be made and stained prior to being digitized, so they will always be an available option for pathologists.
Another area of advancement that Chan sees coming is the increased use of artificial intelligence to perform image analysis on digital slides. "Initially, AI may bring some anxiety among pathologists. But AI is there to assist us, not to replace us. For example, it can help us assess the proliferative activity of a tumor more quickly and accurately than manual estimation."
In immunohistochemistry, Chan sees many potential advances using new chromogens. Currently, all immunostains in our immunohistochemistry lab give either a red or brown signal. "But there are many new chromogens available now that allow us to put multiple colors on the same slide and still be able to sort out which cells express which markers." Chan recounted some beautiful test slides recently stained by Hrycaj, "When a yellow marker colocalizes with a purple marker, they give an orange color. Such evaluation for the coexpression of multiple markers in the same cell compartment is not feasible with the traditional red and brown stains. With this new technology, we can use more than two colors on the same slide; but the more colors are used, the harder it is to examine with the naked eye. That's where digital image analysis may come in to help. I expect these technologies to grow in the coming years." The Michigan Difference is plain to see in this as well. Internal Pathology Informatics specialists are training AI algorithms to continue to make advances such as these possible.
Whether she considers the dermatopathology team, opportunities for professional growth and leadership, clinical research, departmental support from leadership and colleagues, or future directions for the department, Chan has found Michigan to be set apart from other institutions. The Michigan Difference is more than a catchy phrase, it is real and it is what keeps Chan enthused for each new day.