Dr. Riccardo Valdez Named Next Director of CP
Announced by Charles Parkos, Chair and Jeffrey Myers, Vice Chair | 6 September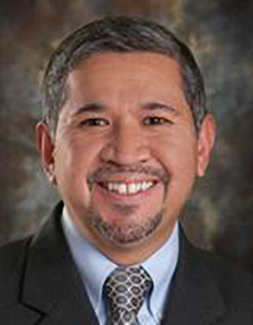 It is with great pleasure that we announce Dr. Riccardo Valdez as our next Director for the Division of Clinical Pathology. Ric is well known to many of you, having completed medical school, residency (AP/CP), and fellowships (surgical pathology, hematopathology) at the University of Michigan before joining our faculty in 2001. In 2006 Ric left Michigan to join the faculty at Mayo Clinic Arizona where he served as Chair of the Division of Hematopathology and Medical Director of Hematology, Flow Cytometry and HLA laboratories. In 2014 he left to serve as Associate Medical Director and eventually Vice President and Medical Director of the Hematopathology Division, Miraca Life Sciences in Phoenix, AZ.
Throughout his career Dr. Valdez has demonstrated that unique combination of attributes essential for success in leadership roles, including compassion, excellent communication skills, and the perfect temperament to encourage collaboration and compromise in a changing and evolving landscape. He brings to the table broad experience in both academic and commercial environments, allowing him unique insights into the challenges and opportunities that confront laboratory medicine today. His administrative strengths rest on a solid foundation of academic achievement and a passionate commitment to education.
Ric's appointment to our faculty is effective on or about February 5, 2018. Please join us in WELCOMING Dr. Riccardo Valdez to our team!
Dr. Valdez succeeds Dr. David Keren who has served in this role since October 2013, making long-lasting contributions to a department with which he has a long, rich history. Memorable accomplishments over the course of his 4 year tenure include, but are not limited to, the following, each of them accomplished in partnership with talented staff, trainees and faculty.
appointing Duane Newton as Associate Director
recruiting multiple talented faculty including Lee Schroeder, Hema Ketha, Dan Boyer, Noah Brown, Rajan Dewar, Sean Li, Omar Moussa, Russel Ryan, Sarah Choi, Anamarija Perry, Kristina Davis, Paul Lephart and Stephanie Balow
creation of the CP Quality Assurance meeting to showcase the great work done by all CP staff and faculty
establishing a new ACGME accredited fellowship in Chemical Pathology
integration of multiple molecular testing laboratories under the purview of a molecular testing committee and ultimately a new division of molecular pathology
collaboration with DQHI to create a new model for stewardship of clinical laboratory testing
working with BCBS-Michigan to create and lead the Genetic Testing Resource and Quality Consortium (GTRQC) to improve molecular test is ordering throughout the state of Michigan.
Dr. Valdez inherits a solid foundation in a strong Division of Clinical Pathology nurtured by a legacy of visionary leaders including not only Dave Keren but also Jeff Warren before him. Please join me in CONGRATULATING Dr. Valdez on his new role and in THANKING Dr. Keren for his countless contributions to our collective successes over the last 4 years.