Fight Food Allergies at FARE's Food Allergy Heroes Walk
By Elizabeth Walker | September 19 2017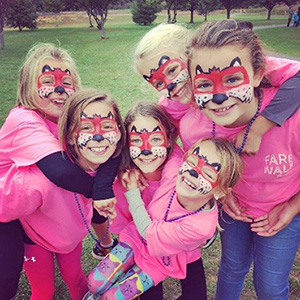 1 in 13 children has a food allergy. The Mary H. Weiser Food Allergy Center's mission is to improve the lives of food allergic individuals by conducting comprehensive food-allergy-related research that will significantly improve patient care and expand food allergy education, research, and community services.
Godfrey D. Stobbe Professor of Pathology, Nick Lukacs, PhD, is the Center's Scientific Director. Dr. Lukacs and fellow Department of Pathology faculty member, Catherine Ptaschinski, PhD are performing cutting-edge research as well as offering support and education for patients, families, and the community.
You can join Dr. Lukacs and Dr. Ptaschinski in their fight to end food allergies by participating in the FARE Food Allergy Heroes Walk. The Heroes Walk is a safe space for those with allergies and their families to join together as a community and a way to raise funds to fuel research, education, programs, and support.
Plan to attend the walk on Sunday, September 24th at The Diag on the University of Michigan Central Campus. Check-In and Activities begin at 8:00 am and the walk begins at 10:00 am. If you can't attend but would like to support this effort, the Mary H. Weiser Food Allergy Center Team would be very grateful for any donation on their fundraising page.
Click here for more information and to register.