Dr. Parkos Visits Capitol Hill to Advocate for Increased Research Funding
By Vashni Santee | March 14 2018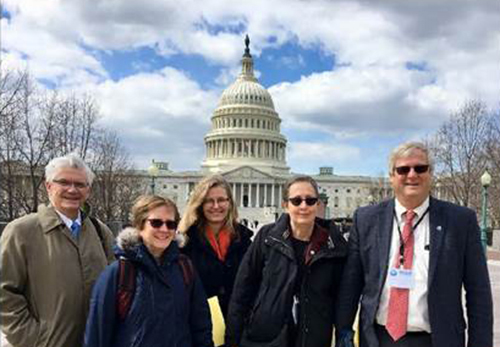 Pictured Left to Right: Dr. Joseph Haywood (Michigan State University), Dr. Donna Martin (Donita B. Sullivan Research Professor in Pediatrics at University of Michigan), Dr. Laura McCabe (Michigan State University), Dr. Barbara Ducatman (Chair of the Department of Pathology at Oakland University William Beaumont School of Medicine and Chair of Pathology, Beaumont Hospital, Royal Oak), and Dr. Charles A. Parkos, (Carl V. Weller Professor and Chair of Pathology, University of Michigan).Dr. Charles Parkos was part of a delegation representing the Federation of American Societies for Experimental Biology (FASEB) on March 8, 2018 in Washington, D.C. to advocate for increased funding for research.
Designated Capitol Hill Day, they had formal meetings with staff supporting Representatives Tim Walberg (MI-07), Sander Levin (MI-09), John Moolenaar (MI-04), Mike Bishop (MI-08), Debbie Dingell (MI-12), and Michigan Senators Gary Peters and Debbie Stabenow.
Dr. Parkos represented the American Society of Investigative Pathology (ASIP) and was part of a group of over 60 scientists from 29 FASEB societies and 32 states (representing 130,000 scientists nationwide). These scientists had meetings with 133 Congressional offices, 69 members of the House of Representatives, and 64 members of the Senate.
You too can advocate for greater federal research support by contacting your Congressional representatives.