Haiku Contest
By Elizabeth Walker | April 4 2018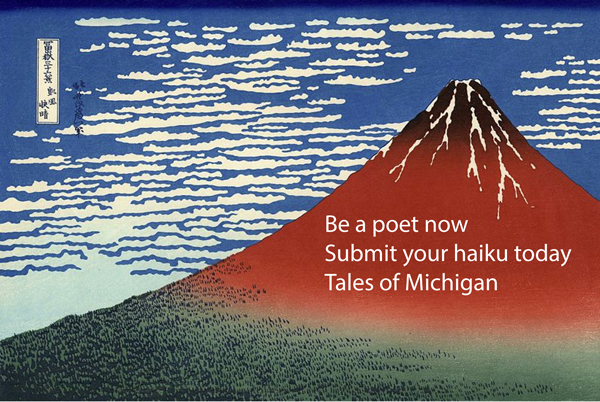 Michigan Medicine Headlines is doing a haiku contest. The communications team thought it was a great idea so we decided we'd expand on it and make it a contest within the Department of Pathology as well.
Are you a poet and nobody knows it? If so, enter the first-ever Michigan Medicine Headlines and Department of Pathology poetry contest in honor of National Poetry Month!
That's right, it's time to grab your quill and parchment — or just stretch out your typing fingers — and send us a healthcare-related haiku. Winners of the Michigan Medicine Headlines contest will be published in a future edition of Headlines and win a cool prize made up of Michigan Medicine swag. Entries submitted to the Department of Pathology contest will be featured on our website and social media and will be incorporated into the digital signage at NCRC.
Our grand prize winners in each of the following categories, aligning with our missions, will win Amazon gift cards and U-M swag.
Best Clinical Haiku
Best Research Haiku
Best Education Haiku
Here are the contest rules:
Each poem must be a haiku and be related to health care, education or research.
So what's a haiku? Glad you asked!
A haiku consists of 17 syllables in three phrases. The first phrase is five syllables, the second phrase is seven and the third is five again. The phrases do not need to rhyme.
Here's an example:
We love our patients
at Michigan Medicine
Show us why you care!
All faculty, staff, and students are eligible to enter the contest.
Entries must be in good taste and appropriate for the workplace. Derogatory remarks, inflammatory language and potentially offensive content will not be accepted.
—
Submit your entries at http://bit.ly/pathhaiku.
There is no limit to the number of pieces you can submit. The more haiku, the better!
The deadline to dual enter both the Headlines contest and the Department of Pathology contest is April 10th.
To enter the Department of Pathology contest, have your entries to us by April 30th.
Just want to enter the Headlines contest? Email your entries directly to Headlines at headlines@umich.edu.
Questions? Email path-communications@umich.edu.
Have fun!