Massive Diagnostic Testing Facility Opens at U-M, Engineered for Advanced Patient Care
By Kara Gavin | 27 June | Michigan Headlines


New Clinical Pathology location serves Michigan Medicine patients and more
A new facility opened this week at the University of Michigan will touch the lives of nearly every person treated at U-M clinics and hospitals, and patients across the state and nation. Called the Michigan Medicine Clinical Pathology facility, it will improve how patients and doctors get vital information from samples of patients' cells, tissues, blood, urine, saliva and DNA.
The state-of-the-art location will allow thousands of doctors to diagnose or track their patients' diseases, plan their treatment and see how they're responding to care.
Millions of patient samples will arrive at the new location each year, to be tested by teams of highly-trained staff using advanced equipment, then examined by specialized U-M physicians called pathologists who can provide an expert diagnosis.
Built as part of a $160 million project, the 139,000-square-foot facility will make it possible for U-M's Department of Pathology to serve the ever-growing demand for advanced clinical and anatomic pathology testing. Some of the tests U-M offers are available from few other places in the country.
That demand has risen nearly eight percent every year for the last decade. And nearly 10 percent of the demand comes from outside U-M, from hospitals that send samples hundreds of miles for advanced testing through the MLabs service.
First patient sample arrives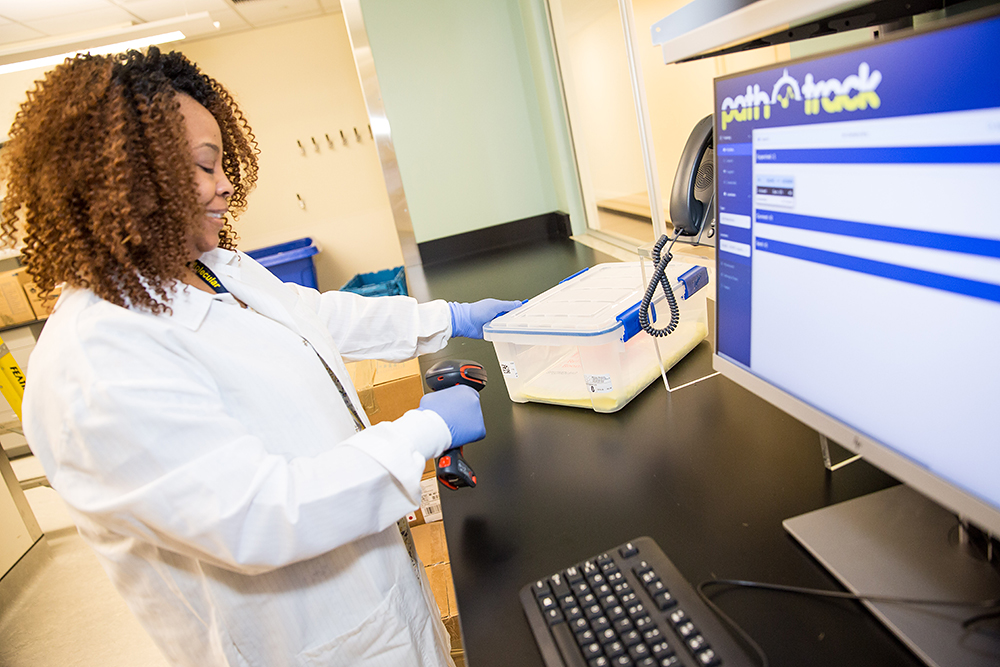 India Stone uses PathTrack to scan the first specimen received in our new laboratory space.This week, the first patient sample tested at the new facility traveled just 2.6 miles, from U-M's main University Hospital to a dedicated entrance at the North Campus Research Complex.
A new digital tracking system kept an eye on the sample's progress from the time the sample was obtained through testing, registered the pathologist's expert diagnosis, and then shared the results with the health team that ordered the test. Michigan Medicine patients can access their own lab test results, and doctors' notes about them, via an online portal and mobile app.
"This new Clinical Pathology facility will allow us to keep pace with the rapidly accelerating growth in sophisticated analysis of patient samples, improving efficiency and turnaround time while providing more than 1,100 different test options for the providers who rely on us," says Charles Parkos, M.D., Ph.D., chair of the Department of Pathology. "This is the most up-to-date pathology facility in the country."
Designed for lean operations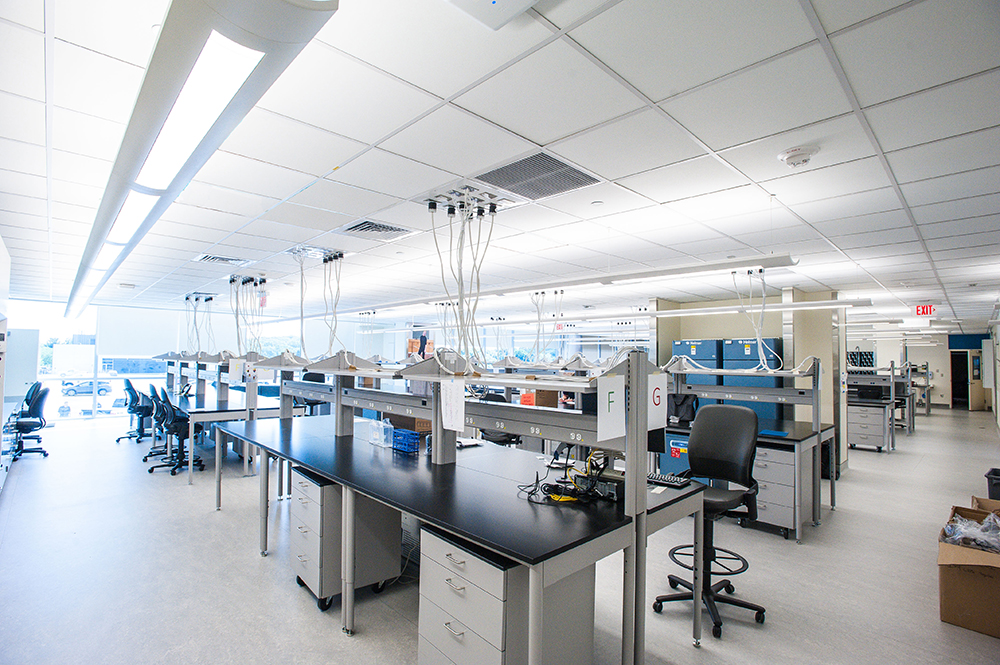 Spacious laboratories with natural lighting bring similar tests together under one roof, increasing efficiency and building in redundancies in case of equipment failure.The project to create the new clinical pathology facility started more than four years ago with a nearly-blank slate: four vacant and connected buildings in northeast Ann Arbor originally built for pharmaceutical research. All were part of U-M's 2009 purchase of a research complex formerly owned by Pfizer, Inc. Some of the buildings had just been constructed when Pfizer sold them.
Most of the 30 buildings at NCRC now house U-M research laboratories and other operations. The new project, in the southern portion of the site, represents the first permanent use of NCRC facilities for clinical care operations.
Converting the empty buildings for clinical use, and preparing to move many clinical operations out of the main U-M medical campus with no interruption to patient care, took years of careful planning. The project also includes renovation of Pathology space at University Hospital to create a faster and more modern facility for rapid testing that guides the care of hospitalized patients.
Throughout the process, staff and faculty used the "lean thinking" approach pioneered by the auto industry to design their new space with architects, engineers, designers and vendors. They sought to bring together testing operations, administrative functions and educational programs that were previously spread out among 10 separate locations across the medical campus and the city.
"Central Park" is the largest of many collaborative spaces designed to inspire process improvements.For each type of test Pathology offers, the team created the ideal layout for sample handling, testing equipment, clinical consultation space, and educational space for faculty to train the next generation of pathologists through U-M's top-ranked residency and fellowship training programs.
Each type of test has its own dedicated area, with many new pieces of technology purchased for the new site. In some cases, the process that staff had to follow in their old location required them to walk hundreds of steps. With the lean-designed facility, that will be cut to dozens of steps.
Many pathology specialties in one place
Bringing many functions together in one place will improve efficiency and speed – but also improve patient care. For instance, Parkos says, when a cancer patient has surgery to remove a tumor, pieces of the cancerous tissue are brought to the Surgical Pathology area to be preserved, finely sliced, stained and placed on microscope slides for pathologists to examine.
Previously, if the pathologists wanted to seek the input of other specialists, they often had to walk as far as half a mile to get another opinion. Now, they can walk into the next room and ask, making for more efficient, timely and accurate care.
Another major feature of the new facility is in the Microbiology area, where teams process samples from patients with suspected infectious diseases ranging from the mundane to the exotic. A new 40-foot-long automated BD Kiestra system will help staff reduce the time to diagnosis by five to ten hours – saving critical time for patients seeking the most effective care for the infection that's causing their symptoms, and for those seeking to prevent further spread to others.
Other improvements abound. A new electron microscopy lab will improve the speed for detailed examination of fine structures inside patients' kidneys, for instance. Six molecular diagnostic laboratories have been co-located, enabling cross-coverage and equipment redundancy. This will enable faster genetic testing to look for mutations in DNA that may be causing a patient's disease.
All of this, Parkos notes, positions Michigan Medicine well for the era of precision health, where an individual patient's care can be designed based on his or her unique characteristics down to the level of DNA variations. The facility will also be able to offer new tests emerging from U-M research.
—
For more about the project see http://michmed.org/E1jwx
For more about Precision Health at U-M, see https://precisionhealth.umich.edu/