An Advocate for Change: Thomas Peterson retires after 38 years of service with the Department of Pathology
By Elizabeth Walker | August 3 2018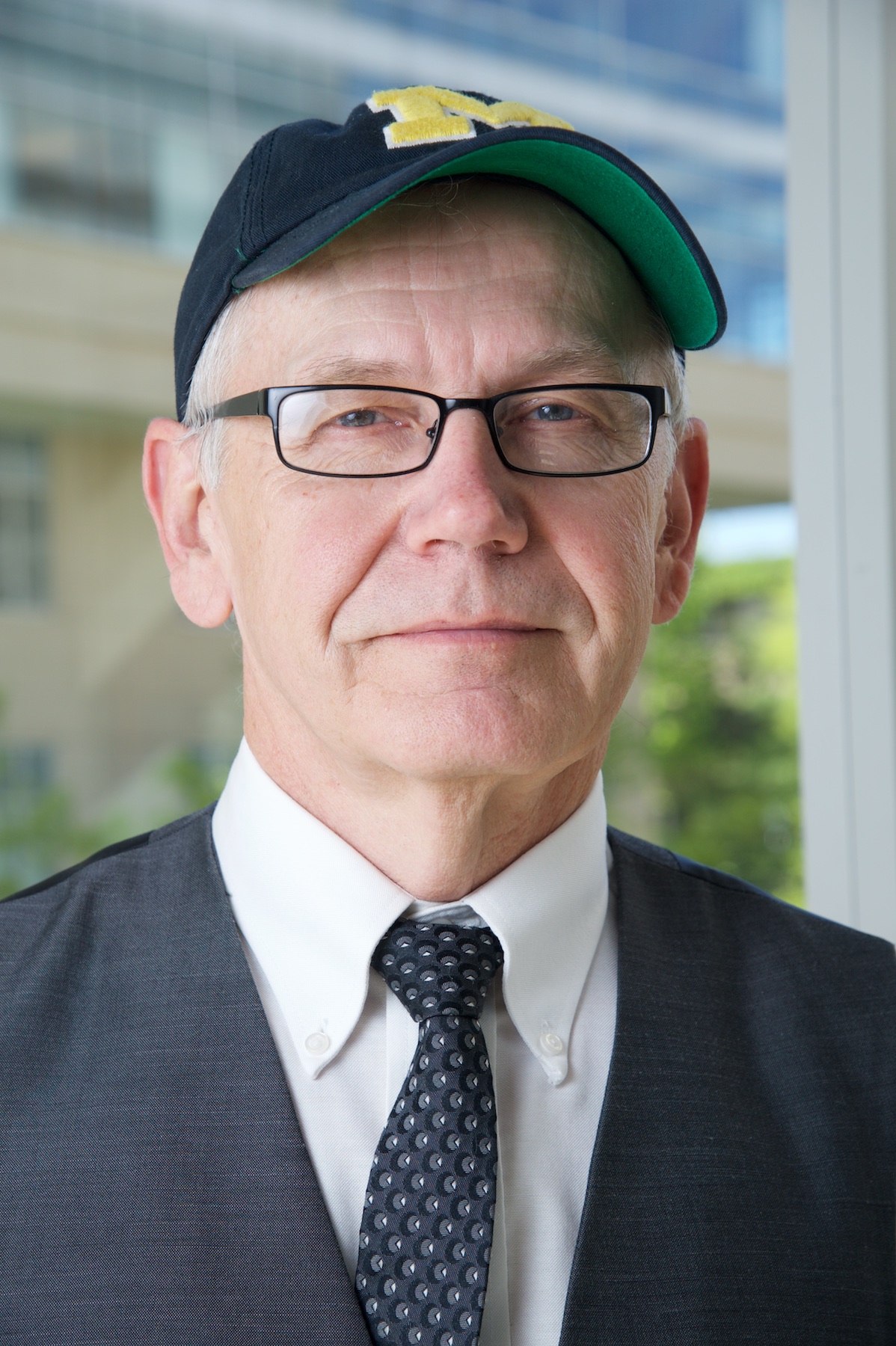 Thomas Peterson started his career in U-M pathology as the midnight operations supervisor of the Laboratory Data Center. He was primarily responsible for overseeing billing, which was done overnight at the time. After four years, Peterson, who had a degree in chemistry and experience teaching chemistry labs, took on a new role as a medical technology clinical chemistry instructor with the department. He was excited about his new role and was assigned an administrative assistant to help him update his coursework. That assistant, Ann Miller, made it known that she wasn't thrilled to take Peterson on. Her first priority was providing support to Dr. Harold Oberman and she was always getting to Peterson's requests last. Lucky for Peterson, there were five new computers in boxes outside of Eugene Napolitan's office in the chair's suite. He figured he'd just unpack one, build it, and use it to make his own updates.
The solution worked well for Peterson, but Napolitan, who was the director of finance and administration at the time, thought otherwise. He explained that the computer was purchased for someone else and Peterson would have to give it up. So, Peterson moved on to the next computer, and then the one after that. One by one, he built the computers and would use them for a short time before passing them along to the intended recipient. By the time he reached the fifth computer, a deal was struck. The department would order 10 more computers. If Peterson also built those, and supported them, he could keep a computer for himself. With that, his job evolved. "I typically don't say that's not my job," Peterson explains. "I say, that sounds interesting, that could be my job."
Peterson went on to put networks together in order to allow multiple users to access laser printers, which were very expensive at the time. He was also involved in leading and serving on enterprise-wide committees that made decisions about which email and network services should be used as an institution.
Web services were adopted by the department very early on, in order to better support the Pathology Handbook, now formally known as the Clinical Test Catalog. The handbook lists all of the tests and services available through the Department of Pathology and MLabs. Before the web, the handbook cost the department tens of thousands of dollars each year to produce, print, and distribute. The hard copy version was never up-to-date because the information is constantly changing. Moving this information to the web allowed an editable database where new tests can be added and old tests updated at any time.
Another project Peterson recalls fondly is incorporating the use of barcoded patient wristbands into inpatient blood draws. The department had mobile carts that the phlebotomists could use on the patient floors in order to print out labels for the specimens in real time and then send them directly to the lab. However, they needed the ability to do a positive patient identification. Wristbands only had text at the time but Peterson and his team were able to launch a pilot program in three different areas of the hospital. Within three months, they successfully established the ability to scan barcodes on the patient wristbands as an additional way to establish identification.
Peterson recalls that he hasn't always been a popular person walking down the halls of the department. His arrival in a work area often meant a change in the way people would do their jobs and was often met with resistance at first. "I'm an advocate of change," he says. "I've had to be because I'm changing how you do work here by making it easier, better."
Peterson spent the last several years of his career with the department embedded at Traverwood, where he supported the cytogenetics, molecular diagnostics, and HLA laboratories. He also provided support to PathSuite hardware and software in the anatomic pathology (AP) grossing rooms. While his official retirement date was back in June, he spent several weeks as a consultant, wrapping up the move of the Traverwood labs and the AP grossing rooms to the North Campus Research Complex.
In his retirement, Peterson plans to build a silo house, likely near Frankfort, Michigan. He'll also spend part of the year up in the canyons in Midway, Utah where he'll hike, ski, snowboard, snowmobile, and enjoy the wildlife.