Dr. Surinder Kumar Receives The Pablove Foundation Childhood Cancer Research Grant
By Dustin Johnston | September 18 2019


Surinder Kumar, Ph.D., has received The Pablove Foundation Childhood Cancer Research Grant for his proposal entitled "The sirtuin SIRT5 as a novel therapeutic target for Ewing's Sarcoma".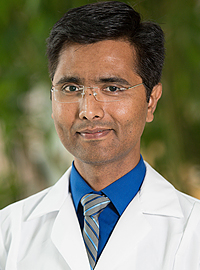 Ewing's sarcoma (EWS) is an aggressive tumor of bone or soft tissue that mainly affects children and young adults. Dr. Kumar has found that EWS cells are remarkably sensitive to SIRT5 depletion, both in in vitro and vivo, and display reduced levels and activity of EWS-FLI1 fusion protein, the main oncogenic driver in this cancer type.
This award from The Pablove Foundation will allow Dr. Kumar to elucidate SIRT5's precise mechanism of action, focusing on SIRT5-mediated regulation of EWS-FLI1 activity and/or stability. Given the importance of EWS-FLI1 in Ewing's sarcoma, insights gained in this study may provide a rationale for developing small molecule inhibitors of SIRT5 activity or its interaction with EWS-FLI1 as novel treatments for this cancer.