Faculty Spotlight: Sara Abbott, MD
By Lidija Fremeau | March 16 2020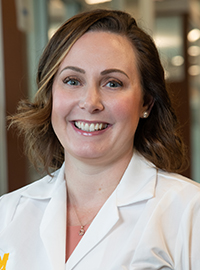 Her childhood bedroom had a desk and bulletin boards. She changed them monthly. Her room was set up as a classroom. For gifts, she would ask for items from the teacher store. In middle school, she had a "classroom" pet rat cleverly named Cleoratra. Sara Abbott, MD, took a winding road to become an assistant professor here at U-M. She actually has a master's degree in education and spent two years guiding students grudgingly through high school biology. That's when she realized that maybe this wasn't the kind of teaching she was meant to do after all.
Dr. Abbott plunged back into academia at the Cleveland Clinic Lerner College of Medicine. She had been interested in women's health. She picked up an extra rotation in gynecologic pathology during a spring break one year while everyone else was away. She walked into the pathology department and it felt like "home." "Everyone was so welcoming and nice. There wasn't a lot of ego. Everyone wanted to teach. I didn't feel like I was in the way. I thought, 'These are my people!'"
Always fascinated with the human body and how it functions, Dr. Abbott finds the ability to practice a sub-specialty here at U-M a draw. She is eager to become an expert in breast pathology and serve as a resource for other people. "I feel so junior myself. It's a hard transition to make - going from the learner to the teacher overnight. The lesson is that you never stop learning. We're all in it together. I remember being the learner. It's a fine line to walk: learning, but appearing competent. I always want to make trainees feel comfortable. I meet them where they are and help move them along. They can ask anything, it's not stupid. I want people to be comfortable - that's where the real learning can happen."
Perhaps something not well understood on the outside is that pathology is not crisply black and white. "There is a lot of gray area in making diagnoses. That's where the art of medicine and experience come in. We lose a lot of sleep wondering if we got it just right." Dr. Abbott does feel like she's in the right place to continue learning. "This is a fantastic department with so many resources. It is well organized and well equipped."
Coming to Ann Arbor is the closest to "home" Dr. Abbott has gotten in that Ann Arbor closely resembles her hometown of Great Falls, Montana- sans the mountains. When not on campus, Dr. Abbott can be found walking her two rescue dogs: Sam and Dobby. (She also spends a lot of time cleaning dog hair from her home.) Perhaps the decorated bulletin boards no longer adorn her rooms, but Dr. Abbott is now perfectly positioned to instruct, guide, and teach eager learners here at U-M.