Revised Blood Transfusion
Effective Date: July 19, 2021
Background:
The Blood Transfusion Record is a paper form used when blood transfusion documentation does not occur through the Blood Product Administration Module (BPAM) in MiChart. Examples of when/where the paper form is used include:
MiChart downtime
OR and some procedure areas
Massive transfusion events
The current paper form was reviewed by Transfusion Medicine and a Sentinel Event Review Group after an incident where the wrong blood was transfused to a patient at our institution. Thankfully, no harm occurred in this event, but it presented the opportunity to PDCA and improve the quality of the form.
---
Features of Revised Form:
1. Readback steps defined using a U-CHECK format to improve visual checks between form and patient wristband and blood unit.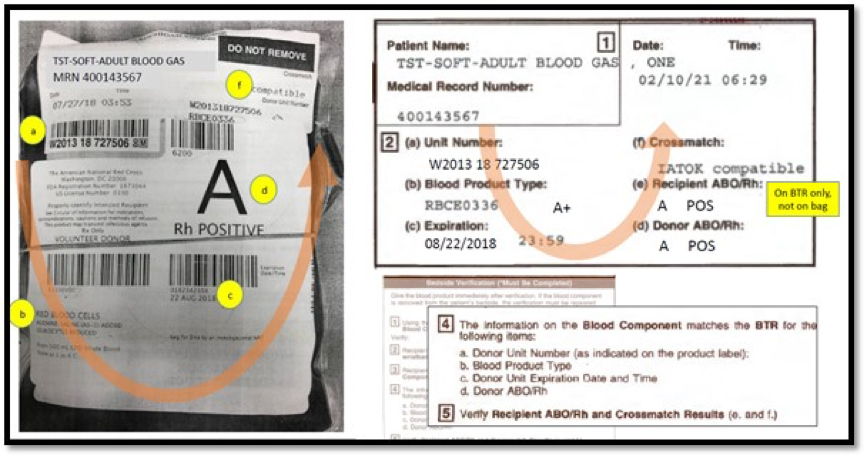 2. Blood compatibility chart added to assist transfusionist with ABO compatibility.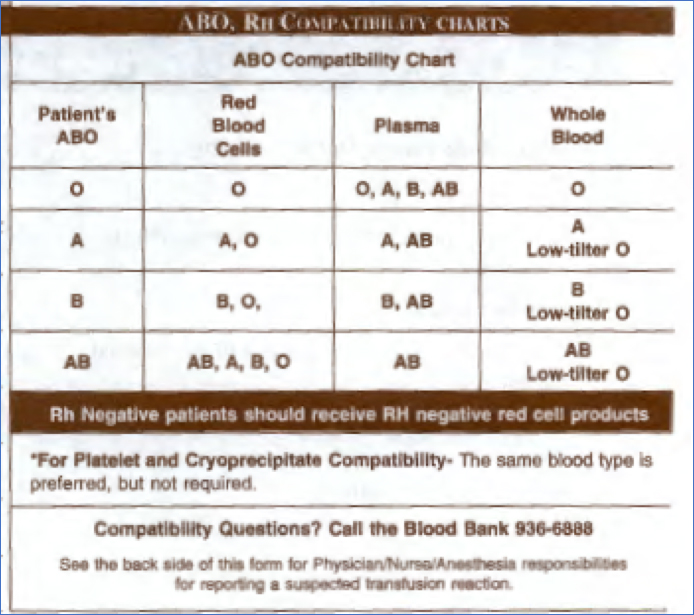 3. Transfusion reaction information moved to backside of the form (white and pink copies) and differences between transfusion reaction instructions for Inpatient/Outpatient versus OR and Procedure Areas separate out.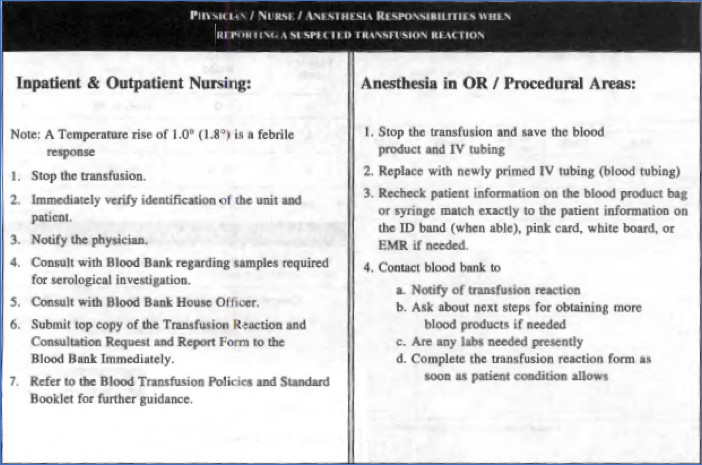 ---
Go-Live:
The revised forms will be placed into use Monday, 7/19/21. There will be several days where both forms may be in use, especially on emergency units stocked in the patient care area blood refrigerators. It is acceptable to use whichever form is attached to the blood bag.


Questions:
Robertson Davenport, MD, Medical Director Transfusion Medicine (pager 2982)
Terry Downs, Administrative Manager Transfusion Medicine (pager 61369)
Autologous and Directed Donations, Preadmission Type and Screen, Transfusion Reaction
| | | |
| --- | --- | --- |
| Form | Number | Source |
| Adult Blood Transfusion Clinical Guidelines 3/24/09 | NA | On-Line (pdf) |
| Transfusion Reaction Report | PS 715 | Blood Bank 6-6888 or On-line |
| Consent for Transfusion | 2040700 | On-line |
| Refusal for Transfusion | | On-Line |
| Post Transfusion Instructions | POD-0271 | On-Line Print two copies - One form to Patient and One to the Medical Record |
| Nursing Fast Fact Information for Obtaining and Transfusing Emergency Blood | Rev date 1/20/09 | Blood Bank |
| Platelet Refractoriness Worksheet | NA | Transfusion & Apheresis Service or On-Line |
| Apheresis Consult Sheet | NA | Transfusion & Apheresis Service or On-Line |
| On-Call Transfusion Reaction Evaluation Form (Blood Bank House Officer Use only) | NA | Blood Bank or On-Line (pdf) |
| Booklet - Blood Transfusion Your Options | IP-2059315/pp | On-Line |
| Preadmission Type and Screen - Blue Form | 2042411 | Blood Bank 6-6888 - Blue Form -On-Line form must add numbers manually. To be printed on blue paper |
| Preadmission Type and Screen - Pink Form | | Blood Bank 6-6888 - Pink Form On-Line to be printed on pink paper. |
| Preadmission Type and Screen Instructions | | Instructions in pdf file |
| Therapeutic Phlebotomy Order | | Form for printing pdf |
| Autologous Donation - Physician Request | | Blood Bank 6-6900 or On-Line pdf |
| Autologous Donation - Patient Information | | Blood Bank 6-6900 or On-Line pd |
| Red Cross Special Collection Form | | Blood Bank 6-6900 or On-Line pdf |
| Directed Donation - Patient Information | | Blood Bank 6-6900 or On-Line pdf |
| Directed Donation - Physician Order | | Blood Bank 6-6900 or On-Line pdf New |
| List of Autologous and Directed Forms and Phone Numbers | | Blood Bank 6-6900 or On-Line pdf |
| VariZIG- See Pharmacy web pages | | |