¿Cómo se dice ... ?
By Lynn McCain | July 26 2021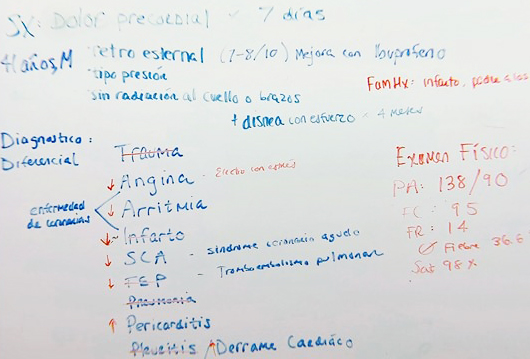 Spanish is the second most frequently spoken language in the United States and at the University of Michigan Medical School. Because of this, medical students are learning how to speak medical Spanish as they prepare to interact with their patients of the future. Whether the student is a beginner or fluent, they can participate in this program with the goal of being comfortable interacting with Spanish-speaking patients.
Students in the course are broken down into beginner, intermediate, and advanced categories and spend time learning the language, completing pre-work, practicing with one another, and finally, conducting interviews with volunteer standardized patients under the guidance of native-Spanish-speaking physicians. Students go through these interviews in both the fall and spring terms of the course so they can measure their progress. "The purpose of this class is not to make you an expert, but to increase your comfort level as you interact with Spanish-speaking patients," explained 2021 Medical School graduate Jessica Silva, MD. Silva, who is half Cuban, grew up speaking Spanish as her second language. However, medical Spanish is different from what you learn in daily conversations. "We spend a lot of time learning vocabulary related to various organ systems, health conditions, and other medically relevant jargon. Having practice patients to interview is very helpful. As a result of taking this course, I feel that I will be less intimidated in the future if I have Spanish-speaking patients."
Silva was introduced to Pathology's Dr. Sandra Camelo-Piragua through the program. Camelo-Piragua served as a faculty observer for Silva's first standardized patient interview. "She gave me great feedback. She was very helpful and complimentary," Silva recalled.
The goals of the students in the program vary from becoming comfortable with Spanish-speaking patients to becoming fluent enough to go abroad for some months to practice in a Spanish-speaking country. "My role in the program is to be a facilitator, a faculty observer. I let them do their interview, a regular physician-patient interaction, and then I give them feedback on both their use of Spanish as well as on cultural nuances," explained Camelo-Piragua. "I teach them a bit about cultural context. What is appropriate to say to a 20-year-old may be inappropriate for a 70-year-old. There are also cultural euphemisms for how people from various countries may phrase health-related issues. I explain what I can in the 45-minute interaction based on experiences from my native country as well as from what I have learned from friends from other countries."
Learning the intricacies and nuances of language and culture is not something that can be mastered in a single course. It can take years, or even decades, to master. Through this course, students not only improve their skills but also learn their limitations and when they may need to utilize an interpreter to ensure effective communication. "Going the extra mile to learn Spanish is important, but communication cannot be lost. Until physicians are confident in their ability to effectively communicate, they should try to have an interpreter present, even if only to help on an as-needed basis during the patient interaction," advises Camelo-Piragua.
In addition to her involvement in the Spanish in Medicine program, Camelo-Piragua serves as an advisor to the Latin Medical Undergraduate Students Association. Through involvement in both programs, Camelo-Piragua has been able to serve as a bridge, introducing medical students who want to become fluent in Spanish with native speakers who want to enter medicine. The Latin students learn more about what it takes to enter and succeed in Medical School and the medical students have an opportunity to improve their language skills and cultural understanding.
More native-Spanish-speaking faculty are needed to participate in this program. "Even if in your career you don't have direct patient interactions, as a Spanish-speaking doctor, you know the jargon. You can participate as a faculty observer and facilitate standardized patient interactions. More volunteers are needed. This is a way you can help our community," encourages Camelo-Piragua.
To learn more about the Spanish in Medicine program or to volunteer, contact Robert Porter (rsporter@med.umich.edu), Medical Scientist Training Program Fellow.